Skin
23 Best Acne Treatments In Malaysia To Battle Your Maskne
Say bye to maskne!
By: Farah Khan / May 23, 2023
Due to the COVID-19 pandemic, we've all been required to adopt putting on a mask when we leave the house in an effort to reduce the spread of the virus. Now, we have a new enemy to deal with; maskne. Maskne, or mask acne refers to the acne forming where your mask covers your face.
Even if you are suffering from maskne, it's essential to keep wearing a face mask. Wearing a mask is one of the best ways to keep yourself and others from getting infected by COVID-19.
What Causes Your Maskne?
When you wear a mask, the oil, bacteria, and dead skin cells on your skin can build up and block your pores. These blocked pores are the main reason for your mask acne. Additionally, the humidity that is trapped by your mask due to your sweat and breathing can cause acne as well.
Your reusable mask might also be a source of your maskne. Washing it in a scented detergent may cause skin irritation and possibly pimples. In some instances, masks are pre-treated with chemicals that could potentially feel rough and irritate your skin.
If you're in need of a solution to this problem, look no further because we have the solution for you. Take a look below for the acne creams that you can find in Malaysia to treat your maskne!
Acne Treatments Found in Drugstores
1. Himalaya Acne & Pimple Cream
This acne cream has three main ingredients that work great to shrink your acne. The Silk Cotton Tree, controls acne and pimples and prevents future breakouts with its astringent and cooling properties. You'll be sure to enjoy this cooling effect on your acne bumps. Five-leaved Chaste Tree in this product helps to reduce inflammation on your skin. Who doesn't love Aloe? The Aloe Vera extract heals and softens the skin which would help you get rid of scarring and soften your skin once that acne is gone.
Price: RM31.69
Where to purchase: Watsons
Top Review: "It is one of those cream which I use on daily basis because it gives you a very soft and pimple free skin. It's formula is so light and fragrance is also awesome which makes me to use it thrice in a day. Overall it is budget friendly and effective." – Monika Bisht
2. Olumes The Satin Cream
Even if you have oily skin, you still need to properly moisturise the skin. This rich Satin Cream by Olumes rejuvenates your skin from within. It also keeps your skin resilient and smooth, thanks to its 10 youth-boosting peptides and hyaluronic acid. Its lightweight texture easily gets absorbed into the skin without clogging it – especially helpful if you're wearing makeup on top of your skin behind the mask. Its made with magnolia stem cell extract to help repair and regenerate hyperpigmentation left by blemishes and breakouts, giving you more even and brighter skin.
Price: RM40.00 – RM300.00
Add to Cart
3. Garden of EDEN Rosa T Anti-Acne Hydra Gel
Garden of EDEN Rosa T Anti-Acne Hydra Gel is the secret to attaining a clearer-looking complexion. This power-packed bottle contains a concoction of 95% natural ingredients, including eight types of hyaluronic acids, niacinamide, pentavitin, and ginger root. Infused with prebiotics, it rebalances the skin's microbiome, which promotes the formation of good bacteria on the skin while inhibiting the growth of acne-causing bacteria. The high-performance formulation works like a charm to minimise the appearance of pores and ensure a blemish-free complexion. Thanks to its ultra lightweight texture, it absorbs easily into the skin without leaving any greasy residue.
Why we love it:
Anti-acne and anti-microbial properties
Minimises the appearance of pores
Regulates oil production
Packed with hydration properties
Price: RM39.90
Where to buy: Garden of EDEN, Guardian, Watsons
4. AXIS-Y Spot The Difference Blemish Treatment
Are you in search of a powerful solution to banish blemishes? Look no further! The AXIS-Y Spot The Difference Blemish Treatment is expertly crafted to provide unrivalled relief from blemishes. This power-packed bottle houses ceramide capsules to replenish and fortify the skin's protective barrier. Aside from 4-terpineol, a powerful antibacterial extracted from tea tree and phyto-oligo 1%, its game-changing formulation includes a dynamic combination of camphor leaf, licorice root, and green tea leaf. With its exceptional rating, it provides targeted solutions and reduces acne formation over time.
Why we love it:
Instant relief from acne
Ultra-lightweight
Dries out breakouts and blemishes
Price: RM65.00
Where to buy: Shopee, Watsons and TikTok
5. Nixoderm Acne Gel
Powerful ingredients are what will help heal your acne problems! The Nixoderm Acne Gel contains the new patented active ingredients Epi-On, Tea Tree Oil, Sulfur and Salicylic Acid that have the benefit to combat the first signs of acne. It does this by exfoliating your skin gently, unclogging pores and inhibiting bacteria growth to reduce sebum production. This acne gel also has the benefits of loosening whiteheads and blackheads, as well as anti-inflammatory properties to reduce irritation and redness. To fight off acne, it also contains anti-fungal and anti-bacterial properties. What's more, is that its formula contains Aloe Vera Extract and Portulaca, which offers skin-soothing properties to calm and condition your skin from the discomfort caused by acne. The mix of extracts will also help boost a quicker recovery of acne and lighten your scars. This acne gel doesn't leave any stains upon application and is free from silicones, parabens and triclosan.
Price: RM19.80
Where to buy: Shopee, Caring Pharmacy and leading independent pharmacies
6. Safi Acne Solutions Soothing Gel Moisturiser
With its impeccable formula and cult favourite status, Safi Acne Solutions Soothing Gel Moisturiser is highly loved by beauty junkies. Created with Rapid Action Technology, it features a powerful blend of AHA, BHA and neem extract to prevent acne from recurring, leaving you with blemish-free skin. Infused with AHA, it helps to gently exfoliate dead skin cells revealing radiant-looking skin. Whereas BHA functions to regulate excess sebum and decongest the pores. Thanks to neem extract, this wonder ingredient features soothing properties to soothe irritation and minimise the risk of scarring. With its ultra-lightweight texture, it absorbs easily into the skin without leaving any greasy residue. Simply apply twice a day after cleansing your face for optimal results.
Price: RM27.30
Where to buy: Guardian
7. Hatherine Acne Patch Red Spot
Spot care your blemishes and active acne with Hatherine's Acne Patch Red Spot. Perfect to wear behind the mask and even under makeup since it seamlessly adheres on spots to prevent further irritation. It's infused with Tea Tree Oil and Willow Herb Extract to fight against stubborn acne. It can get extra hot and moisture can build up, especially with a mask on but these plasters won't budge, don't worry! They're sweatproof and waterproof.
Price: 16.90
Add to Cart
8. Nurish Organiq Teen Anti Acne Cream
Specially made for teens, this 100% natural formula will help you with your acne while giving your skin the moisture it needs. Salicylic acid and Tea Tree Oil has been known for their success in treating acne and Nurish Organiq's Teen Anti Acne Cream is rich with it.
Price: RM18.90
Where to buy: Watsons
Top Reviews: "Value for money and good quality / texture. I rate this 5 stars" Anonymous on Watsons Website.
9. Garden of Eden Rosa T Acne Gel
Rosa T Acne Gel treats your acne with its Tea Tree Oil. Recommended for daytime use due to its light texture, soothes your skin throughout the day and promotes clearer skin. Besides that, this product works great at oil control and skin hydration. The sebum balancing effecting comes from the Blue and Pink Lotus Flower, while the natural Vitamin E, Rose Hip Oil, and Grape Seed Oil give the skin the hydration it requires.
Price: RM20.60
Where to buy: Watsons or directly from Insider Mall
Top Review: On the Watson's website, this product receives 5-star ratings from buyers with comments such as "Excellent", "Good Quality and Texture", and "Highly Recommended".
Add to Cart
10. OXY 10 Acne Treatment
OXY's 10 Acne Pimple Medication will help you with your stubborn acne with its 10% Benzoyl Peroxide ingredient. It will also eliminate excess oil and unclog your pores to let your skin breathe better.
Price: RM13.00
Where to buy: Watsons
Top Reviews: 41 5-star reviews on the Watsons Website.
11. Face Republic Cica Gel Moisturizer
Getting breakouts can be a pain but this Cica gel from the Face Republic will soothe inflamed and irritated skin. Thanks to its Centella Asiatica Extract & Tea Tree Oil, it will calm down active pimples and wounds while caring for acne scars. It's light enough to apply to your skin while giving it the hydration it needs. It's especially great to use during extra hot and humid days.
Price: RM39.90
Add to Cart
12. Biretix Duo Anti-Blemish Gel
Formulated to be used by both teens and adult, this acne spot gel Biretix can prevent early signs of acne from fully forming. Combined with RetinSphere® Technology, BIOPEP 15 active ingredient, and vitamin E, it helps maintain the skin and its barrier. To add, it also helps control excess oil, evens skin texture, and reduces skin irritation.
Price: RM130.00
Add to Cart
13. T3 Pimple Gel
This pimple gel works more for just your pimples. It treats blackheads, whiteheads, and papules as well giving your skin a smooth and soft texture. The Australian Tea Tree oil extract is a natural antimicrobial ingredient that will soothe skin irritation caused by external factors including your face mask.
Price: RM13.50
Where to buy: Watsons
Top Reviews: "Excellent at soothing my red skin because of pimples, and my blackheads have reduced significantly" – Anonymous on Watsons
14. Watson's Acne Patch
Have a really important date tomorrow but spotted a growing pimple on your cheek? Acne patches are a great overnight solution to reduce the swelling of your acne. Just pop one on the spot before you go to sleep and wake up with a noticeably smaller pimple as the patch absorbed it away while you slept. Now, all you need is a little concealer to hide it.
Price: RM9.90
Where to buy: Watsons
Top Reviews: "Excellent product for its price!" – Anonymous on Watsons Website.
15. 3M Nexcare Acne Patch 36s
Also known as a hydrocolloid patch, the dressing absorbs secretion and promotes healing of acne. Besides that, it also acts as acne protection from dirt and other contaminants. You don't have to worry about water with this acne patch as it is totally waterproof and breathable at the same time!
Price: RM15.40
Where to buy: Watsons
Top Reviews: "This is awesome. Its just a little yellowish. I use it and went to school while using it, my friends said its visible but that's only when they're close to me, if they're far from me it became invisible. But overall my experience with this patch is good. It suck out the dirt in my acne and my acne appeared smaller after I use it. And I don't have scars after using it. Just a dark spot and I use serum to lessen it. Around 3-5 days, my dark spot disappears. I love this! Maybe will but it again soon." – Anonymous on Watsons Website.
16. Papulex® Oil Free Cream
Papulex® Oil-Free Cream helps reduce skin blemishes and control oil. If you have an oily skin type and worry about adding more oil to your skin, this product is great for you. This oil-free cream contains moisturisers to hydrate and protect the skin. Its mattifying agents will help your skin stay shine-free throughout the day. An oil-in-water emulsion free from vegetable and mineral oils, that assists in reducing inflammatory lesions and in regulating sebum production.
More on the characteristics of this product:
– Fragrance-free
– Hydroxy acid-free
– Non-comedogenic
– Non-photosensitive
– Helps control oily skin
– Can be used day and night
– Moisturises and mattifies skin
– Dermatologically tested
Price: RM70.40 for 40ml (varies depending on website and promotions)
Where to buy: Watsons and Shopee
Top Review: "This cream suits people with acne and oily skin. I don't think it suits people with acne-dry-skin type. When I have breakouts, I always reach out for this cream. It seems to calm down my face really well. Love this cream so much!" – Ila
Acne Treatments Found in High Street Stores
17. ORIGINS Dr. Andrew Weil for Origins™ Mega-Mushroom Relief & Resilience Advanced Face Serum
This high-end serum strengthens your skin's barrier in just 28 days and visibly reduces redness. Multi-Biotic Technology—based on 20 years of microbiome research—delivers Mushroom Prebiotics and a breakthrough Patented Lactobacillus Probiotic for mega soothing benefits. This serum is sure to strengthen your skin to fight acne in the long run!
Price: RM295.00
Where to buy: Sephora
Top Review: "Even though the serum is a bit oily for me, it is still working as what should it does. At first really cannot take its smell but after sometimes it become fine for me. I can feel my skin smooth and less acne produced. Works well with mega-mushroom treatment lotion!"
18. The Inkey List Rosehip Oil
This oil will make your skin appear smoother and more youthful as its linoleic acid content controls oil production on acne-prone skin. The Rosehip oil is packed with essential fatty acids and skin-beneficial vitamins that will hydrate your skin and improve tone, texture and pigmentation. Overall, this product will reduce your acne while helping reduce the appearance of acne scars on your skin.
Price: RM50.00
Where to buy: Sephora
Top Review: "I love this product so much! I wanted to but again but it's already sold out. Really help my skin with scars and acne. When I bought this product it's because of the affordable price. But then I realised the product itself really really amazing! My skin clear after 3months of using it." – Atykah Sobrie
19. Mario Badescu Drying Lotion
A potent concentrate of calamine, salicylic acid and fast-acting ingredients that will heal and dry a zit with just one drop. Prepare to see overnight results with this quick-drying, acne-targeting formulation is a gentle, non-irritating concentrate. A cult favourite on Youtube that is definitely worth adding to your cart!
How to use:
Use before bed on clean, moisturised skin.
Gently apply the pink sediment to the affected area using a cotton swab and let dry.
Rinse off in the morning.
Do not shake the bottle.
Price: RM95.00
Where to buy: Sephora
Top Review: "It's affordable and it is effective in drying up small whiteheads and bumps overnight. However, as someone of a medium deep skin tone, it tends to cause hyperpigmentation and I am left with small dark spots for weeks after. The zit is reduced in one day but then I have to deal with the aftermath." – Priya
20. Skin Inc Serum UV Moisturiser SPF 50+ PA+++
We love products with SPF protection as much as the next person. If you love them too, this Skin Inc Serum UV Moisturiser is the perfect solution to your Maskne. This light and creamy solution works as an invisible shield against UV, blue light, pores and Maskne. When it comes to SPF we're always afraid of that white cast but have no fear with this product as it leaves no white cast on the skin because of its blend of physical and chemical sunscreen agents. It also comes with a soothing and calming lavender scent. What's not to love?
Price: RM235.00
Where to buy: Sephora
Top Review: "Goes on easily and doesn't leave white cast, however it does smell like sunscreen (some kind of chemical smell) which some may not like. Overall, just okay" – EC
21. Origins Spot Remover™ Acne Treatment Gel
With just one dot of Origin's Spot Remover, feel its anti-spot technology helps visibly correct post pimple darkening and heal your pimple. Say bye-bye to that irritating redness you see because the caffeine and red algae will make it disappear. The super exfoliators in this product will work to eliminate excess oils and pore-clogging debris.
Price: RM91.00
Where to buy: Sephora
Top Review: "I've been dealing with deep, cystic hormonal acne along my jawline. An article I read on treatment options recommended this product. I've had it for about 3 days and already I've seen a huge difference. Both in look of the zits and the pain level. It's clear so can be worn during the day. I've done morning and night treatments so far and don't see a lot of dry spots which I was worried about. Would highly recommend!" – International Reviewer
22. Mario Badescu Anti Acne Serum
This serum is created just for you to help prevent and treat that stubborn acne and the scars that follow after. Mario Badescu Anti Acne Serum contains Salicylic Acid which inhibits bacteria from causing pimples. It has a lightweight and non-drying gel formula that can be easily absorbed by the skin and help you maintain a clear and smooth complexion.
Price: RM115.00
Where to buy: Sephora
Top Review: "I had weird maskne that normal acne products could get rid of after clear skin for close to 15 years post-puberty. I applied this at night and it helped my skin adjust over a few weeks. The downside is if I forget to apply it even one night, the acne starts to come back." – International Reviewer
23. Kiehl's Breakout Control Targeted Blemish Spot Treatment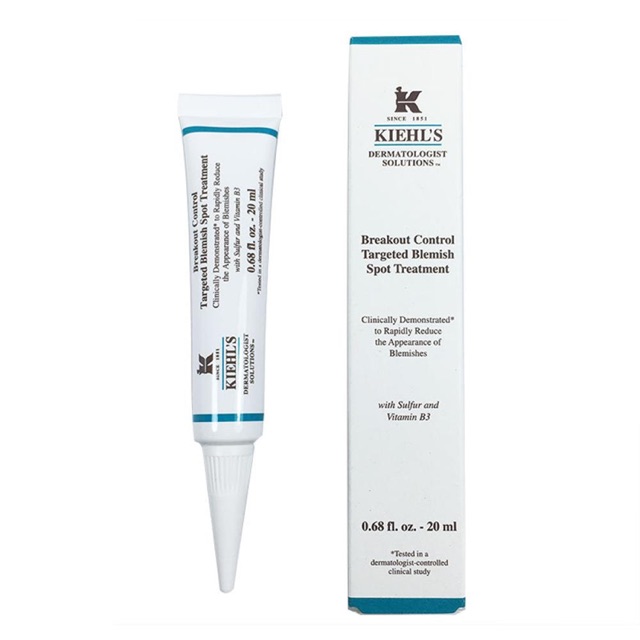 This rapidly reducing targeted blemish spot treatment will help reduce the appearance of acne breakouts in a jiffy! Formulated with Sulfur for acne-clearing and Vitamin B3 for skin, Khiel's acne spot treatment blends evenly into skin and works to help reduce the appearance of blemishes before you know it. A tip from Kiehl's; for optimal results, use this with the Breakout Control Acne Treatment Facial Lotion.
Price: RM160.00
Where to buy: Kiehl's official website
Top Review: "I have been using Kiehl's products for more than one year now. I started using them when I had breakouts. I started with Calendula cleanser and toner. It's so refreshing! The one that really helps with my problem is Breakout Control Targeted Blemish Spot Treatment! I won't stop using all these!!!" – Lala on Khiel's Malaysia Website
With the help of these serums and creams, we hope your maskne problems will fade away faster than light! Remember to accompany your choice of treatment with a complete skincare routine with moisturiser, sunblock, and a good cleanser. For more serums to help prevent, fight and fade your acne problems check out our list on Beauty Insider here.