Before you say, I'm too young for anti-ageing products, let me break a fact for you. The first signs of sun damage, wrinkles and fine lines generally start to form in your mid-20s,( well just putting it out there). The skincare mistakes you do in your 20s will come back haunting you in your 30s, 40s, 50s and 60s. It's kinda like a cumulative effect- you get what I mean?!. That is why it is so important to start an anti-ageing skincare regime in your mid-20s. I'm 25 and though I am not overwhelmingly concerned about skin signs of ageing, I do believe that soon is better than never! And I promise you, it's never too late to start and will help you big time.
With that in mind, I went on an online quest to find the best anti-ageing products in Malaysia. After scrolling, researching and trying hundreds plus anti-ageing products for the past few months, I am proud to say I've found the ultimate game-changer in the anti-ageing scene. Below, Beauty Insider Malaysia breaks down the best 15 anti-ageing products in Malaysia for all you ladies in your 20s. Now, I know we all would like to think that one day I will age gracefully, but pampering your skin generously with anti-ageing care will speed up the graceful ageing part, right? After all, self-care is the new health care.
---
Firstly, Why Should You Take Anti-Ageing Seriously in Your 20s?
Most anti-ageing products are predominantly marketed for women above the age of 30. However, the truth is anti-ageing products should be in everyone's beauty bag because our skin starts to age faster than we think. External factors like pollution, UV rays, weather, stress and even diet leads to skin ageing. Fortunately, by taking early precautions like incorporating anti-ageing products to your routine can make a significant impact on your skin's future health.
---
How To Incorporate Anti-Ageing Care To Your Routine?
Well, the change starts from you so if you accept your bad behaviours that are ageing your skin, then it is much easier to hop into the anti-ageing care bandwagon. There are a plethora of products and techniques that can help you take care of our skin in a healthy and age-appropriate way. For example, focusing on more protective products and ingredients like antioxidants and also using a hell lot of SPF that includes HEV blue light protection can slow the process of ageing. You should also do weekly or monthly at-home peel-off masks which can help too.
---
What To Look For In Anti-Ageing Products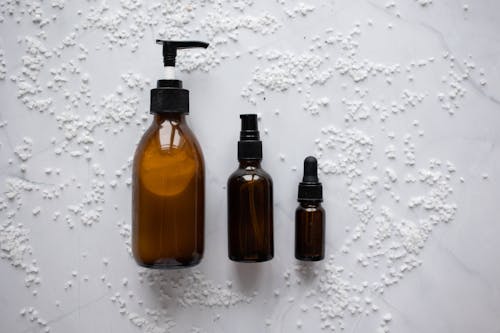 If you want to look 10 years younger and keep your youth, you need to start using anti-ageing skincare products daily. But, what exactly should you look for in an anti-ageing skincare product? Well first off, there are quite a few that help with reducing wrinkles and fine lines. So, be sure to look out for ingredients such as antioxidants, retinol, vitamin C, AHAs and hyaluronic acid.
Antioxidants can do wonders for your skin as they protect from free radicals. Vitamin C is an antioxidant most commonly found in moisturisers, and serums. It has the benefit to fade acne scars and even restore sun-damaged skin.
Retinol, also known as vitamin A, is the best way to reduce wrinkles. It boosts collagen production and evens out skin pigmentation. Thus, resulting in smoother skin.
AHAs such as glycolic acid are essential for exfoliating. It penetrates the skin and removes elements that hold dead skin cells. Since it draws moisture to the skin, it is an important ingredient for those with wrinkles and dry skin.
Hyaluronic is key to keeping your skin moisturised and hydrated. As your skin is hydrated, it will look radiant and youthful.
---
What Are The Best Anti-Ageing Products in Malaysia?
Here's an important distinction between anti-ageing care in your 20s and 60s. Typically in your 20s, anti-ageing care focuses on prevention whereas in your 60s it should be more focused on the correction. So, instead of jumping to intense procedures that might not be appropriate for younger skin, it is better to use mild and gentle anti-ageing products that can protect and slow down the skin ageing process. Below are my top 11 picks anti-ageing products every woman should start using in her mid-20s.
1. Origins Checks and Balances Frothy Face Wash
Any skincare regime should start with proper cleansing. When it comes to the anti-ageing regime it is important to cleanse the skin without overdoing it. We are all guilty of using way too many cleansers and scrubs (including me), which can make your skin become irritated and raw. That is why it is always nice to have a gentle cleanser like this Origins one especially in the morning when you really only have natural oils and the product from the night before to clean off.
Highlights:
Suitable for all skin types including sensitive skin
Reasonably priced
Cleanses and hydrates at the same time
Price: RM115.00
Where to Buy: Sephora Malaysia
2. Shiseido Sports BB Broad Spectrum SPF 50 WetForce
One of the most popular anti-ageing products in Malaysia, sunscreen is a nonnegotiable daily basis. I know there are so many formulations to choose from but personally I recommend you to pick a broad-spectrum sunscreen that's SPF 30 or higher. Look for ingredients zinc oxide and titanium dioxide, which can help create a nice even finish and can also minimise breakouts which are quite common for 20-something year olds. This Shiseido sunscreen does all that and more.
Pro Tip: If you're someone who's out and active, you should reapply your sunscreen every two hours once to keep it intact. If you like spending more time indoors, then it's fine to apply just once in the morning.
Highlights:
Quickly dries sweat and water to prolong makeup wear all-day
Protects from UVA & UVB rays even when wet
Non-Comedogenic
Price: RM153.00
Where to Buy: Shopee Malaysia
3. Drunk Elephant Protini Polypeptide Cream
A good moisturiser is like gold, expensive but worth the investment! It can single handedly treat your skin issues, build collagen, and also to reverse photoaging. However the tricky part is choosing the right moisturiser for you. You need one that is not irritating or too harsh on the skin. The Drunk Elephant Protini Polypeptide Cream, got you covered on that. This protein moisturiser can improve your skin's tone, texture and firmness with regular use.It can help big time on preventing lines, wrinkles and other signs of sun-damages.
Highlights:
Free from essential oils, alcohols, silicones and chemicals
Packed with an abundant amount of proteins and nutrients
Replenishes and restores your skin back to a healthy state
Price: RM297.00
Where to Buy: Sephora Malaysia
4. Bobbi Brown Intensive Skin Serum Foundation SPF 40/35
Now, serum and foundation are the two basic skincare and makeup products that one cannot miss out. Why splurge on two products, when you can have one product that serves as both?! The Bobbi Brown Intensive Skin Serum Foundation SPF 40/35 does just that. Packed with anti ageing antioxidants, it adds a layer of sun protection while boosts collagen production. It is available in 12 shades and can provide you with an instantly luminous, natural-looking finish.
Editor's Note: I know this serum + foundation is on the pricier end of the anti-ageing products in Malaysia spectrum but trust me, this one is totally worth the investment. It is also very long-lasting so it can last you for about a year. Highly recommended!!!
Highlights:
Evens out and correct the complexion in one swipe
Formulated with Active Skin Energizing Complex
Prevent collagen damage and visible signs of ageing
Price: RM243.00
Where to Buy: Sephora Malaysia
5. Mucota Essena 03 Anti-Aging Deep Defense Hair Oil
We all know our hair ages as we get older, but how many of us have invested in proper anti-ageing hair products that do big things like promote hair growth and volume (did I get you good on a guilt trip, hehe!) My most favourite anti-ageing hair care product is the Mucota Essena 03 Anti-Aging Deep Defense Hair Oil. Packed with nourishing and time tested anti-aging botanicals, this hair oil helps in slowing down signs of ageing and restore moisture and vibrance. And I cannot get enough of its soothing floral essence!!!
Pro-Tip: Apply the oil over towel-dried hair in a downward motion. Use your fingers or a wide tooth comb to ensure the product is evenly distributed and style as usual. You can only see the benefits with long-term use so be consistent and PATIENT!
Highlights:
Contains seaweed essence and natural oil
Restore shine, moisture and strength
Has a lingering fragrance of raspberry pear
Price: RM158.00
Where to Buy: Lazada Malaysia
6. Mia Jane Revival Night Repairing Oil-in-Serum
One of the most important anti-ageing products that you cannot skip is a night cream. It helps keep your skin supple and hydrated throughout the night while you are in deep sleep. I personally am a huge fan of the Mia Jane Night Cream. It acts like a nourishing oil that gives my skin an extra boost the next morning. Plus, the serum can also deeply moisturizes the skin while also smoothing out fine lines. Basically, it is the magic potion that is designed to wrap your skin barrier in a soothing, nourishing coddling hug, YES, Revival does all these!
Highlights:
Accelerating the skin to repair itself quickly by 50%
Regenerating the skin to prevent and lighten pigmentation
Does not leave any oily, tacky or sticky residue
Price: RM179.40
Where to Buy: Mia Jane Malaysia
7. Mario Badescu Ceramide Herbal Eye Cream
Did you know that the skin around our eyes is the thinnest skin on our body and one of the first spots to show your age? That is why it is so important to start on using eye cream. It can hydrate the skin to plump it, so the wrinkles show less when you're older. I like eye creams with different active ingredients and Mario Badescu Ceramide Herbal Eye Cream works like a dream for me. Formulated with all plant-based ingredients, it absorbs quickly into your skin and seriously minimises the appearance of fine lines and wrinkles.
Highlights:
Has a non-greasy consistency
Formulated with a nourishing blend of plant-based oils
Helps reduce the look of dry, tired eye
Price: RM120.00
Where to Buy: Sephora Malaysia
8. Lancôme L'Absolu Rouge
Another unexpected facial feature that is vulnerable to ageing is our lips.Think about the years of sun exposure, talking, eating, and kissing (duhhh) can cause your lips to lose their fullness and develop fine lines. Thankfully, the beauty world has acknowledged this and there are a collection of anti-aging lipsticks in the market. My favourite is the Lancôme L'Absolu Rouge.This high-end lipstick has Vitamin E which can protect the lips from sun and help restore and strengthen the moisture barrier.
Highlights:
Available in 25 daring colours
Super comfortable and highly pigmented
Smudge-proof
Price: RM117.60
Where to Buy: Lancôme Malaysia
9. Kiehl's Calendula & Aloe Soothing Hydration Mask
One of the best-selling anti-ageing products in Malaysia, Kiehl's Calendula & Aloe Soothing Hydration Mask is something you just cannot miss out on. Personally, I love face masks and this Kiehl's mask in particular has a lot of amazing ingredients that can keep your skin moisturised and nourished. It is super lightweight and the gel texture offers a refreshing surge of cooling hydration upon application. Use it once a week and trust me your skin will look more revitalized and healthy.
Highlights:
Formulated with Calendula flower petals and Aloe Vera
Perfect for all skin types
Reduces signs of skin distress and inflammation
Price: RM199.00
Where to Buy: Kiehl's Malaysia
10. Herbivore Botanicals Coco Rose – Coconut Oil Body Polish
Now, we have touched anti-ageing skincare, haircare, makeup and how we can miss out on anti-ageing body care right? Well, here's a thing in the anti-ageing world, exfoliation is always paired with hydration. This is because when you exfoliate, you are also removing your skin's natural moisture along with dead skin cells. And too much exfoliation can dry out your skin and leads to ageing, itchy skin. This is where a gentle exfoliating body polish comes in handy. Rich in protein, this body scrub can keep your skin young by fighting cellular damage.
Highlights:
Infused with 100% all-natural products
Supports cellular health and tissue repair
Leaves a cooling anti-inflammatory effect
Price: RM162.00
Where to Buy: Sephora Malaysia
11. Alia Smooth & Anti-ageing Deodorant
Last but not least in our best anti-ageing products in Malaysia list is this deodorant by Alia. I mean c'mon, your pits need some tender, love and care too! This is a wonderful, hydrating, water-based deodorant by Alia is packed with hyaluronic acid, rose water, and chlorhexidine (an antibacterial agent) that does not over-strip the skin. Not just will it make you smell good but also can prevent dryness, patches and armpits wrinkles which will pop as you lead your life to your 30s.
Highlights:
Alcohol-free
Affordable and widely available
Keeps underarms dry and odor-free all day long
Price: RM7.43
Where to Buy: Watsons Malaysia
11. Eucerin Pro Acne Solution A.I Matt Fluid
Eucerin is a beloved skincare brand that many Malaysians love. Besides its range of products that target pimples and acne, Eucerin offers anti-ageing products too. Furthermore, they tend to incorporate anti-ageing ingredients into their products. For example, the Eucerin Pro Acne Solution A.I Matt Fluid. It helps fight off blemishes while ensuring your skin gets the protection it needs. Ingredients such as licocalchone, salicylic acid, and sebum-regulating technology.
Highlights:
8-hours anti-shine effect
Relieve skin irritation
Fight blackheads
Price: RM75.00
Where to buy: Watsons
12. L'Oreal Paris Revitalift Laser X3 Serum
L'Oreal is yet another skincare brand that features several lines of anti-ageing skincare products. They offer a wide range of anti-ageing skincare sets and collections that many love. The L'Oreal Paris Revitalift Laser X3 Serum, has the benefit of refining pores while regenerating your skin at the same time. Thus, it can help enhance your skin's overall consistency and even smoothen any wrinkles and fine lines. Furthermore, this anti-ageing serum also helps increase skin elasticity and density.
Highlights:
Increase skin density
Refine pores
Regenerates skin
Price: RM79.16
Where to buy: Watsons
13. Alpha-H Liquid Gold
The Alpha-H Liquid Gold is the perfect anti-ageing skincare product to use overnight. Make this apart of your nighttime anti-ageing skincare routine, and you might just regain your youthful glow. This anti-ageing product has the ability to help enhance the appearance of tired and damaged skin. It also helps stimulate healthy skin cells. Besides that, the Alpha-H Liquid Gold also reduces skin damage caused by the sun, wrinkles and pigmentation.
Highlights:
Speeds up skin renewal process
Speeds up skin repairing process
Protects from the sun
Price: RM248.00
Where to buy: Sephora
14. Dr. Jart+ Mask Intra Jet Wrinkles Solution
The Dr. Jart+ Mask Intra Jet Wrinkles Solution is a miracle worker as it helps enhance your skin complexion. This is definitely an anti-ageing product you should get your hands on. This mask offers a wrinkle-free solution as its formula is one of the best formulas made for ageing skin. This anti-ageing mask provides thermosensitive cellulose gel, which minimises the appearance of wrinkles. Get youthful-looking skin when you use this in your skincare routine.
Highlights:
Youthful-looking skin
Wrinkle-free
Enhances skin texture
Price: RM22.00
Where to buy: Zalora
15. Klairs Midnight Blue Youth Activating Drop
When it comes to anti-ageing products, it is never too early to start! The Klairs Midnight Blue Youth Activating Drop is one anti-ageing product you should use in your daily skincare routine. As one of the best anti-ageing products in Malaysia, this serum effectively slows the ageing process of your skin. It also reduces visible signs of wrinkles and promotes firmer, smoother skin.
Highlights:
Smoother skin
Slows down the ageing process
Reduces wrinkles
Price: RM105.00
Where to buy: Klairs
---
Lastly, What Are Some Tips To Prevent Skin Ageing?
Apart from using the right anti-ageing products, you should also make some lifestyle changes that can prevent premature ageing. This is because the environment and lifestyle choices can cause our skin to age prematurely. The medical term for this type of ageing is 'extrinsic ageing'. So, by taking some preventive actions, we can slow the effects.
Here are some things you can do to prevent skin ageing:
Protect your skin from the sun every day
If you smoke, STOP!!!
Eat a healthy, well-balanced diet.
Cut down on sugar or other refined carbohydrates
Drink less alcohol
Exercise 5 times a week
Now, here's a harsh reality no matter what you do, we cannot stop the clock. As we age, our skin inevitably ages too but the goal is to age gracefully. I hope all the above tips, tricks and products can help you slow the clock. Remember, the key is to stay healthy, active and happy. Because the outside is a reflection of the inside. So, if you are young at heart and mind, trust me your skin will be too and these products and tips will add a tad bit of help to that.