Richer than your average cleanser, cleansing balms are indeed multitasking wonders! In addition to thoroughly removing all traces of heavy duty waterproof makeup, they also help to hydrate and deliver nutrients to your skin. They're also incredibly easy to use and you don't have to rinse them off with water. Hence, that's what makes them so great for quick and easy makeup removal after a long and tiring day.
What are cleansing balms?
In essence, cleansing balms are solid cleansers enriched with emollients and a nourishing blend of oils. Additionally, they are thicker and richer in consistency compared to regular liquid and cream cleansers. Even though they start off in solid form, warming them up between your fingertips will melt and transform them into a creamy and oil-like texture. Because they are so rich and hydrating, they are especially good for those with dry and sensitive skin. At the same time, some dermatologists also recommend them for balancing oil and moisture levels in oily and acne-prone skin types.
What's the difference between cleansing balms and cleansing oils you ask? Basically, it all boils down to the texture. While cleansing balms come in solid form, cleansing oils are liquid and are even heavier in consistency. Overall, those with oilier skin types may actually prefer cleansing balms since they are more lightweight than full-on oils.
How to use cleansing balms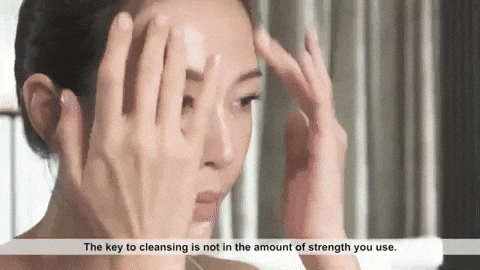 Similar to how you would use a cleansing oil, we recommend working your cleansing balm into your skin using gentle circular motions. First, take about a 10 cent coin (dime-sized) amount and dot the balm onto your T-zone and cheeks. Then, use the warmth of your fingers to massage and work the balm into your skin. Using gentle upward and circular motions can help to prevent any unnecessary dragging of the skin. Also, the warmth of your hands will transform the balm into a soft and buttery consistency. Because they are so hydrating, you can also use cleansing balms to gently remove waterproof eye makeup as well. After massaging for about 2 minutes, take a soft muslin cloth or cotton pad and gently wipe off any residue. Although it is not necessary to rinse your face with water, you can certainly do so and follow up with your evening moisturizer.
Top 11 cleansing balms to prep your skin for bedtime
Here are some of our all-time favourite cleansing balms that remove all traces of the day's grime without stripping the skin of its natural moisture.
1. Clinique Take The Day Off Cleansing Balm
First up, let's talk about one of the beauty community's most raved about cleansing balm of all time! This iconic cleansing balm by Clinique certainly helps you take the day off in more ways than one. Besides its lightweight balm to oil to milk formula, it also helps to dissolve all traces of waterproof sunscreen and makeup. Although it is rich in consistency, it doesn't feel greasy on the skin and is suitable even for oily and sensitive skin.
Why we love it:
Suitable for all skin types
100% fragrance-free
Allergy-tested and on-acnegenic
Free of parabens and pthalates
Price: RM154. Available at Sephora.
2. Estée Lauder Advanced Night Micro Cleansing Balm
Now here's a cleansing balm that's extra decadent and indulgent! Housed in a luxurious glass and gold jar, the Advanced Night Micro Cleansing Balm by Estée Lauder melts into a silky cleansing oil texture. Then, it soon emulsifies into a milk upon contact with water. In addition to eliminating waterproof makeup and impurities, this micro cleansing balm is also able to expel pollution particles from the skin.
Why we love it:
Suitable for all skin types
Nourishing yet lightweight
Fortifies the skin's moisture barrier
Anti-pollution
Price: RM205. Available at Sephora.
3. Drunk Elephant Slaai™ Makeup-Melting Butter Cleanser
Who hasn't heard of Drunk Elephant's game-changing skincare essentials? Like its namesake, their Slaai™ Makeup-Melting Butter Cleanser melts into the skin just like butter. On top of antioxidant-rich fruit extracts, this balm also contains a potent blend of marula, kalahari melon, baobab, ximenia and mongongo oils to energize the skin.
Why we love it:
Irritant-free
Suitable for sensitive skin
100% free of fragrances, silicones and PEGs
Comes with a free Drunk Elephant Bamboo Booster™ Exfoliant 3g
Price: RM148. Available at Sephora.
4. Wishful Clean Genie Cleansing Butter Makeup Remover
Created by beauty mogul Huda Kattan, cruelty-free skincare brand Wishful features a Clean Genie Cleaning Butter that banishes all traces of waterproof makeup – just like magic! On top of antioxidants like malachite stone and green tea extract, this butter balm also contains brightening cherry blossom extract to give the skin a healthy and radiant glow.
Why we love it:
Cruelty-free
Suitable for all skin types
Formulated by skin specialists
Free of sulfates, parabens and phthalates
Price: RM160. Available at Sephora.
5. Farmacy Green Clean Makeup Meltaway Cleansing Balms
With a near 5 star rating and over thousands of reviews online, this Green Clean one by Farmacy Green is all you could ever want in a cleansing balm. Thanks to it's rich formulation of sunflower and ginger root oil, it is able to melt all traces of makeup away without drying out your skin. Furthermore, it also contains moringa tree and papaya extract to gently exfoliate and energize the skin.
Why we love it:
Features Farmacy's signature patented antioxidant known as GreenEnvy™ – a unique variant of Echinacea Purpurea
Removes waterproof makeup
Evens out the skin tone
Anti-pollution
Price: RM158. Available at Sephora.
6. Banila Co. Clean It Zero Cleansing Balm Purifying
Next on the list, we have the Purifying version of Banila Co.'s bestselling Clean It Zero Cleaning Balm. This version comes in a pretty lavender jar and contains 7 botanical herbs to nourish, soothe and cleanse the skin. Because it's so gentle, it's particularly suitable for sensitive skin types. Additionally, it is able to eliminate all traces of waterproof makeup and leave the skin feeling fresh and hydrated.
Why we love it:
Suitable for sensitive skin
Thoroughly removes waterproof makeup
Soothes and calms inflammation
Price: RM99. Currently available for RM84.15 at Hermo.
7. Caolion Magic Black Powder Cleansing Balm
Here's another cleansing balm that works like a charm! The Magic Black Powder Cleansing Balm by Caolion cleanses, exfoliates and moisturizes the skin all at once. At the same time, it draws out impurities and detoxifies the pores to eliminate any excess buildup of sebum accumulated throuhgout the day.
Why we love it:
Non-irritating
Suitable for sensitive skin
Fortifies the skin's moisture barrier
Price: RM128. Available at Sephora.
8. Banila Co. Clean It Zero Cleansing Balm Original
Earlier, we mentioned Korean skincare brand Banila Co.'s amazing Purifying Cleansing Balm for sensitive skin. So it only makes sense that we should feature their bestselling original Clean It Zero Cleansing Balm too! This one has been a favourite amongst beauty lovers for years and still remains a top choice today. Its signature sherbet texture instantly soothes the skin and removes all traces of waterproof makeup in no time! While the Purifying version is more suitable for sensitive skin, the original version is great for normal and combination skin.
Why we love it:
Lightweight sherbet texture
Exfoliates the skin and tightens pores
Functions as an all-in-one double cleansing balm
Contains Vitamin C to brighten the skin
Price: RM109. Currently available for RM92.65 at Hermo.
9. Shu Uemura Ultime8 Sublime Beauty Intensive Cleansing Balms
Known for their life-changing cleansing oils, the Ultime8 Cleansing Balm by Shu Uemura is also a winner in our book. It's name Ultime8 stems from its incorporation 8 precious botanical oils. Additionally, it also contains mother-of-pearl protein and revitalizing algae extract to visibly brighten and plump up the skin.
Why we love it:
Suitable for all skin types
Gives the skin a healthy and pearlescent glow
Plumps up the skin with moisture
Price: RM297. Available at Shu Uemura stores nationwide.
10. Heimish All Clean Balm
Now here's a cleansing balm that you can easily find in local drugstores! Aside from its pretty minimalist packaging, this cleansing balm is dermatologist-tested and is suitable for everyday use. Moreover, it also contains healing plant extracts as well as the soothing scent of natural essential oils for a luxurious home spa experience.
Why we love it:
Doubles up as aromatherapy
Dermatologist-tested
Effectively removes waterproof makeup
Price: RM75. Available at Watsons.
11. The Body Shop Camomile Sumptuous Cleansing Butter
Last but not least, our list would not be complete without The Body Shop's signature Camomile Sumptuous Cleansing Butter for sensitive skin. Since it's so incredibly popular, a tin of this balm is sold every 22 seconds! Plus, it contains 100% community trade camomile from England which is excellent for alleviating inflammation and relieving redness and a variety of skin irritations.
Why we love it:
Soothes redness and relieves inflammation
Suitable for all skin types including sensitive skin
Contains 100% community trade camomile to support local farmers in England
Price: RM81. Available at The Body Shop stores nationwide.
---
Looking for a good gentle cleanser for sensitive skin? Check out some of our favourites here!
Author: Clara Siew | Date: 7th Jan 2020