Skin
Trustable Lip Balms in Malaysia That'll Leave Your Pout Lookin' Luscious!
Chappy lips no more!
By: Beauty Insider Journalist / January 25, 2023
Lip balms are honestly the best thing ever, agreed? Small but mighty, they can help restore your flaky dry lips lips to being baby smooth again. But, finding some good lip balms in Malaysia is like spotting a unicorn in the wild: a mission nearly impossible! But believe it or not, our dedicated team from Beauty Insider Malaysia have done just that. They went on a quest all over the map and picked out the best moisture-heavy lip balms in Malaysia that will leave your pout feeling silky smooth and kissable!
Are Lip Balms Essentials?
How important are lip balms actually? Super important. The skin on your lips is the most sensitive part of your lips which means it is more prone to dryness. To add to that, there aren't any prominent oil glands on your lips area to lock in moisture. That is why you need to plump it up with a moisturising products.
Apart from that, lip balms can also prevent and heal common lip issues like flakiness and dryness. So, if you want your lips to be well-hydrated, pretty and soft, make sure to apply lip balm on a daily basis. Especially if you are working under air-conditioner or spending lots of time under the sun.
The Best Lip Balms in Malaysia That are Editor-Approved
1. TOCOBO Lip Balm
As the next derma cosmetics, TOCOBO's Lip Balm collection is extremely moisturising. It has the benefit to calm dead skin cells by forming a nutritional moisturising film on dry lips. Featuring up to 6 colours – Coral Water, Flush Cherry, Better Pink, Tangerine Red, Rose Burn, Rose Petal, Carrot Cake and Vitamin Nourishing, the lip balms glide smoothly onto the lips. Leaving you with moisturised and soft lips all day long!
Why we love it:
Wide range of colours
Smooth application
Moisturising
Price: RM66.33
Where to buy: STYLEKOREAN
2. Holika Holika Holi Pop Jelicious Lip Balm
For jelly-soft lips, you can't go wrong with Holika Holika's Holi Pop Jelicious Lip Balms. Thanks to its Shea Butter ingredient, it softens, moisturizes protects, and regenerates the skin. Each balm comes with a buildable tint and a sweet peach fragrance, too. This one will keep the lips from drying and cracking while giving you a nice pop of color!
Why we love it:
Sweet scent
Buildable tint
Plumps up the lips
Price: RM27.90
Shop Now
3. Claire Organics Yummy Lips Intensive Lip Therapy with Rose Geranium
This local brand's lip balm is simple and pretty but does the job done since it's packed with lots of hydrating ingredients to keep your lips soft and plush all day long. The added Rose Geranium is best known to give intense hydration and prevent wrinkles. If you're the type to bite and nitpick at your lips due to dryness, this might help. With the added Vitamin E and Shea Butter, it will moisturise the lips while keeping them soft, smooth, and protected. Layer this one at night since it also doubles as a lip therapy mask!
Why we love it:
Intense hydration
Ideal for sensitive lips
Minimizes wrinkles
Price: RM16.00
Shop Now
4. Lips Carpenter Tinted Lip Balm
A lovely tinted lip balm that's easy to carry and put on when you're going for a quick errand run or while you do your groceries. Blended with coconut oil and cocoa butter, this will give your pout hydration while giving you a beautiful pop of color! Lips Carpenter's Tinted Lip Balms glide on smoothly on the lips without emphasizing its lines or dryness.
Why we love it:
Subtle tint
Prevents dry and chapped lips
Available in different variants
Price: RM28.00
Shop Now
5. AK by AthishaKhan Read My Lips Moisturising Lip Balm
AK by AthishaKhan Read My Lips Moisturising Lip Balm features a concoction of hydrating and nourishing ingredients including coconut oil, almond oil and peppermint oil. This clear lip balm helps to moisturize the lips for long-lasting hours, leaving you with a soft and kissable pout. With the germ-free formula, it prevents cracked lips from infection and swelling. Unlike other lip balms, this highly loved product delivers a cooling sensation that will slight plump up your lips. You can use the Read My Lips Moisturising Lip Balm on its own or layer it with lipstick for a juicy finish.
Why we love it:
Ultra-hydrating formula
Plumper looking lips
Comes with cute drawer-style packaging
Price: RM45.00
Where to buy: Shopee
6. Dior Addict Lip Glow
This luxurious lip balm by Dior is one that is gonna cost a hole in your wallet but trust us, it is absolutely worth it! Inspired by the expert techniques of the Dior Backstage, these lip balms are the first colour reviver balm by Dior. It combines the comfort of a balm with a natural flush of custom colour. With just one use, your lips will look fresher, fuller and more radiant. Formulated with concentrated mango butter, the lip balm can provide you with deep hydration for 24 hours!
Why we love it:
Long-lasting hydration
Natural colours
Instant results
Price: RM150.00
Where to buy: Sephora
7. Fresh Sugar Tinted Lip Treatment Sunscreen SPF 15
This is one of the very few lip balms in Malaysia that is tailor-made for the harsh Malaysian weather. Living under hot, humid weather can make your lips to be more prone to sun damage cuz as discolouration, hyperpigmentation and dryness. This lip balm by Fresh can help protect you from all that, Packed with SPF 15, this lip balm can protect your lips from the rays of the sun as well as keep it moisturised too. It is also quite long-lasting hence will leave your lips smooth and soft all day long!
Why we love it:
Features SPF 15
Minimizes lips discolouration
Non greasy formula
Price: RM103.00
Where to buy: Sephora Malaysia
8. Maybelline Baby Lip Balm Cherry
One of the most affordable lip balms in Malaysia, this Maybelline lip balm is on par to its luxury counterpart. Packed with sun protection of SPF20, the Maybelline Baby Lip Balm Cherry has a smooth texture that easily glides on your lips and renews your lips by supplying lots of moisture and nutrients! It also has a red tint that accentuates your lips instantly. The best part is the mild fruity scent which just reinvigorates your sense instantly!
Why we love it:
Buildable red tint
Fruity scent
Features SPF 20
Price: RM11.90
Where to buy: Maybelline official website
9. Himalaya Lip Balm
Formulated with all-natural ingredients and herbs, the Himalaya Lip Balm can help defend your lips against environmental stresses. The lip balm contains wheat germ oil and carrot seed oil, which both are known for their nourishing and moisturising properties. Plus, since the lip balm is all organic and has no harsh chemicals in the formula, so it is highly suitable for those with even the most sensitive skin. Despite its petite look, this lip balm is an ayurvedic proprietary goodness that you must have in your bag.
Why we love it:
Free from harmful ingredients
Ideal for sensitive skin
Nourishes the lips
Price: RM12.64
Where to buy: Watsons Malaysia
Here's A 4-Step Guide To Whip Your Own Homemade Lip Balm!

10. The Body Shop Vitamin E Moisture-Protect Lip Care SPF 15
Another one of the most popular lip balms in Malaysia, the Body Shop Vitamin E Moisture-Protect acts more like a thick lotion texture that can just moisturise your lips the moment you apply it on. Despite the texture, the lip balm is lightweight and gets easily absorbed by your skin with barely any remaining traces. The best part is, it comes with an SPF 15 protection and is also packed with coconut oil which can give your lips the boost of hydration that it needs.
Why we love it:
Features SPF 30
Infused with hyaluronic acid
Super lightweight
Price: RM32.00
Where to buy: The Body Shop Malaysia
11. Eucerin Lip Active Lip Balm
The Eucerin Lip Active Lip Balm is specially formulated for those with sensitive skin. Clinically proven for skin tolerability and great moisturising efficacy, this lip balm can cure chapped lips. Thanks to its high concentration of Dexpanthenol and Vitamin E, this lip balm can help combat dehydration and flakiness. It also has sun protection to protect your lips from getting toasted by the sun. Free from scents and harsh chemicals, you can use this lip balm without worrying about allergic reactions.
Why we love it:
Suitable for sensitive skin
Free from harmful ingredients
Protects the skin from environmental aggressors
Price: RM21.00
Where to buy: Watsons Malaysia
12. Clinique Chubby Stick Moisturizing Lip Colour Balm
A cult favourite, this lip balm from Clinique is a top player in the lip balms game due to how moisturising it is. Loaded with a good amount of shea butter this lip balm is soothing enough to moisturise your lips while leaving it looking supple and soft. They also come in various colour choices so you can pick the one that you like. Plus, the lip balm also tastes so good that you can't just stop licking it off!
Why we love it:
Available in different shades
Long lasting hydration
Buildable
Price: RM86.00
Where to buy: Clinique Malaysia
13. Nivea Lip Care Lemongrass
A drugstore-friendly option, the Nivea Lip Care Lemongrass is one that is gonna give you the lips that you desire! Using Nivea's moisture technology this lip balm promises to deliver more moisture to your lips. Containing both lemongrass and lotus oil, this lip balm is super lightweight and has a lightly refreshing and soothing lemongrass scent. It is also cheap and we bet you can find it on all drugstore shelves in Malaysia.
Why we love it:
Lightweight
Good value
Refreshing scent
Price: RM14.06
Where to buy: Shopee
14. Burt's Bees Moisturizing Lip Balm
Made with 100% natural ingredients like cucumber, Vitamin E and peppermint oil, this lip balm by Burt's Bee is super light and gentle on the skin. With a line up of nourishing and nutrient-rich assembly of ingredients, this lip balm can surely infuse deep moisture and five your lips a revitalising transformation. Oh did we also mention the lip balm has a semi-matte finish without the glossiness? So, if you are not someone who enjoys glossy balm then this one is perfect for you.
Why we love it:
Natural ingredients
Semi-matte finish
Non-greasy
Price: RM27.00
Where to buy: Sephora Malaysia
15. Innisfree My Lip Balm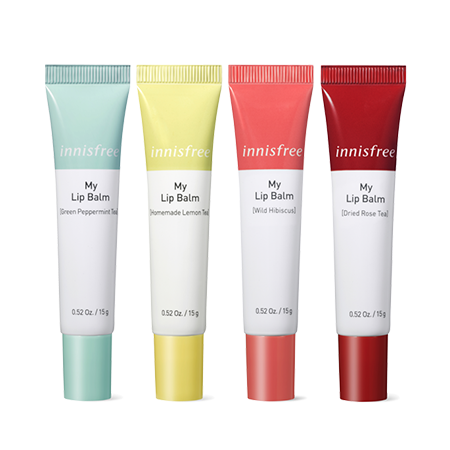 Available in many different flavours, the Innisfree MY Lip Balm is one of the best-selling lip balms in Malaysia. Formulated with nourishing ingredients like sunflower oil, jojoba oil and butter, this lip balm can ensure that your lips receive adequate moisturisation. The lip balm also has an added tea complex which can enrich your lip with hydration and care. Apply it daily and you will feel your lips getting better! If you are a tea lover, you must get this lip balm as it smells and tastes refreshing like real tea!!!
Why we love it:
Different variants
Sweet scent
Long-lasting finish
Price: RM34.80
Where to buy: Shopee Malaysia
16. Mario Badescu Lip Balm
One of the most sold-out lip balms in Malaysia, the Mario Badescu Lip Balm is an ultra-nourishing lip balm that is infused with rich butter and oils which can give your lips soft and supple look and feel. Also, formulated with rich antioxidants and vitamins, this balm will just melt into your skin to replenish and renew lips. It is also not greasy or sticky. It is extremely beneficial as you would want something that has a perfect texture to coat your lipstick.
Why we love it:
Non sticky
Ultra lightweight
Intense hydration
Price: RM40.00
Where to buy: Sephora Malaysia
17. Vaseline Lip Balm
Last but not least in our best lip balms in Malaysia list is the good ol' Vaseline Lip Balm.A cult classic, this lip balm is available in four variations where each has a slight tint that helps to add some colour to your lips. It is not overly pigmented so it just lends a touch of colour that will complement your look for the day. The balm itself is super moisturising and has the ability to heal cracked lips in no time. The best part is, it is formulated to suit all skin types so anybody can use it!!!
Why we love it:
Subtle tint
Ideal for all skin types
Comes in four variants
Price: RM14.30
Where to buy: Watsons Malaysia

1. Laneige Lip Glowy Balm Grapefruit
One of the best-selling lip balms in Malaysia, the Laneige Lip Glowy Balm Grapefruit comes pretty in a light coral tint and can instantly help to restore moisture to your lips. The lightweight texture and smooth consistency will just sit on your lips comfortably all day long. Packed with deeply moisturising ingredients like Shea Butter and Murumuru butter. This lip balm can also add more volume to your lips and makes em look more supple and plump!
Why we love it:
Lightweight texture
Light coral shade
Non-greasy
Price: RM32.50
Where to buy: Lazada
For more beauty infos, make sure to follow us on Instagram and Facebook. Also, visit our Insider Mall to shop and get rewarded!