Body
Treat Yourself To A Mani-Pedi At Home With These Pretty Nail Polishes!
To help you on your mani-pedi binge at home, here are some of the best nail polishes you can find online and on our local beauty shelves!
By: / November 26, 2020
The DIY self-care trend has been rising in popularity since the start of the pandemic earlier this year. And this includes at-home nail care and color kits for DIY mani-pedis. Since most of us are now spending time indoors, we now have more time for grooming and self-maintenance. Plus, painting your nails yourself is always fun because you get to experiment with different colors every week! So to help you on your mani-pedi binge at home, here are some of the best nail polishes you can find online and on our local beauty shelves!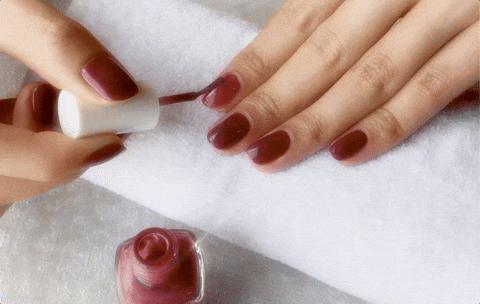 1. Bloop Aqua Gel Polish
Bloop nail polishes have been around for a long time and we can't get enough of them! Besides being quite affordable, they have a whole variety of colors, collections and textures to choose from. Recently, we've been loving their Aqua Gel range for their odorless polishes! They're also free of alcohol so you won't have to worry about them drying your nails out from continuous use. Plus, they're also free of 18 harmful chemicals like mercury, formaldehyde, lead, tar and parabens. No UV light is necessary to set these polishes and they're kid-safe too!
Why we love them:
Alcohol-free
A variety of colors available
Free from 18 toxic chemicals
Odorless water-based formulation
Peels off easily when you want to remove them
Available at Watsons stores nationwide and online at Bloop-Bloop (price varies online and in-store).
2. Essence Shine Last & Go!
Besides being crazy affordable, this nail polishes by Essence come in a good variety of classic shades to suit various skin tones. Their shimmery pink, mauve and lavender grey shades in particular hold a very special place in our hearts. With a glossy gel-like effect and excellent color payoff, these polishes are a great way to dress up your nails on a weekly basis without breaking the bank.
Why we love them:
100% vegan and cruelty-free
Budget-friendly option
Great color opacity for the price you get
Available for RM7.90 each at Watsons.
3. The Face Shop Easy Gel Nail Polishes
Who hasn't heard of The Face Shop's iconic Easy Gel nail polishes? They've been around for ages and their textures are a dream to work with! From pretty pastels and vibrant shades to glittery party tones, there's something for just about everyone. The brush applicator itself is dense and wide and makes for a smooth and fuss-free application. Plus, they give a luxurious gel-like finish sans the hassle of using a UV light.
Why we love them:
Relatively affordable
Great variety of colors
No UV light required
Glossy gel finish
Available for RM28.90 each at The Face Shop Malaysia.
4. Elianto Shimmer Nail Lacquer
Next, we have these Shimmer Nail Lacquers by Elianto that provide a good balance of opacity and affordability. The color payoff is nothing short of amazing and the glittery color options are great for parties and special occasions. If you're more of a glossy-finish kind of gal, then try their timeless Basic Nail Lacquers instead!
Why we love them:
Eco-friendly
Very affordable
Free of toxic chemicals
A good variety of shimmery shades
Available for RM16.90 each at Elianto stores nationwide and online.
5. Catrice ICONails Gel Lacquers
Catrice remains one of our favourite drugstore brands for pocket-friendly palettes and everyday essentials. So it doesn't come as a surprise that we would love their ICONails Gel Lacquers too! In addition to classic nudes, pinks and reds, this collection also comes in opulent hues of silver and gold. Plus, we love that they're all 100% vegan and free of toxic microplastic particles.
Why we love them:
100% vegan
Free of microplastic particles
Great selection of nude shades for all skin tones
Good mix of glossy and shimmery shades
Available for RM19.50 each at Guardian outlets nationwide and online.
6. Ciaté Gelology Nail Polish
We could never stop ourselves from checking out the Ciaté nail polish section whenever we found ourselves browsing around at Sephora. Their luxurious shades and decadent textures are a nail polish addict's dream come true. Additionally, Ciaté's Gelology Nail Polishes are incredibly long-wearing thanks to a special adhesive polymer and gel agent used in their formulations.
Why we love them:
High-gloss finish
Doesn't chip easily
Long-wearing formula
Vibrant colors and luxurious texture
Available for RM75 each at Sephora.
7. OPI Infinite Shine Nail Polishes
Now, what would our list of favourite nail polishes be without the ever-famous OPI? Because of their extensive color variety and excellent color payoff, they can be found in almost every nail salon imaginable. Although they're a little on the pricier side, they are totally worth it in our book.
Why we love them:
Who doesn't love OPI nail polishes?
Maximum color payoff
Extensive color options for all skin tones
Extremely long-wearing
Available for RM80 each at estone.
8. Chanel Le Vernis Nail Colours
The Le Vernis lacquers by Chanel are the epitome of style and sophistication. Who can resist their timeless shades and modern textures housed in their iconic glass bottle? And besides, these polishes make wonderful gifts for a dear friend, mother or sister.
Why we love them:
Delicious lacquer-like finish
Timeless shades for all occasions
Also features fun, vibrant shades to suit every mood
Comes in a chic glass bottle that'll look great on your dresser!
Click here to view the complete colour range.
Available at all Chanel boutiques nationwide.
9. Butter London Patent Shine 10x Nail Lacquers
Looking for a nail polish that offers 10 times the shine and glides on like butter? Then look no farther than Butter London's Patent Shine Lacquers! From demure pastel shades to decadent autumnal hues, you'll be sure to find a color you'll love.
Why we love them:
High-shine finish
They glide on like butter
Long-wearing and they don't chip easily
Beautiful luxurious colors for all skin tones
Available for RM80 each at Sephora.
10. Nails Inc. Holler-Graphic Nail Polishes
Finally, we're ending the list with a power-packed holographic collection by Nails Inc.! Mixing future and fun in 4 shimmery galactic shades, this Holler-Graphic collection is not one to be missed! Plus, it's the perfect way to usher in the brand New Year ahead – with a heart full of gold and nails decked out in glitter!
Why we love them:
100% cruelty-free
Available in 4 glittery galactic shades
Chameleon-like color that changes at every angle
Lend a futuristic look to your nails
Available for RM66 each at Sephora.
Author Clara Siew | Date 26th Nov 2020