Makeup
Sum Up Your Chinese New Year Look With 15 Iconic Bold Red Lipsticks
The finest red lipsticks that flatter Asian skin tones to wear on Chinese New Year
By: Aqilah Najwa Jamaluddin / January 9, 2023
Feature image from Jisoo for Marie Claire Korea
Red is the emblem of the Lunar New Year and the colour is said to attract happiness, love, and good fortune. And the simplest way to rock the fortunate colour is to don a stunning red lipstick on the festival morning itself—which never goes out of style!
Though red lipstick may look daunting for beginners, there are indeed several ways to pull off the pout without giving that try-hard Geisha look. From blue-toned reds to soft orange colours that add tenderness, here are the finest red lipsticks that flatter Asian skin tones that you can wear on Chinese New Year 2023.
Best Red Lipsticks for Chinese New Year

1. Christian Louboutin Silky Satin Lip Colour in Rouge Louboutin
The Louboutin Rouge Silky Satin Lipstick carries the same classy red look like their shoes. The pigmentation provides almost opaque coverage and the lipstick texture is really smooth so it sorts of moisturizes your lips. Despite being not smudge-proof, the shade could last up to at least five hours without having to touch up. All Christian Louboutin Lipsticks are really costly but this one is worth the investment.

2. Chanel Rouge Allure Luminous Intense Lip Colour in 99 Pirate Red
Chanel describes Rouge Allure Pirate Lipstick as a true red and it indeed is. It is a classic lipstick that even many celebrities use it to complete their iconic red carpet look. It comes in Chanel's classic bullet tube and we love it! Chanel said the lipstick is highly pigmented and it does live up to the words. It is intense and delivers full coverage with just two swipes that would last up to five hours. On lips, the Chanel Rouge Allure in Pirate is very hydrating and act as a lip balm so you don't need to apply one.

3. Dior Rouge Dior Lipstick in 999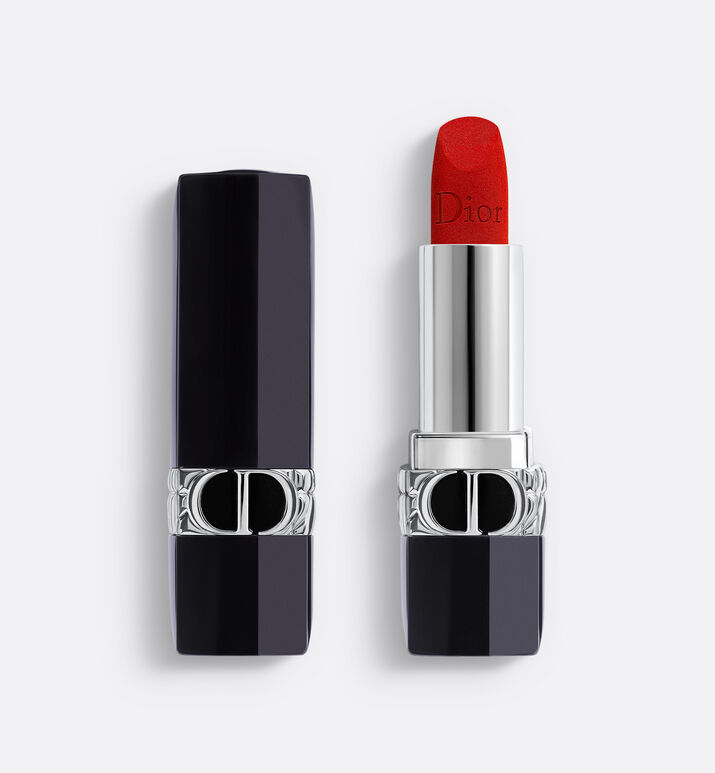 A cult classic, The Rouge Dior 999 is encased in a metallic couture case, Dior's extravagantly sexy signature. This is the iconic red shade that supposed to be the right kind of shade for every woman and it indeed does look good on all skin tones. It is also smudge-proof so apply it once and you don't have to reapply again. Plus, the lipstick has a pleasant smell. Despite the thick red matte finish, the lipstick is very comfortable to wear without any dryness or clinginess on the lips. .
4. Yves Saint Laurent Rouge Pur Couture in 01 Le Rouge
The YSL Le Rouge Lipstick is an edgy and bold red lipstick that gives an alluring satiny matte finish. The packaging is the classic YSL's gold bullet tube and it is absolutely gorgeous with a creamy consistency that just sits on your lips for hours without staining. The texture is very lightweight, so you'll need to add few layers to get the ultimate dark red look but if you love super bright red lips as opposed to the stained red lip look then this lipstick is for you. The lipstick also carries a mild a fruity, floral scent. It is the ultimate weapon for uncompromising seduction this Chinese New Year.
5. Lancôme L'Absolu Rouge in Absolute Rouge
Lancome has had a great reputation for coming up with great lipsticks and the Lancôme L'Absolu Rouge in Absolute Rouge is no different. The lipstick comes in a beautiful sleek black packing and with a pleasant sweet smell which lasts for some time even after application. The red shade is just thick, classic bold, red with a subtle gold shimmer finish. The lipstick is very hydrating so it won't dry your lips out, It also has a long-lasting power so don't worry about having to find a find mirror to reapply your lipstick.

6. Dolce & Gabbana Classic Cream Lipstick in Devil
The Dolce & Gabbana Classic Cream Lipstick in Devil is medium-dark, warm-toned red with orange shade. It is perfect for those looking for a more settled red than a daring red. It is lightweight and has a creamy consistency. The lipstick is highly pigmented so just a single swipe would give a full lip with a more satiny finish rather than matte. The lipstick does stain but it doesn't fade away complete and can last up to five hours before having to retouch it. Now, embrace the spirit of Chinese New Year with this very feminine vibrant red lipstick by Dolce & Gabbana.

7. Mac Lipstick in Ruby Woo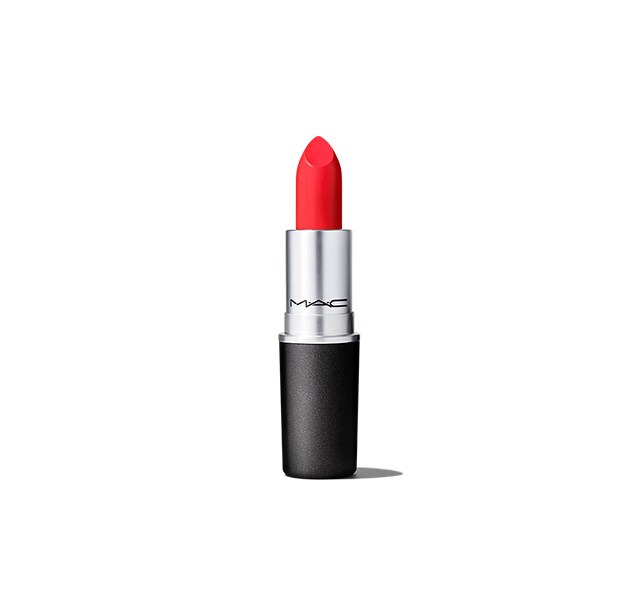 The dazzling Ruby Woo from M.A.C. Cosmetics is an iconic and classic matte red lipstick that truly is a staple when comes to getting a glamorous red lip look. The award-winning red lipstick that has been continuously praised for its universally flattering finish thanks to the warm blue undertone of this shade, has the power to bring out the best of all skin tones. The deep red pigmentation is so gorgeous and opaque on lips and instantly will brighten up your face and your mood. If you haven't yet found your perfect red for Chinese New Year then, give Ruby Woo a chance!

8. Givenchy Rouge Interdit Lipstick in N14
The Givenchy Rouge Interdit Lipstick in N14 comes in a black tube with a black ribbon on the bottom to pull the lipstick out, how cool is that? The shade is thick and leans towards a more maroonish satin red than the usual bright satin red and it is just so sexy in the classiest way. The lipstick infused with black rose oil, which instantly softens and nourishes the lips. Like some lipsticks in the list, the Rouge Interdit Lipstick has a sweet, slightly floral scent.

9. Estee Lauder Pure Color Envy Sculpting
The Estee Lauder Pure Colour Sculpting Lipstick in colour Envious has a sexy cherry-red matte finish. The packaging is undeniably sophisticated with the exquisite black and gold. Not just the packaging, the formula is also very luxurious whereupon applying it will make your lips look plumed and keep it hydrated all day. Despite being a matte lipstick shade does have a velvety feel and some shimmer. The best part of this Estee Lauder lipstick is most probably the fine light-reflecting particles that make the lip lines disappear.

10. Nars Lipstick in Jungle Red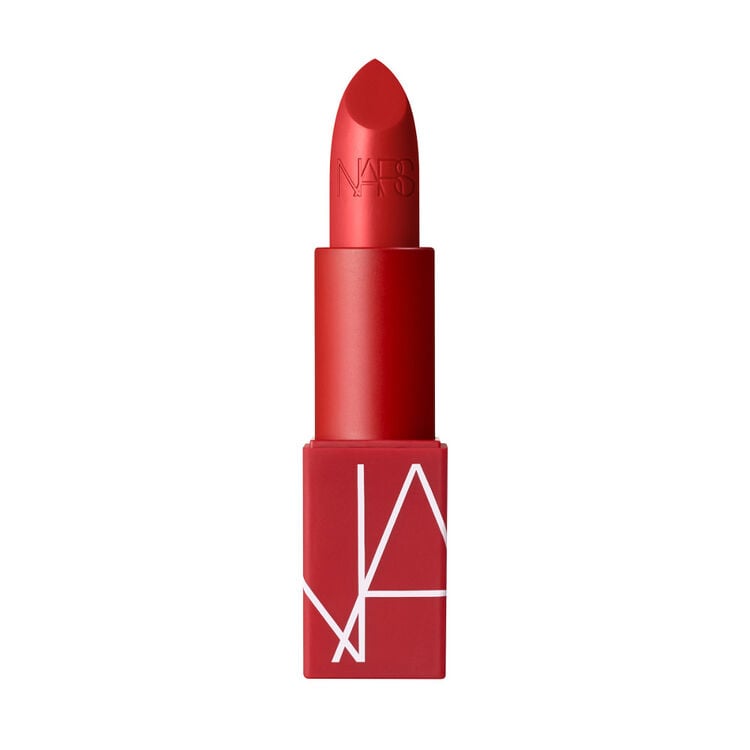 Nars always makes the best matte lipsticks and the Jungle Red lipstick is no difference. It was said that the 'Jungle Red' shade was inspired by the movie stars from the 50s and it indeed does give you the old Hollywood glam finish. The pigmentation of the lipstick is quite strong and just one swipe is enough for full coverage. Though this is a matte shade, it has a slight sheen which adds more volume to the lips. If you are looking for a red lipstick that justifies your star-like personality, then the bright, velvety Nars Jungle Red should be your best friend.

11. Tom Ford Beauty Lip Color Lipstick in Scarlet Rouge
The Tom Ford Scarlet Rouge is a beautiful, bold, warm red lipstick that would just ooze your confidence the moment you put it on. Like all Tom Ford makeup, this lipstick too is synonymous to timeless, sexy and luxurious. The packaging is the coveted Tom Ford glossy brown lacquer with polished gold lining and the texture of the lipstick is quite creamy but does not smudge. It can last up to at least five hours and leaves a lovely red stain behind as it fades evenly. If you just want to look and feel expensive, The Tom Ford Scarlet Rouge is a home run.

12. Maybelline Color Sensational Made For All in 382 Red For Me
As the name suggests, Maybelline Color Sensational Made For All in 382 Red For Me is made to flatter every complexion. The lipstick comes in a simple and sleek reflective silver plastic packaging and the cap of the lipstick is coloured to match the shade inside. The shade inside is a classic maroonish red matte shade with an impressive formula. The pigmentation is deep and lasts up to 12 hours, no joke! The texture is thick but goes smooth on the skin. Honestly, this drugstore lipstick is a diamond in the rough. So, if you are looking for a budget-friendly matte red, this one is 100% worth a go!
13. Shiseido ModernMatte Powder Lipstick in Scarlett Red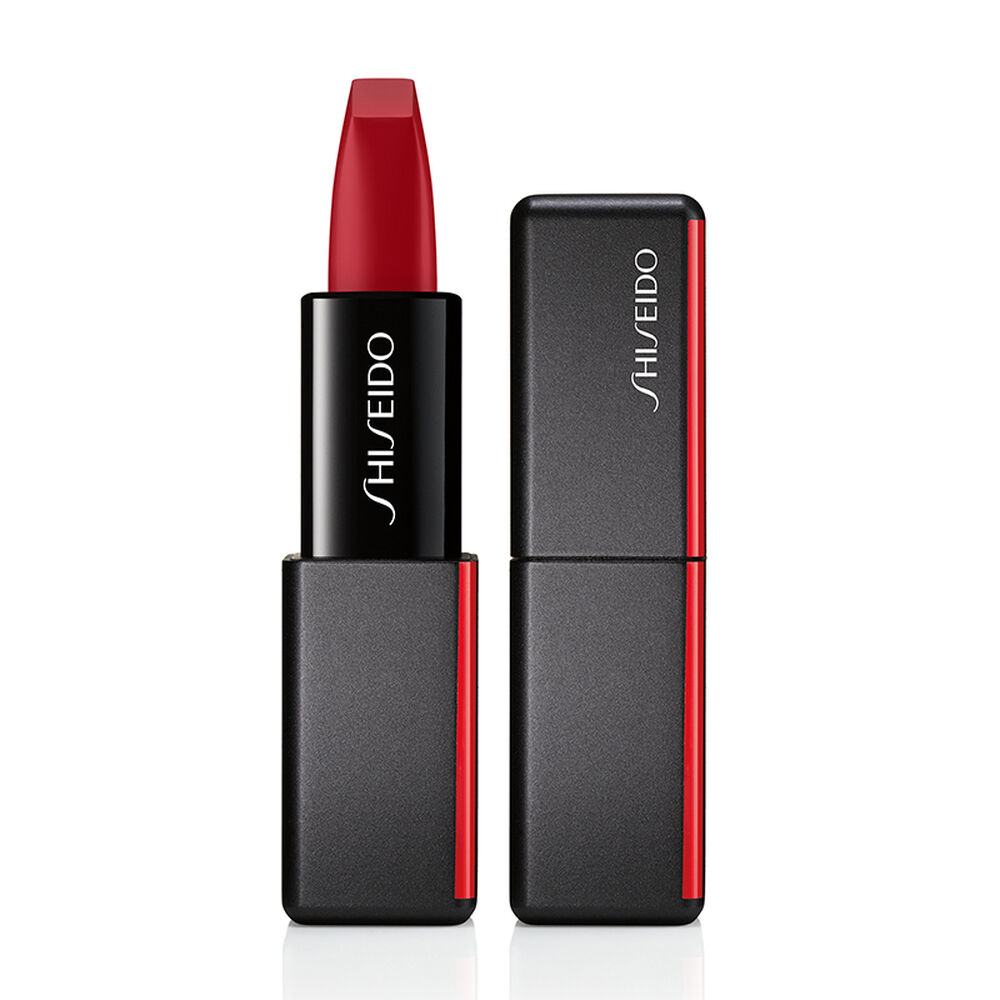 The Shiseido Modern Matte Powder Lipstick in Scarlett Red is a super lightweight comfortable lipstick with a true matte finish. The red is really subtle and will give a very feminine elegant finish. It is creamy and glides effortlessly on the lips without feathering. The packaging is a simple matte black and magnetic. The shade is well-pigmented but does stain so you may need to retouch a tiny bit after eating but still, the colour won't completely fade away.

14. Guerlain Kiss Kiss Creamy Satin Finish Lipstick in Rouge Kiss
Dressed in a black lacquered packaging, the Kiss Kiss Creamy Satin Finish Lipstick in Rouge Kiss is creamy, intense and full of shine. The shade is a bright, medium-dark coral red with a luminous glossy finish. It is not that deeply pigmented but nevertheless, we absolutely love the understated coral red outcome. The lipstick lasts about 4-5 hours and it is not drying nor hydrating so better to coat it over a lip balm.

15. Revlon Super Lustrous Lipstick in Fire & Ice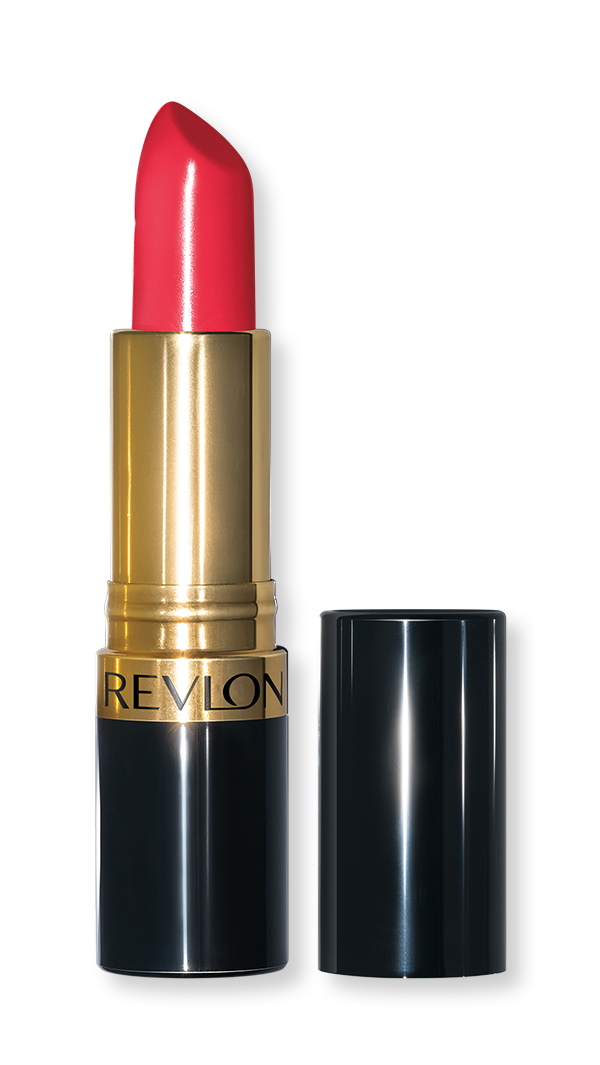 Revlon Super Lustrous Lipstick in Fire & Ice is a vintage masterpiece that has been around since 1952! The shade leans more towards a coral-pinkish red like a tomato red. Definitely give you that chameleon that will look different based on your undertones and add more classiness to your overall look. It is a matte lip with a slight shine and glides easily and on the lips. It stays on for long and will just elevate your look from basic to chic is just one swipe.
For more beauty infos, make sure to follow us on Instagram and Facebook. Also, visit our Insider Mall to shop and get rewarded!