Skin
39 Best Sunscreens Recommended By Top Dermatologists In Malaysia
Sunscreen all day, every day
By: Aqilah Najwa Jamaluddin / August 29, 2023
With the weather in Malaysia getting hotter and hotter, we don't need to emphasize the importance of good sunscreen. So, if you are looking for good sun protection from the scorching Malaysian weather then you've come to the right place. Beauty Insider Malaysia has gathered the best sunscreens that you can find anywhere in Malaysia.
These sunscreens will keep your skin moisturised and safe from nasty UV rays! Plus, we've also consulted some of the top dermatologists in Malaysia to answer some of your most burning questions about sunscreens and SPF! Continue reading and be a sunscreen expert in no time.
What Are UV Rays And How Do They Affect Our Skin?
Well, this is the most commonly asked question. Let us explain. Well, ultraviolet (UV) rays are a type of electromagnetic radiation responsible for sunburns. If you are exposed to UV rays radiation for too long it can severely damage your skin tissues.
There are two types of UV light both of which can contribute to the risk of skin cancer. The first one is UVA. UVA has a longer wavelength and is associated with skin ageing, and the second is UVB which has a shorter wavelength and is associated with skin burning.
While UVA rays are less intense than UVB rays, it penetrates your skin more deeply. Basically, exposure to UVA rays can cause genetic damage to cells in the top layer of your skin, where most skin cancer occurs. The skin then tries to prevent further damage by darkening that area. In other words, your tanned skin is actually damaged skin.
UVB rays, on the other hand, are connected to the Sun Protection Factor (SPF) on sunscreens. SPF is the number that tells you how long it would take for the sun's radiation to begin to burn your skin.
If you are under the sun for 10 minutes, an SPF 30 sunscreen would provide 30 times the protection or a 300-minute shield. While UVB rays can cause skin damage year-round, their intensity fluctuates depending on the season and the time of day.
Physical Sunscreen vs Chemical Sunscreen- Which One is Better?
It really depends on your skin and its needs! Physical sunscreens contain mineral ingredients like titanium dioxide or zinc oxide. They rest on top of your skin to deflect sun rays. Whereas, chemical sunscreen absorbs the UVA rays and changes them into heat before releasing the heat away from your skin.
Another difference is that physical sunscreen provides broad-spectrum protection against UV rays whereas chemical sunscreen ingredients usually protect against either UVA or UVB rays. Both types require re-application.
Apart from that, physical sunscreen is easy to rub off or wash away by sweat and water whereas chemical sunscreen active ingredients can wear off under the sun. The protection of physical sunscreen is immediate whereas chemical sunscreen requires between 10 and 15 minutes to work before the skin can absorb it.
As for the texture, physical sunscreen is generally thicker than chemical sunscreen. A certain amount has to be laid on the skin before it is effective. Furthermore, they may leave a white-ish hue on the skin. Chemical sunscreen is generally thinner in texture and requires a relatively thinner layer to work.

Physical sunscreen with its larger particles is less likely to clog pores as compared to chemical sunscreen. While physical sunscreen reflects harmful sun rays, chemical sunscreen absorbs the rays and converts them to heat. The latter can cause existing discolouration to increase due to the higher skin temperature.
The Best Type of Sunscreen- According To Experts
All of the skincare experts that we spoke to, recommended using broad-spectrum sunscreens in either chemical or mineral formulations because they protect against both UVA and UVB rays. They all also suggest you look for products that are water-resistant with a minimum SPF of 30 that can give protection for up to a maximum of 12 hours.
A sunscreen with more zinc oxides as its main ingredient is highly recommended as well. Zinc oxide is derived from zinc is a naturally reflective material and has many benefits. Perhaps the most enticing benefit is its strength in protecting your skin against the sun. It is one of the most effective sun protectors available, blocking out both short and long UVA rays and all UVB rays.
Apart from zinc oxide, titanium oxide is also another great ingredient to look out for. While it doesn't provide as much protection from long-wave UVA rays, titanium dioxide is extremely effective at blocking short-wave UVA and UVB, making it a great choice for casual daily sun exposure.
The 38 Best Sunscreens in Malaysia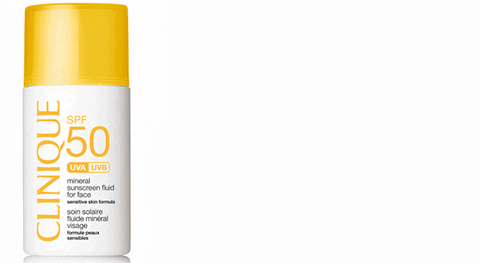 Now that you know everything there is to know about sunscreens the next step is finding one that fits your skin needs. To help you out, we have narrowed down the best sunscreens available in Malaysia right now! Whether you are looking at something that is budget-friendly, sweatproof or be it anything, we got you covered!
1. Beauty of Joseon Relief Sun: Rice + Probiotics
If you have sensitive skin, check out this organic sunscreen from Beauty of Joseon! Packed with skin-calming ingredients, the Beauty of Joseon Relief Sun: Rice + Probiotics is lightweight as well. It absorbs easily into the skin and does not leave a white cast on the skin. Furthermore, its formula contains ingredients such as 30% rice extract and grain probiotics complex to help nourish the skin.
Why we love it:
Moisturising
SPF 50+ PA++++
No white cast
Price: RM43.0
Where to buy: Shopee
2. Mioree SPF50 Ultimate Protection Sunscreen
The Mioree SPF50 Ultimate Protection Sunscreen is packed with antioxidants and minerals, providing more than just sun protection. Perfect for those who hate the feeling of heavy creams on their complexion, this sunscreen has a weightless texture that blends well with all skin tones. Although it has a non-greasy formula, Mioree created this sunscreen to create a healthy and desirable glow on your skin. Especially loved by those with oily skin, this non-comedogenic sunscreen will leave your pores to breathe.
Why we love it:
Non-comedogenic
Non-greasy formula
Glowing skin
Price: RM148.00
Where to buy: Mioree
3. Benton Skin Fit Mineral Sun Cream
Benton Skin Fit Mineral Sun Cream contains witch hazel extract, which provides sustenance and promotes suppleness, centella asiatica, which restores the skin's oil-water balance, calamine, which soothes and defends skin, and zinc oxide, which reflects UV rays. It also has brightening and wrinkle-reducing properties. The non-sticky, compact composition does not leave a white cast.
From 1st Sep – 30th Sep 2022, Enter Promo Code BENT20OFF for 20% OFF right away!
Why we love it:
No white cast
Restore oil-water balance
Soothes the skin
Price: Starts from RM 53.33
Where to buy: Shopee
4. Kyut Sunscreen Stick with SPF 50 PA++++
A ground-breaking sunscreen stick you need is the Kyut Sunscreen Stick with SPF 50 PA++++! Not only is this sunscreen easy to apply, but it is also great for reapplying when you are on the go. It is effective and offers broad-spectrum protection without any harsh chemicals. Aside from that, its formula contains natural oils to moisturise and shield your skin from the sun. Its formula also contains ingredients like Jojoba Oil, Rosehip Oil, Sunflower Seed Oil and antioxidants. These ingredients help to hydrate your skin and offer antibacterial and anti-inflammatory properties. Furthermore, it offers anti-ageing effects to reduce wrinkles, freckles, melasma and melanoma. Easy to apply, you can most definitely use it before your makeup too!
Why we love it:
No white cast
Protects from UVA & UVB rays
No stickiness
Price: 1 for RM79.90 | 2 for RM155.00 | 4 for RM299.00
Where to buy: Shopee
5. Kayman Beauty Suntella UV Milk SPF50+ PA++++
Malaysians definitely need to wear sunscreen, and who better to make sunscreens for us than a Malaysian brand? Kayman Beauty released the highly innovative Suntella UV Milk SPF50+ PA++++, and it's won Beauty Insider Malaysia's Best Skincare 2023, Best Face Sunscreen, and Bloggers' Choice Award! It has a unique formula boasting seven broad spectrum UV filters which comprise both physical and chemical sunscreen, so it does an amazing job at protecting the skin from harmful sun rays. Not only that, this sunscreen is also infused with Centella Asiatica, Niacinamide, and Ceramide, so your skin will also hydrated and nourished!
Why we love it:
Acts as both a moisturiser and a sunscreen
Suitable for all skin types, including dry and sensitive skin
Has a satin tone-up finish that will leave your skin looking radiant
Price: RM69
Where to buy: Kayman Beauty official website, Kayman Beauty official Tik Tok
6. Biore UV Athlizm Essence with SPF 50+ PA++++
This Bioré UV Athlizm with SPF 50+ PA++++ provides everything you need in a sunscreen: long-lasting, waterproof, sweatproof, and also friction-resistant. It is the ideal all-rounder sunscreen spectrum that features Unique Outer Skin & Resistant Boost Tech, offering a layer of defence that is lightweight but tough against UV rays. Due to its essence-like product, this sunscreen is suitable to be applied on both body and face.
We truly love this sunscreen as it spreads smoothly on the skin and has a silky smooth texture that naturally clings to the skin without any hint of stickiness, clumpiness or oiliness. It acts as a protective "outer skin" when applied.
Why we love it:
Suitable for body and face applications
Non-comedogenic tested
Proven water resistent for 80 minutes
Can be used as makeup base or primer
Price: RM60
Where to buy: Watsons
7. Make Prem UV Defense Me. Blue Ray Sun Cream
This hydrating physical sunscreen is gently formulated to protect the skin from harsh UVA & UVB. It provides a strong defence against sun rays and damage while keeping the skin healthy, thanks to its added Centella Asiatica Extract. It also prevents skin irritations while strengthening the skin barrier.
Why we love it:
Healthier skin
Prevents skin irritations
Strengthens skin barrier
Price: RM89.00
Add to Cart
8. Aveeno Positively Radiant Sheer Daily Moisturizer with SPF 30
This lightweight moisturizer can keep your face safe from the sun with its SPF 30! Plus, it is non-greasy and oil-free and absorbs into the skin fast. Adding on, it is also enriched with the 'Total Soy Complex', a clinically proven chemical that can improve the look of your face. Furthermore, it can also help fix dark spots, and reduces blotchiness and discolouration.
Why we love it:
Reduces blotchiness
Reduce dark spots
Lightweight
Price: RM23.99
Where to buy: Amazon
9. DHC Suncut Q10 EX Gel SPF50+ PA++++
A hydrating gel sunscreen that gives you strong protection while blocking UVA & UVB rays. Made with coenzyme Q10, virgin olive oil, hyaluronic acid, and golden seaweed extract, it effectively moisturises the skin while preventing sun damage on the skin. You can wear it on its own or under makeup without leaving a white cast that is perfect for everyday use.
Why we love it:
Suitable for everyday use
No white cast
Prevents sun damage
Price: RM 125.00
Add to Cart
10. Olay Complete Daily Moisturizer with Sunscreen SPF 30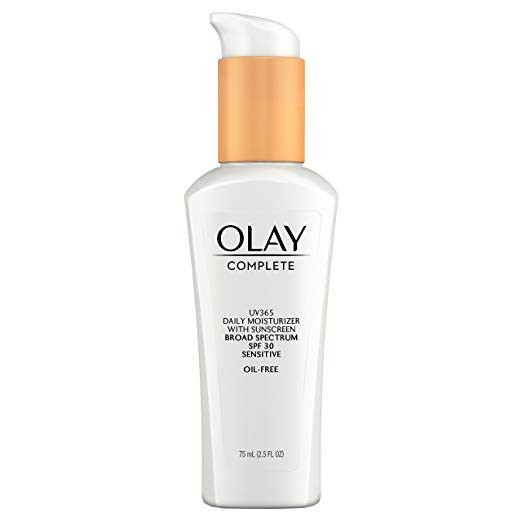 Another one of the best sunscreens in Malaysia is the Olay Complete Daily Moisturizer. This sunscreen can provide you with long-lasting hydration. This gentle, lightweight lotion is also fragrance-free and features zinc oxide. Moreover, the Vitamin E and aloe vera in this sunscreen will give your face a healthy-looking glow!
Why we love it:
Healthy-looking glow
Lightweight
Fragrance-free
Price: RM101.46
Where to buy: iHerb
11. Heliocare Advanced Gel SPF 50
An advanced sunscreen hybrid that is considered both a physical and chemical sun protector. This smooth, easy-to-apply sun cream features Heliocare's unique Fernblock that's a natural fern extract that is known to protect against the harsh UVA & UVB rays. Moreover, it strengthens the skin's immunity, prevents skin cancer, slows the skin's ageing process, and reduces skin allergies caused by the sun. It also is non-comedogenic and suits all skin types especially normal to oily, acne-prone skin types.
Why we love it:
Protects against UVA and UVB rays
Strengthens skin immunity
Non-comedogenic
Price: RM126.00
Add to Cart
12. Neutrogena Sheer Zinc Dry-Touch Sunscreen Lotion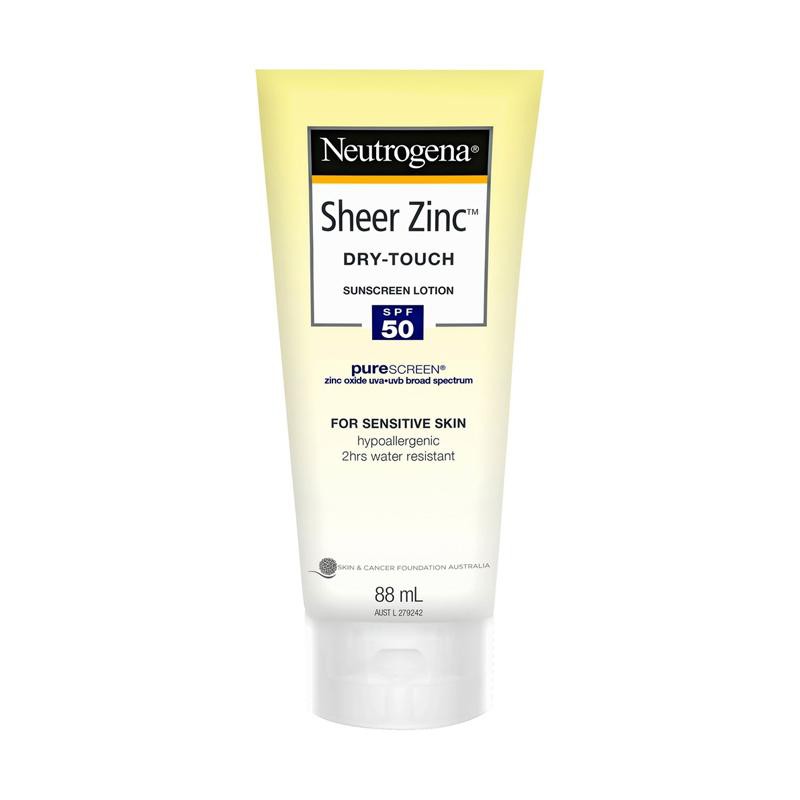 This Neutrogena sunscreen has an ultra-light texture that almost makes you feel like you have nothing on! Helioplex Technology will effectively block damaging UV rays and keep your face shine-free and clog-free. Overall, this sunscreen will protect the integrity of your face by shielding it from UV-induced damage.
Why we love it:
Shields from UV rays
Shine-free
Clog-free
Price: RM73.00
Where to buy: Lazada
13. MKUP 100% Mineral Moisturizing Sunscreen Spf30+++
If you prefer physical sunscreens, especially those you can wear with your makeup, try MKUP's Mineral Moisturizing Sunscreen! It protects the skin from UVA & UVB while balancing the skin's oil production. It also evens out the skin tone, blurs blemishes, and is a great primer underneath makeup. It also doesn't contain oil, chemicals, fragrance, and alcohol that can be too much for the skin.
Why we love it:
Balances oil production
Fragrance-free
Chemical-free
Price: RM69.00
Add to Cart
14. Claire Organics Sunscreen Face/Body Cream
Another one on our list of must-have sunscreens is from Claire Organics! It's a daily sun protector that you can use on your face and body plus it's coral-safe so you can bring this along with you to the beach! If you're also particularly sensitive to sunscreens, this one is good to pick up as well. Thanks to its Zinc Oxide, it's both a skin shield and an anti-irritant. It's gentle and moisturising, which gives you the protection your skin needs from harsh broad-spectrum rays such as UVB, UVA II, and UVA I.
Why we love it:
Moisturising
Gentle formula
Anti-irritant
Price: RM59.00
Add to Cart
15. Origins Ginzing SPF 35 / PA+++ Hydrating Prettifying Finisher
Joining the list of the best sunscreens in Malaysia is this sunscreen by Origins. It is a multitasker that will provide your face with dewy hydration and a hit of radiance. The energizing Coffee Beans and Panax Ginseng will instantly restore luminosity. To top it off, this sunscreen can kick away all the dullness and leaves you with smooth skin!
Why we love it:
Brightens skin
Smoothens skin
Hydrating
Price: RM138.00
Where to buy: Shopee
16. Privia Classic V-Face Sun Cream SPF50+++
A two-in-one sunscreen that acts as a sunscreen and makeup base, this long-lasting sun cream will moisturize and protect the skin for over 12 hours (although we still suggest re-applying every 3-4 hours!). It contains high SPF & PA levels to block off ultraviolet, UVA, and & UB rays. It also won't easily be removed if you're going for a dip with this one since it's waterproof!
Why we love it:
Long-lasting
Waterproof
Blocks off ultraviolet
Price: RM138.00
Add to Cart
17. Supergoop! Unseen Sunscreen Broad Spectrum SPF 40
This innovative, antioxidant-rich sunscreen acts as both a primer and sunscreen. It can prep your skin for makeup while protecting your face. The oil-free formula glides onto the skin leaving you with a velvety, makeup-gripping finish. The best part is, this sunscreen is suitable for all skin types and can also take care of common skin concerns such as dullness and uneven texture, oiliness, and pores.
Why we love it:
Oil-free formula
Shine control
Velvet finish
Price: RM170.00
Where to buy: Sephora
18. Mad Hippie Facial SPF 30
This sunscreen from the natural brand, Mad Hippie, is another effective sunscreen that is created with an advanced filtering system made up of micro nano-free zinc oxide & natural antioxidants to provide broad-spectrum protection and prevent damage to the skin. It also contains vitamins C & E to help heal the skin from damage and carrot seed, aloe vera, and red raspberry seed to fight against photo-ageing.
Why we love it:
Prevents skin damage
Contains advanced filtering system
Fights photo-ageing
Price: RM109.00
Add to Cart
19. Mioree 05 Ultimate Sun Protection SPF 50
This high-protection sunscreen works well to physically block UVA & UVB rays from the skin. What's unique is that this sunscreen works as soon as you put it on, without having to wait a few minutes. Works best when you're exposed to direct sunlight or while outside, too. It also helps prevent redness or irritation caused by extreme heat from the sun. Perfect for all skin types.
Mioree Ultimate Protection Sunscreen contains active mineral ingredients such as titanium dioxide. They work by sitting on top of the skin to deflect to form a shield. They scatter damaging UV rays away from the skin. This is why they are often referred to as physical blockers.
Why we love it:
Contains active mineral ingredients
Suitable for all skin types
Prevents redness
Price: RM135.00
Add to Cart
20. ASIS-TOBE Pure Mineral Sun Cream
This 100% mineral sunscreen from ASIS-TOBE is a lightweight, daily sunscreen. Providing high sun protection against extreme UV rays while keeping the skin hydrated. Its non-sticky formula also helps blur blemishes. Suitable for all skin types and can be shared with the whole family, too!
Why we love it:
Non-sticky formula
Blurs blemishes
Lightweight
Price: RM149.00
Add to Cart
21. SkinMedica Essential Defense Everyday Clear Broad Spectrum SPF 47
This lightweight, sheer sunscreen is ideal for those with oily or combination skin as it won't clog pores. Plus, this sunscreen also has whitening properties hence it is a good option for those suffering from uneven skin tone. Furthermore, it is also paraben-free, hypoallergenic, oil-free, and fragrance-free which makes it one of the best sunscreens in Malaysia.
Why we love it:
Paraben-free
Hypoallergenic
Fragrance-free
Price:188.90
Where to buy: Amazon
22. Bluebell Daily Defence Moisturiser
Without having to complicate your morning skincare routine, combine your moisturizer and sunscreen in one with Bluebell's Daily Defence Moisturiser! It quickly absorbs into the skin without being sticky. It also provides you with the daily protection your skin needs against sun damage, premature skin ageing, and from UVA & UVB rays.
Why we love it:
Protects against sun damage
Absorbs quickly into the skin
Non-sticky
Price: RM60.00
Add to Cart
23. DR.JART Every Sun Day Mild Sun SPF 43 PA+++
This is one of the best sunscreens in Malaysia because it is creamy, smooth and doesn't feel heavy on the skin! If you travel often this sunscreen is the best for you as it comes in travel size! The formula uses both chemical and mineral UV blockers and lists zinc oxide as the primary source of sun protection.
Why we love it:
All-mineral sunscreen
Refreshing
Hydrating
Price: RM103.90
Where to buy: Ohlolly
24. Garden of EDEN Satin White Day Cream SPF30
Achieve whiter, smoother skin whilst keeping your skin protected all day long with Garden of Eden's Satin Day Cream! It helps block off up to 97% of UVB and UVA rays while keeping your skin fair. It's also packed with antioxidants that protect you from free radicals to keep your skin moisturized. Moreover, it also improves the skin's elasticity!
Why we love it:
Improves skin elasticity
Smoother skin
Packed with antioxidants
Price: RM42.60
Add to Cart
25. SOLEIL TOUJOURS 100% Mineral Sunscreen SPF 30
The luxurious formula of this mineral sunscreen makes it one of the best sunscreens in Malaysia. It is fortified with potent antioxidants, vitamins and botanicals to hydrate and nourish your skin. Plus, vitamin C, vitamin E and bisabolol will act as a natural SPF booster and increase the smoothness of your face and decrease wrinkle depth.
Why we love it:
Suitable for all skin types
Absorbs quickly
Moisturising
Price: RM149.33
Where to buy: Cult Beauty
26. Banana Boat Sport Sunscreen Lotion
This Banana Boat's Sport Sunscreen Lotion is a drugstore sunscreen that does wonder! Without a doubt, this is the best sunscreen in Malaysia, especially for all you sports enthusiasts! The lotion's heavy-duty protection stays on in even the worst of conditions and can lock active ingredients in place. With affordable prices and high quality, this is one to not be missed!
Why we love it:
Affordable
Heavy-duty protection
Locks active-ingredients
Price: RM30.80
Where to buy: Big Pharmacy
27. Exuviance Sheer Daily Protector SPF50
A triple anti-ageing mineral sunscreen that doubles as a light-tinted moisturiser to blur and smooth out imperfections and even out the skin tone. With its Vitamin E & Lactobionic Acid, it provides a natural defence against free radicals to prevent premature ageing. Along with that, it also contains PHA/Bionic Complex & Green Tea extract to keep the skin firm, reduce signs of fine lines and wrinkles, and protects the cellular DNA for healthier, glowing skin.
Why we love it:
Healthier skin
Reduces wrinkles
Evens out skin tone
Price: RM230.00
Add to Cart
28. Shiseido Global Suncare Perfect UV Protector
One of the best-selling sunscreens in Malaysia, the Shiseido sunscreen provides your face with 360° protection! So no matter which angle the UV rays come from, this sunscreen will give you effective protection. Formulated with ingredients selected especially for children's skin, this low-irritant sunscreen gains power from water and perspiration.
Why we love it:
Contains WetForce technology
Uses SuperVeil-UV 360™ technology
Low-irritant
Price: RM180.00
Where to buy: Shiseido
29. Kiehl's Ultra Light Daily UV Defense Mineral Sunscreen
Kiehl's Ultra Light Daily UV Defense Sunscreen can hydrate and protect your skin from the early signs of ageing. Plus, its advanced technology also gives pollution protection. This daily, non-comedogenic sunscreen provides all-day hydration, absorbs quickly and leaves a matte finish. It also acts as a great base for makeup!
Why we love it:
Non-comedogenic
Suitable for all skin types
Lightweight formula
Price: RM168.00
Where to buy: Kiehl's
30. Innisfree Perfect UV Protection Cream SPF50+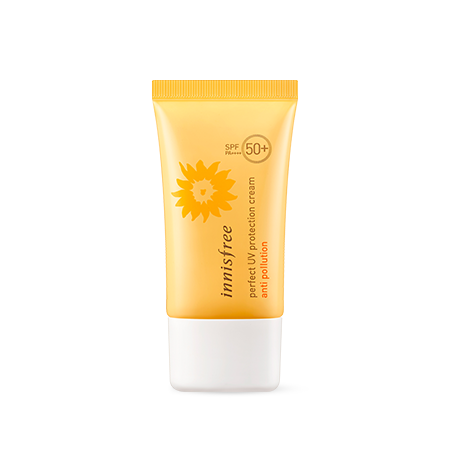 There are so many reasons why this is one of the best sunscreens in Malaysia. Firstly, because it is cruelty-free! Secondly is because it acts as a 3-in-1 cream that provides anti-wrinkle, brightening effects and UV protection. The sunscreen contains sunflower oil and green tea extract that keeps your face looking fresh and healthy. Adding on, this sunscreen is waterproof and can last long and withstanding sweat and sebum.
Why we love it:
Brightening
Waterproof
Long-lasting
Price: RM73.00
Where to buy: Innisfree
31. Laneige Light Sun Fluid SPF50+ PA+
Laneige Light Sun Fluid provides effective daily protection to prevent skin from darkening and damaging. The formula will keep your skin moisturised for 24 hours. Yes, you heard us right! Plus, it can also soothe and rejuvenate your skin with its luxurious formula. With just one swipe, this sunscreen will blend easily into your skin with a non-sticky finish.
Why we love it:
Soft and dewy skin
Free from harmful ingredients
Waterproof formula
Price: RM111.00
Where to buy: Cosmetics Now
32. First Aid Beauty 5-In-1 Face Cream With SPF 30
Another great option on our list of the best sunscreens in Malaysia is this sunscreen by First Aid. This sunscreen will supply your skin with all the ingredients it needs to keep it looking younger and vibrant. On top of that, this sunscreen can also reduce the appearance of lines and wrinkles and helps combat environmental aggressors.
Why we love it:
Reduces the appearance of wrinkles
Corrects uneven skin tone
Moisturising
Price: RM182.00
Where to buy: LookFantastic
33. La Roche Posay Anthelios 60 Ultra Light Sunscreen Fluid
This ultra-light, fast-absorbing sunscreen by La Roche is the winner of Allure Best of Facial Sunscreen! It is perfect for Malaysian weather because it has high-efficacy sun filters and powerful antioxidants. Plus, the Cell-Ox Shield Technology gives more protection to the face, up to a cellular level. Overall, this sunscreen is all you need to protect your face.
Why we love it:
Powerful antioxidants
Non-sticky
Invisible finish
Price: RM119.61
Where to buy: Shopee
34. Biore UV Aqua Rich Watery Essence SPF50+ Sunscreen
You can't go wrong when you use the Biore UV Aqua Rich Watery Essence SPF50+ Sunscreen. Besides being affordable, it provides adequate sun protection as well. Featuring a light texture, it is easily absorbed into the skin. Its formula is also infused with Royal Jelly Extract and hyaluronic acid, which acts amazingly as a makeup base. Not only does it shield your skin from UV rays, but it also helps brighten up your skin tone.
Why we love it:
No white cast
Brightens skin tone
Light formula
Price: RM29.75
Where to buy: Watsons
35. COSRX Aloe Soothing Sun Cream SPF 50 PA+++
The COSRX Aloe Soothing Sun Cream SPF 50 PA+++ hails all the way from Korea and has the benefit to soothe and moisturise your skin at the same time. With a hydrating formula, it is the perfect 2-in-1 moisturiser and sunscreen! Furthermore, its formula contains 5,500ppm of Aloe Leaf Extract, as well as the benefit to shield your skin against UVA and UVB rays.
Why we love it:
Cruelty-free
Paraben-free
No white cast
Price: RM44.80
Where to buy: Watsons
36. Sunplay Sport-Strength Sunscreen SPF120
If the outdoors is your one true love, then you are going to need the Sunplay Sport-Strength Sunscreen SPF120! Specially designed for active lifestyles, this sunscreen features SPF120 to ensure higher security for your skin. Furthermore, it also features Wet Skin Technology that is designed to cut through wet skin instantly without the need to towel dry. With a quick dry formula, it prevents drip-off and whitening on wet skin.
Why we love it:
Sweat & water-resistant for up to 4 hours
Quick dry formula
High UV protection
Price: RM19.60
Where to buy: Guardian
37. Wardah UV Shield Essential Sunscreen Gel SPF30 PA+++
If you have oily skin, then the Wardah UV Shield Essential Sunscreen Gel SPF30 PA+++ is for you. It also features a gel texture that absorbs quickly into the skin and contains antioxidants within its formula to soothe the skin and protect the skin barrier. With a sheer finish that is non-sticky, it is a great Halal-certified sunscreen for all.
Why we love it:
Halal-certified
Lightweight formula
No white cast
Price: RM12.20
Where to buy: Guardian
38. Senka Perfect UV Milk
If you have dry skin, you are going to love the Senka Perfect UV Milk! It is a popular sunscreen made with hyaluronic acid and natural silk protein. Together, these ingredients become skin humectant, which helps retain moisture in your skin. So if your skin is flaky and dehydrated, this is the perfect sunscreen for you to use.
Why we love it:
Fragrance-free
SPF50
Hydrating
Price: RM32.13
Where to buy: Watsons
39. Face Republic Super Screen Sun Gel SPF50+
It's one of Face Republic's best-selling products, the Super Screen Sun Gel! Formulated to be non-sticky and non-greasy that leaves your skin protected, moisturised, and cool. It also has an added brightening effect on the skin because it contains Niacinamide to prevent dark spots, fine lines, and shrink pores. Plus, it doesn't leave a white cast on the skin!
Why we love it:
No white cast
Prevents fine lines
Shrink pores
Price: RM45.00
Add to Cart

For more beauty infos, make sure to follow Beauty Insider on Instagram and Facebook! Also, check out our Insider Mall to Shop & Get Rewarded!