Aesthetics
Coolsculpting in Malaysia: Process, Prices, Side Effects, Clinics & More!
Including a list of the most reputable coolsculpting clinics in Malaysia that offers MOH approved treatments
By: Beauty Insider Journalist / September 21, 2022
Looking for a way to get rid of excess body fat without having to burn them? Well, then coolsculpting might be the right treatment for you. One of the most popular aesthetic treatments in Malaysia, coolsculpting is a cosmetic treatment that removes body fat by freezing the fat cells from specific parts of the body. It's non-invasive means there's no need for surgery or hence the procedure is generally safe, but that said you should be aware of some potential side effects.
Now we know you are curious to know more about the treatment, fret not Beauty Insider Malaysia has got you covered. In this article, we take an in-depth look at coolsculpting in Malaysia, including how it works, its effectiveness, cost, plus side effects and risks of the procedure. We have also included a list of the most reputable coolsculpting clinics in Malaysia that offers MOH approved treatments carried by experienced doctors.
---
What is Coolsculpting?
Let's set one thing straight, coolsculpting scientifically known as cryolipolysisis, is NOT a way to help you lose weight and a treatment for obesity! It is the process of freezing fat cells at a higher temperature than skin and destroys it while leaving your skin and other tissues unharmed. So, you will NOT lose weight but you will lose excess body fat which you can normally only lose through diet and workout. However, treatment is no permanent nor long-lasting as you can always gain back those weights.
---
How Does The Treatment Work?
During the procedure, the doctor in charge will use a device to vacuum the skin above the area of fatty tissue into an applicator that cools the fat cells. The cold temperature will numb the area, and some people report feeling a cooling sensation. You won't be given any anaesthesia during the treatment because it is not painful nor life-threatening. However, some people may experience the feeling of a cooling sensation.
---
How Long Is The Whole Process?
Most coolsculpting in Malaysia takes around an hour but that depends on the clinics and areas you are getting the procedure done. Generally smaller areas take less time. There is no recovery time because there is no damage to the skin or tissue. Though you will experience some level of soreness it is almost similar to the soreness of an intense workout, so it will go off after some time.
---
Who Is Suitable for The Treatment?
In general, coolsculpting is a safe and non-invasive treatment, so most people are safe to try. But don't go for the treatment in the hopes of losing weight because it is more focused on dissolving stubborn fat cells that usually only shrink through diet and exercise. Avoid the treatment if you have a weak immune system as your body can't adapt to the cold!
Avoid coolsculpting if you have any of the conditions below:
Loose and saggy skin
Pregnancy, attempting to become pregnant, and breast-feeding
Cold Agglutinin Disease (an autoimmune condition where temperature change kills red blood cells)
Paroxysmal Cold Hemoglobinuria (a condition where red blood cells die in response to temperature change)
Nerve conditions, such as diabetic neuropathy
Skin conditions related to the immune system like eczema and psoriasis
It is best to go in for a consultation with your doctor and explain all conditions and complications you have prior to getting your treatment done. It will help them to customise the treatment to suit you without any harm and unwanted reactions.
---
What Are The Most Common Areas For Coolsculpting?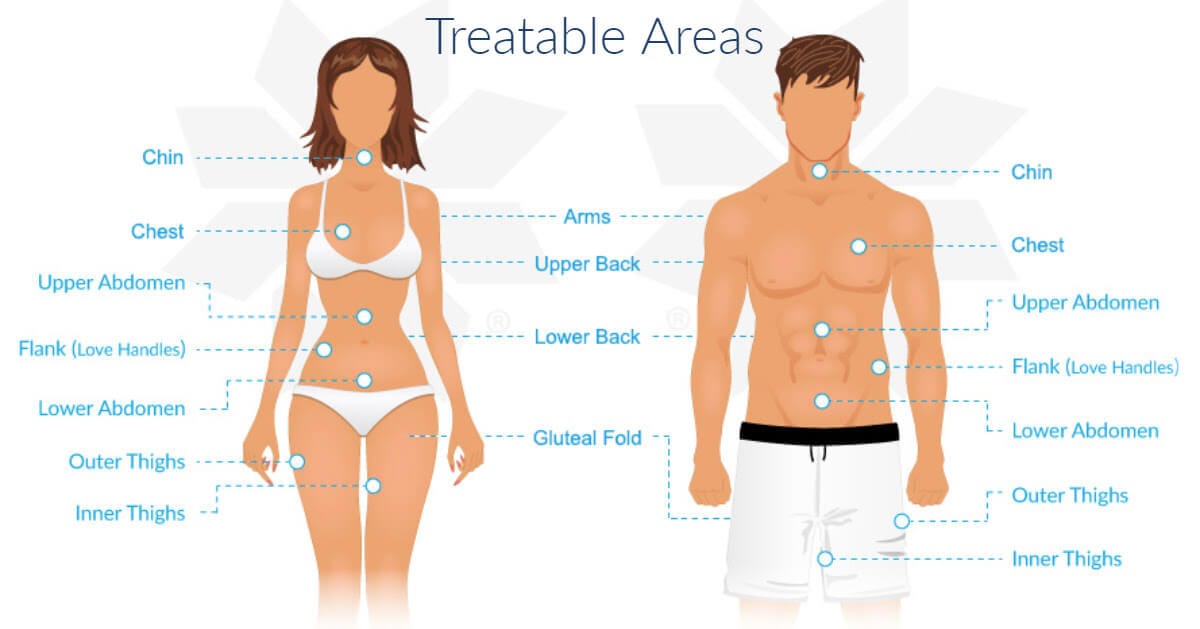 A doctor can use coolsculpting to help you kill fat cells in areas of your body such as:
Under the chin and jawline
Thighs
Belly
Back and sides
Under the butt
Along the bra line
Upper arm
After the procedure, it may take around 4–6 months for the fat cells to leave the body. In that time, the area of fat will decrease by an average of 20% (more or less) depending on your body's composition rate.
---
How Effective is Coolsculpting?
Coolsculpting has a high success rate. Studies show that treatment can lessen the amount of fat in targeted areas by 10%-25%. Plus, it has fewer side effects than other fat removal procedures like liposuction. But do bear in mind, it is not a miracle cure, and people should not expect to see a complete removal of fat. The procedure will not work for everybody, and lifestyle and other factors may also play a role. A person who continues to eat an unhealthy diet and remains sedentary while undergoing CoolSculpting can expect a less fat reduction.
---
How Much Does Coolsculpting in Malaysia Cost?
The prices of coolsculpting in Malaysia vary depending on the clinics and the area to be treated. Most treatments of coolsculpting begin from RM1500 onwards. You may need to go in for a few sessions to achieve your desired goals. It is best to directly speak to the clinic you wish to for an individualised quote that is best suited for you!
---
Where to Get Coolsculpting in Malaysia?
There are many clinics in Malaysia that offer coolsculpting. We have gathered a few that offer high quality, safe and effective. All the clinics in our list have years of experience in the field, so rest assured you are in good hands.
1. Nexus Clinic Kuala Lumpur
Located in the golden heart of Kuala Lumpur, Nexus Clinic offers a comprehensive range of medical aesthetic services aimed at making both men and women be at their best again. One of their best-selling treatments is the Zeltiq Coolsculpting, a safe and highly effective fat removal treatment. Their highly experienced doctors and expert medical staff for surely can help determine the best treatment for the results you seek. So, book your consultation with them now.
| | |
| --- | --- |
| Address: | LG 10, Lower Ground Floor, Wisma UOA II, Jalan Pinang, 50450 Kuala Lumpur, Malaysia |
| Operating Hours: | Mon-Sat (8:30 am – 6 pm), Sun (Closed) |
| Contact Information: | +6017 2163 569 |
book now with
2. Premier Clinic Bangsar Baru
Premier Clinic is one of the leading aesthetic providers in Malaysia thanks to its innovative and effective procedures. With numerous awards under thier belt, without a question, Premier Clinic offers one of the best coolsculpting in Malaysia. So, what are you waiting for? Book your free consultation to know more how coolsculpting at Premier Clinic can make your body goals into reality!
| | |
| --- | --- |
| Address: | No 8 & 10, Ground Floor, Jalan Telawi 5, Bangsar Baru, 59100 Wilayah Persekutuan, Kuala Lumpur. |
| Operating Hours: | Mon-Sun (10 am – 7 pm) |
| Contact Information: | +6012 6625 552 |
book now with
3. Clique Clinic Petaling Jaya
An international award-winning clinic, Clique Clinic provides evidence-based medical aesthetic treatments using state-of-the-art medical equipment. One of the pioneers in medical aesthetic treatments and studies, Clique Clinic is without a question one of the safest places to get coolsculpting in Malaysia. We can bet you will have the most pleasant experience under the care of their attentive and reliable medical team.
| | |
| --- | --- |
| Address: | 4, Jalan 19/36, Seksyen 19, 46300 Petaling Jaya, Selangor Malaysia. |
| Operating Hours: | Hours: Mon- Sat ( 10 am – 7 pm), Sun (Closed) |
| Contact Information: | +6012 3537 960 |
book now with
---
What Are The Side Effects of Coolsculpting?
Coolsculpting is a very safe treatment that does not require cuts or anaesthesia. This means that the rate of complications and side effects is lower than most aesthetic treatments. However, that said you will experience some complication and discomfort after the treatment.
Most common complications include:
swelling
bruising
sensitivity
skin redness
localized pain
These will go off after some time and don't worry about serious complications, such as bleeding, skin pigment changes, or scarring as coolsculpting doesn't lead to any of that. In rare cases, you can also see an increase in fat cells that can cause the treated area to bulge.
---
Lastly, How Long Does Coolsculpting Result Last?
Coolsculpting destroys fat cells, and those particular cells will not return. However, coolsculpting does not promise permanent and long-lasting results. This is because destroying existing fat cells will not prevent new fat cells from appearing. Hence, why a healthy lifestyle is vital to preserving the results of coolsculpting. A person who does not exercise or who eats an unhealthy diet may soon see the fat return.
For more beauty infos, make sure to follow us on Instagram and Facebook. Also, visit our Insider Mall to shop and get rewarded!