We are all locked in our respective homes (due to COVID-19 Outbreak) but that shouldn't stop you from taking care of your face. We know all of your favourite facial spots are closed, so why not turn your home into a spa? Sounds fun, right?! Beauty Insider Malaysia has gathered 11 simple DIY facial mask recipes using the most common ingredients you can find in your fridges.
DIY face masks are cheap alternatives to spa facial and can also help relieve the stress of the world off your shoulder. Just because you are home all day and your skin isn't exposed to the outdoors doesn't mean you don't need to put care into taking care of it! Utilize this time at home to show your skin the much needed TLC. DIY face masks can help banish unsightly parched patches, minimising pores and zapping blemishes.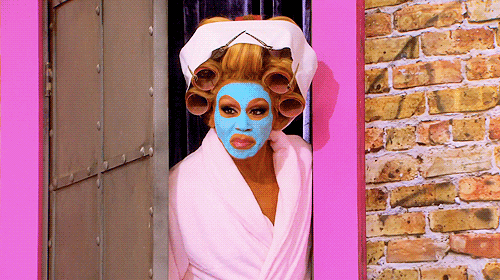 Hence, without further ado, below we present 11 DIY facial mask recipes that'll give you gorgeous and flawless skin. For now, just STAY HOME, take care of your skin and have faith. We will get over this tough time soon. Trust us on this one and don't underestimate the humble ingredients in your fridge!
Don't worry if you don't have them just remember to add these ingredients to the list the next time you go grocery shopping, but remember shop consciously (don't panic shop!!!) These ingredients carry skin-boosting benefits that are on par with heaps of luxury skincare products. For example, yoghurt is a great exfoliator while honey is a great glow-booster. Well, that's just a few, below is the complete list for a supermodel skin.

1. DIY Facial Mask For Dry Skin

What You'll Need:

What it Does:

Avocados are just not great on toast but they'll also work wonders all over your face too. Honey on the hand is an excellent humectant. It can really help your skin to retain moisture and remove excess oil. Plus, it can also help reduce the appearance of scars and increases new cells and tissue production. Lastly, oats are brilliant at nourishing, calming and soothing your skin.

How To Do:

Firstly mash ½ of raw avocado into a fine thick paste
Then add 2-3 tablespoons of honey
After that add a handful of oats or barn into the paste
Mix it all together and leave it on for 15 minutes
2. DIY Facial Mask for Uneven Skin Tone

What You'll Need:

Natural, plain yoghurt
Honey
Turmeric powder
What it Does:

Yoghurt is filled with lactic acid that can significantly lighten the skin. It can also lift away rough and lacklustre surface cells to uncover much newer, brighter ones. Honey, as we said earlier is a moisture magnet that leaves your skin feeling soft and elastic. Turmeric doesn't just add flavour to the curries but is super effective in combating pigmentation and sunburns.
How to Do:

Add plain yoghurt till the bowl is half full
Then add 2-3 tablespoons of honey to it
Then at 2-3 teaspoons of turmeric powder
Mix it all together and leave it on for 20 minutes
3. DIY Facial Mask for Sensitive Skin

What You'll Need:

Cacao powder
Papaya
Aloe Vera gel
What it Does:

Aloe Vera is filled with skin-boosting vitamins like A, C, and more. It can also give you more radiance and keep the skin well hydrated. Papaya, on the other hand, is packed with exfoliating enzymes that will dissolve dead skin cells. Cacao powder (yes, you heard us right), has the ability to brighten and boost circulation for a plump and pillowy look. Team all these three ingredients together and it will take your skin to the next level.

How to Do:

Mesh ¼ papaya into a thick paste
Then, add 1 tablespoon of cocoa powder to the paste
Stir the mixture till it all blends together
Then squeeze aloe vera gel and stir again
Leave on for 10 minutes and tissue off
4. DIY Facial Mask for Acne-Prone Skin

What You'll Need:

Manuka honey
Turmeric powder
Dead Sea salt
How It Works:

We totally feel the pain of having acne cluster all over the face. But worry not as we have a natural break from the spots, Yes, this wonderful trio will save you from nasty acne and pimples. Manuka honey is known for its while turmeric is brilliant at bringing down redness. Incorporating a tiny piny of Dead Sea salt to the mix will help to clean, reduce inflammation and infection. Together, the power-packed combo will eliminate all sorta spots and blackheads.

How to Do:

Add 3 tablespoons of manuka honey a bowl
Then add 2 tablespoons of turmeric powder
Just add a pinch of Dead Sea salt and mix it all together
Apply to your face, more on your T-Zone
Rinse it off after like 20 minutes with warm water
5. DIY Facial Mask for Oily Skin

What You'll Need:

How it Works:

To your surprise, our skin produces more oil when the skin is dehydrated, to compensate for the loss of moisture. This is when cucumber comes in so handy as 90% of cucumber is water so it will lock in all the moisturise your skin needs. Plus, cucumber is also rich in vitamin C and this will reduce any breakouts. Avocado can regulate oil production, and help reduce inflammation. This is a super-cooling mask that will leave the skin feeling clean and fresh without any oil trace!

How to Do:

Chop ¼ of cucumber into thick cubes
Then blend it till it becomes liquid
After that add half an avocado the mix
Stir it till it also mixed well
Apply it to your face and leave on for 30 minutes
Rinse it off with lukewarm water
6. DIY Facial Mask for a Pimples-Free Face

What You'll Need:

Egg white
Honey
Lemon juice
How it Works:

Though there's actually no real way to close your pores, there are some ways to prevent them from appearing. This DIY face mask recipe can do just that. Both egg white and lemon juice have clever astringent properties which will tighten the skin and make enlarged pores much less obvious. With the addition of honey, it'll boost your skin's moisture levels, provide suppleness and make the skin soft and supple.

How to Do:

Separate one egg white and stir it
Once it airy add honey to the mixture
Then squeeze 2-3 drops of lemon juice to the mixture
Stir it and leave it on your face for 15 minutes
7. DIY Anti- Ageing Facial Mask

What You'll Need:

How it Works:

This amazing DIY anti-ageing mask can help a lot in smoothing out fine lines, wrinkles and ageing spots. It can also help restore youth back to your skin. Honey can keep your skin moisturized while milk can nourish and soothe the skin. On top of that, milk is also known to strengthen the skin and produce new regenerating skin. Cocoa powder, on the other hand, can provide the skin with many nutrients and antioxidants.

How to Do:
First mix the 2 tablespoons of honey and milk
Then add one spoon of cocoa to get the right consistency
Mix it till the paste is not too thick and not too runny
Apply the mask and leave it on for 15 – 20 minutes
Wash it off and apply your regular moisturizer
8. DIY Facial Mask for a Natural-Looking Glow

What You'll Need:

How it Works:

We call this the almighty tropical face mask! Using all tropical ingredients this DIY face mask will give your skin a healthy, natural-looking glow. Bananas can restore moisture and repair dry skin. Whereas orange juice can help improve skin complexion of the face. Honey, Honey is naturally antibacterial, so it's great for acne treatment and prevention. Together this potent mask is one that will keep your skin healthy and firm.

How to Do:

Mash one-half of a banana in a bowl
Mix in a tablespoon of orange juice and a tablespoon of honey
Stir it till the paste thickens up
Apply the mask to your face and leave it on for 15 minutes
Rinse with lukewarm water and then moisturize
9. DIY Facial Mask for a Brighter Complexion

What You'll Need:

Orange peels
Sandalwood powder
Plain water
How it Works:

This a great facial mask for those with dull-looking complexions. It will help brighten up your face and at the same time give you a healthy glow. The orange peels will help to clean out your skin by extracting dirt from deep inside the pores. Apart from that, orange peels also keep acne at bay and prevent excess sebum production. Sandalwood, on the other hand, will exfoliate the skin and remove suntan. It can also reduce signs of ageing such as dry skin and wrinkles.

How to Do:

Dry the orange peels in the sun for two to three days
Grind them to make a fine powder
Then add two tablespoons of this powder and sandalwood powder
Mix it together with some water to make a thick paste
Apply this on the face and rinse after 20-30 minutes.
P.S. You can store the rest of the orange peel powder in an airtight container for future use.

10. DIY Facial Mask for Combination Skin

What You'll Need:

How it Works:

Combination skin is defined as having an oily T-zone (the forehead, nose and chin while dryness on the cheeks and jawline. Hence, it can be difficult to find the right products as what works on one area of the face is often unsuitable for other areas. But this DIY facial mask recipe can help tackle all combination skin concerns. Because papaya contains high amounts of vitamins that support skin health. Milk and honey are known for their exfoliating and hydrating properties. Together these three ingredients are what your skin needs!

How to Do:

Mash ½ of papaya into a fine thick paste
Then add 2 tablespoons of honey and milk
Mix it all thoroughly and apply on your face
Leave the mask on for 15 minutes
Rinse off with warm water