Beauty News
Dyson Unleashes The Flyaway Smoother, Taking Styling to New Heights
Prepare to be amazed as Dyson manipulates airflow like never before.
By: Farah Khan / May 18, 2023
In a world where flyaways have haunted our perfectly styled hair for far too long, the brilliant minds at Dyson have come to the rescue once again. Today, they unveiled their latest innovation: the Flyaway Smoother, a game-changer in the world of self-styling.
Dyson's Flyaway Smoother
Let's face it, achieving a salon-worthy finish can be a daunting task, especially for those of us who lack the nimble hands of a professional stylist. The Flyaway Smoother understands our struggles and combines two modes in one attachment to make our lives easier. With this revolutionary device, we can effortlessly style our hair from damp to polished sleekness in record time.
Prepare to be amazed as Dyson manipulates airflow like never before. The Flyaway Smoother is the first brush attachment designed specifically for the Dyson SupersonicTM hair dryer. Taking inspiration from the AirwrapTM multi-styler brush attachments, and powered by Dyson's digital motor V9, this innovative device delivers precisely angled airflow to style and dry your hair simultaneously. It's like having your personal salon right at home.
How Does The Flyaway Smoother Work?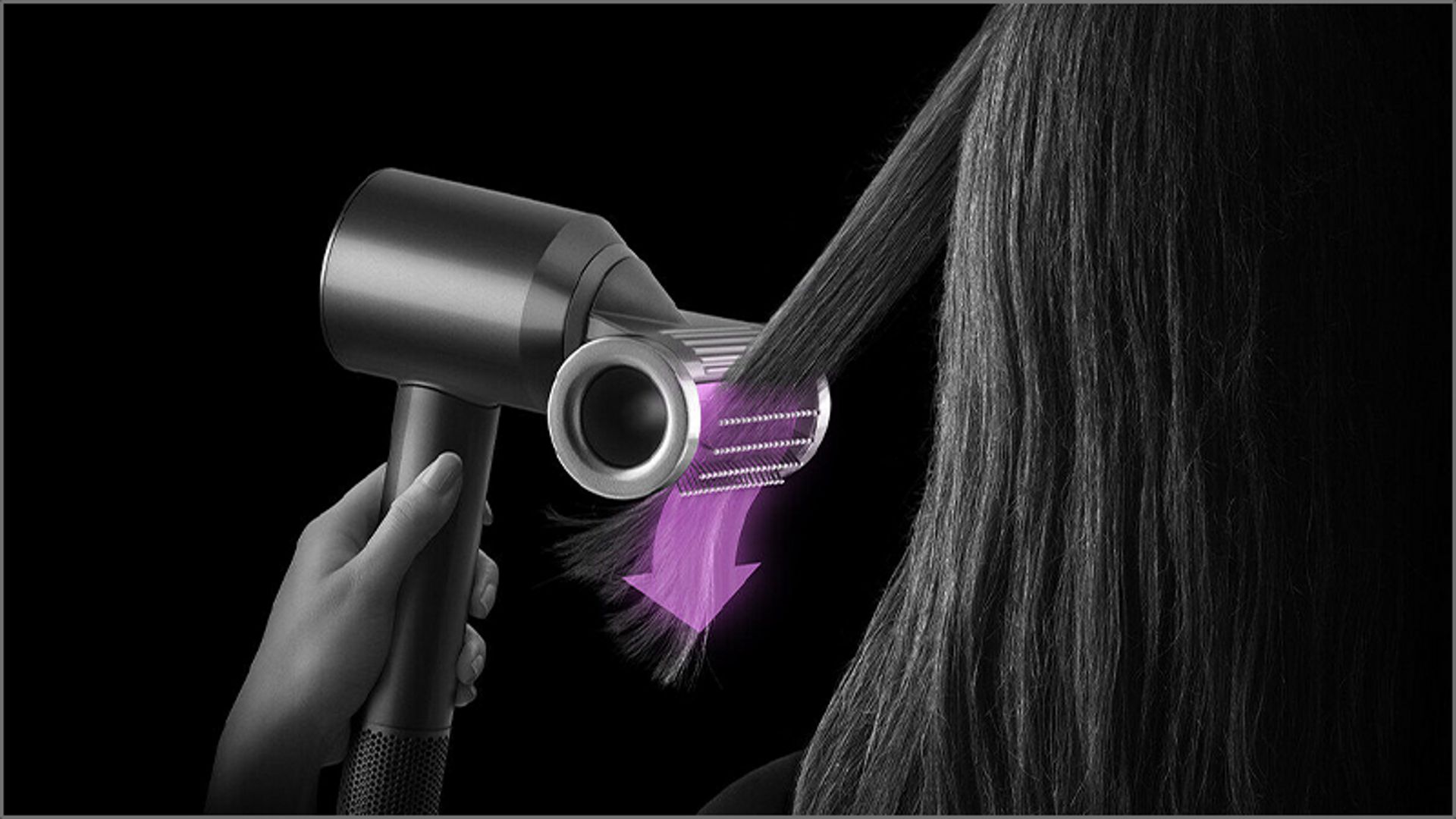 So, how does the Flyaway Smoother work its magic? Well, after you've styled your hair using the Smoothing mode, the attachment seamlessly transitions to Flyaway mode. This mode capitalizes on a remarkable phenomenon known as the Coanda effect, where high-speed airflow attaches itself to the surface it encounters due to pressure differences. The result? Your rebellious flyaways are gently tucked away, leaving behind a sleek and shiny finish.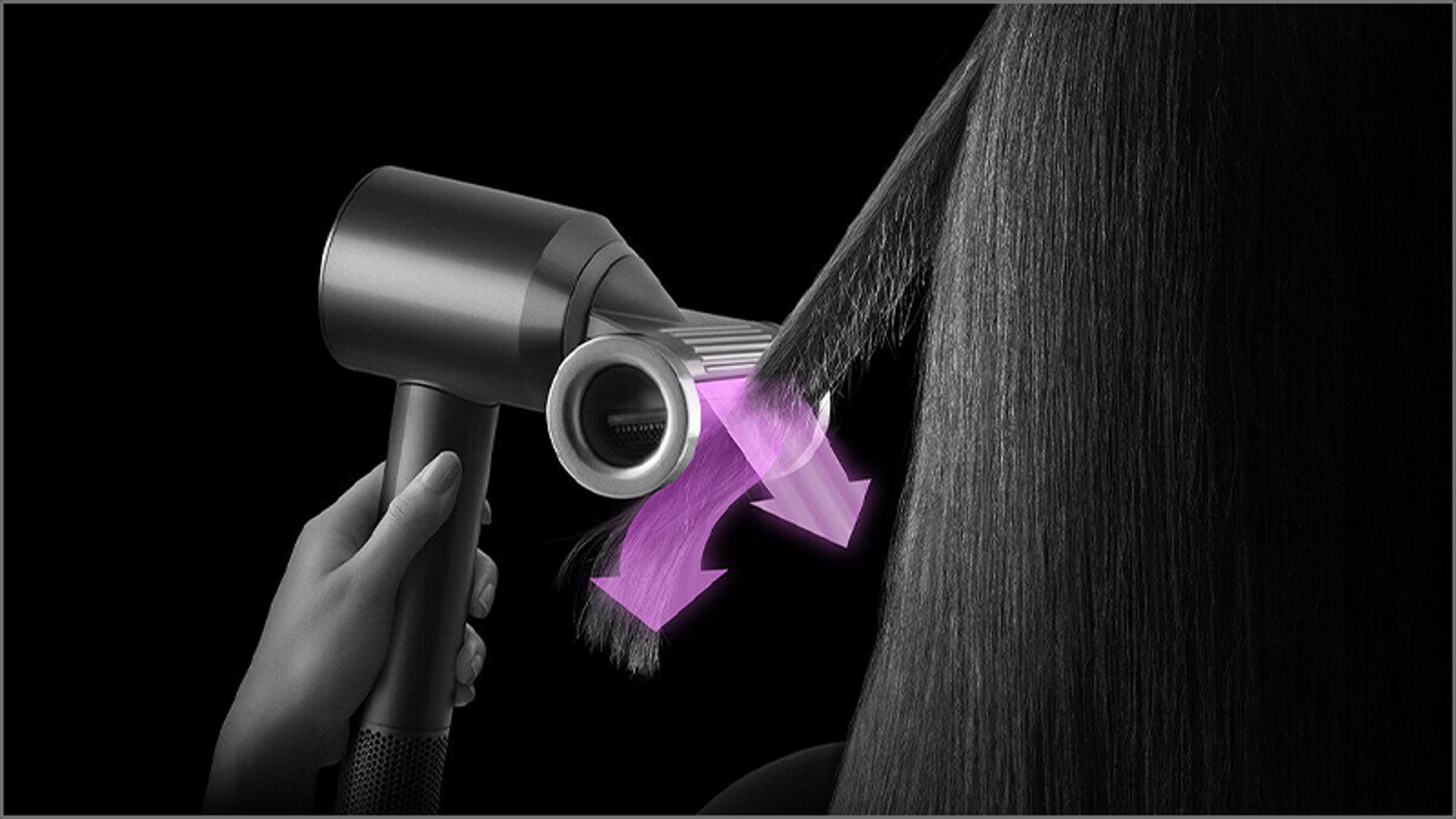 But the Flyaway Smoother isn't just for a select few with particular hair types. The Dyson SupersonicTM hair dryer, which powers this wonder attachment, is engineered to cater to all hair types. Its Dyson digital motor V9 spins at mind-boggling speeds of up to 110,000rpm, making it up to six times faster than other hair dryer motors on the market. The motor's compact size also allowed engineers to reposition it to the handle, ensuring optimal balance for a comfortable styling experience. Talk about form and function!
To protect your luscious locks from extreme heat damage, the intelligent Heat Control feature measures the air temperature over 40 times a second and regulates it accordingly. This means you can style your hair without worrying about sacrificing its shine. And let's not forget about the Air MultiplierTM technology, which amplifies the air by three times, creating a high-pressure, high-velocity jet of controlled air for speedy drying and precision styling.
Dyson Supersonic Hair Dryer
The Flyaway Smoother is just one piece of the puzzle. The Dyson SupersonicTM hair dryer boasts four heat settings, three airflow settings, and even a cold shot to lock in your stunning style. Plus, it comes with a range of precisely engineered magnetic attachments that will help you achieve a plethora of different looks. From the gentle air attachment for fine hair to the smoothing nozzle that banishes frizz, Dyson has thought of everything. There's also the styling concentrator, a wide and thin design that allows you to style one section of hair at a time, without disturbing the rest. It's like having a personal army of stylists at your disposal.
Get Your Hands on the Flyaway Smoother
Now, let's address the most important question: how can you get your hands on this hair-saving gem? Well, if you purchase a new Dyson SupersonicTM hair dryer from May 18, 2023, onward, the Flyaway Smoother attachment will be included in the box, priced at RM2,149. If you're not ready for a whole new hair dryer, don't fret. The Flyaway Smoother will be available for individual purchase at a later date. And for those who prefer firsthand experiences, head on over to a Dyson demo store, where you can learn more and witness the Dyson SupersonicTM hair dryer in action.