Fitness
Electrical Muscle Stimulation (EMS) Is The Fastest, Painless Procedure For Muscle Building
These gyms around KL offer good EMS treatments for joints and muscles
By: Aqilah Najwa Jamaluddin / January 10, 2023
Staying fit requires a lot of time, effort, and sweat. However, with the advancement of digital technology, Electronic Muscle Stimulation (EMS) training makes it possible to burn fat and gain muscle in less than 30 minutes. It is a procedure that uses electrical impulses to physically activate your motor neurons to evoke muscle function.
The workout is completely based on body weight, putting no strain on joints and making it the easiest training routine for gym-goers—at the same time helping active athletes recover from injuries. In the West, the technology is designed to help heal wounded and injured athletes. In Asia, however, it is mostly used as a weightlifter to reduce calories and tone muscles. 
Below, Beauty Insider compiled a list of EMS fitness training gyms in Kuala Lumpur for you to check out.
What Exactly Is EMS?
EMS, also known as Neuromuscular Electrical Stimulation (NMES) or Electromyostimulation, is one of the innovative fitness tools that is used for stimulating muscle contractions through electric impulses. Whether you're healing from an accident, seeking for the quickest method to lose weight, or suffering from the agony of fibromyalgia (or some other ailment), Electrical Stimulation may be beneficial. An EMS workout consists of the same motions as many other types of workouts. The contrast is that EMS is used to engage more muscle cells as compared to other physical treatment.  
Physiotherapists utilise tailored conduction patches or specific belts to provide electrical stimulation to weak, spasming muscles or joints with a limited range of motion. Such electrical stimulation can also stimulate deeper interior muscles that are typically developed by traditional workouts, such as the muscles along the spine, alleviating back pain and even strengthening posture. 
This continual muscular exercise gradually accumulates muscles while burning calories in just twenty minutes each day. So instead of you spending 40 minutes running on the treadmill and quenching your sweat, EMS is the quickest way to burn calories without having too much body movement. 
EMS Vs. Other Machine-Based Workout
Rather than concentrating on a specific body part like in most physical therapy, EMS is generally provided to wider cells in the body during the workout. When you exercise, which already engages your muscles, an Electrical Impulse will cause your muscles to contract, which may lead to increased muscle engagement. Also, most EMS workouts are rather brief, lasting around 15 to 20 minutes at most. It also includes aerobic and weight training, as well as boosting metabolism and therapy. After you put on your EMS outfit, a trainer will walk you through a sequence of low-impact movements including planks, jumps, and lunges.
Neurotransmitters in the brain wave your muscles and the fibres inside them help to awaken and connect with each other while you exercise regularly. Muscular imbalances can develop over time as a consequence of variables such as injury, physical trauma, and inadequate recovery, limiting your muscle fibres' activation during manoeuvres when they should typically be engaged.
When EMS is added to the mix, you can activate more muscle fibres, especially those that have been inactive. You don't overdone it and avoid tearing a tissue, nerve, or ligament. It is necessary to use the smallest effective dosage.
Is EMS Painful?
The treatment may sound straightforward, yet in reality is actually far from "easy". Because the pulse works as resistance, the actions seem considerably harder and exhaust you much faster. You may feel sore, like with any other type of training. Generally, how painful you feel following EMS training is determined by a variety of factors, including the severity of the activity, the weights used, the length of time spent, the duration of eccentric load performed, and if any of the motions were performed in different conditions.
So.. Is It Safe To Perform EMS?
To be honest, not most EMS are completely safe and secure. If you undergo EMS therapy from a physical therapist, they mainly are educated enough in the use of this technique and utilise only licensed, FDA-approved equipment. In short, you're good. That is why it is critical that you question the trainer or gym about their equipment and conduct an extensive study before booking your appointment.
Although using an unlicensed treatment is not always risky or dangerous, the FDA warns that it might cause burns, bruises, skin irritation, and discomfort. The group also warns that all of those cords and wires might cause electrocution.
7 EMS Gym In KL
1. Activ Studio
Activ Studio has long provided fitness sessions ranging from meditation to muscle relaxation classes, cycling to TRX training. It was also one of the first fitness organisations in Malaysia to introduce EMS technology. Activ Studio is still the only EMS training club in KL with instructors that are qualified to use their machines for therapeutic workouts, unlike other gyms that have followed. Gym-goers with shoulder discomfort, neck or knee ailments, or even ruptured slip discs can undoubtedly rehabilitate and get back on track with training if they visit Activ Studio.
| | |
| --- | --- |
| Address: | 166, 1st floor, Jalan Maarof, Bangsar, 59000 Kuala Lumpur |
| Operating Hours: | Everyday, 8am-8pm |
| Contact Information: | 012-986 9392 |
| Price Range: | Starting from RM 140. |
2. Impulse Studio
Impulse Studio, which opened in 2014, was the very first private gym in Malaysia and Asia to specialise only on offering EMS fitness instruction. It presently operates four gyms in Bangsar, KL Sentral, Bukit Bintang, and Damansara Perdana, with several more locations in Singapore and China. As the company aims to expand beyond Thailand, Indonesia, and India, their KL gyms have introduced HIIT exercises ranging from lunges to walking and leaping couches to add excitement to their sessions.
| | |
| --- | --- |
| Address: | Check all locations here. |
| Operating Hours: | Monday-Saturday, 8am-8pm | Closed on Sunday |
| Contact Information: | Contact information here. |
| Price Range: | Starting from RM 110 to RM 150. |
3. EMS: FixMe Studio
FixMe Studio, in addition to offering fitness and dietary advice, was among the first gyms to offer EMS treatment to users. Since 2014, the workout studio has offered 1-on-1 and group exercise sessions, as well as a training area for women alone. Their teachers mix EMS treatment with 20 minutes of Zumba dancing, muscular endurance, and rapid exercises to drive the heart rate to the maximum.
| | |
| --- | --- |
| Address: | 23-3-3, Jalan Setiawangsa 8, Taman Setiawangsa, 54200 Kuala Lumpur |
| Operating Hours: | Everyday, 5pm-10pm |
| Contact Information: | 03-4266 0667 |
| Price Range: | Starting from RM 115 to RM 200. |
4. Fit Orange
Fit Orange has been one of the gym studios that jumped on board with the EMS fitness craze in 2016, launching their initial and sole gym in Hartamas a few years back. Fit Orange trainers utilise the machine rather than simply hooking their training suit on the EMS machine as other studios do. Including suspension systems, medicine and boss balls, resistance bands, weights, and pedals. By including tiny sets of abdominal, thigh, lower leg, and back exercises into the breakthrough technology, the quality of the 20-minute session will be increased.
| | |
| --- | --- |
| Address: | Plaza Damas 3, B-0-1, Jalan Sri Hartamas 1, Sri Hartamas, 50480 Kuala Lumpur |
| Operating Hours: | Monday-Saturday, 7.30am-9pm | Closed on Sunday |
| Contact Information: | 016-923 0540 |
| Price Range: | Starting from RM 85 to RM 150. |
5. Be Urban Wellness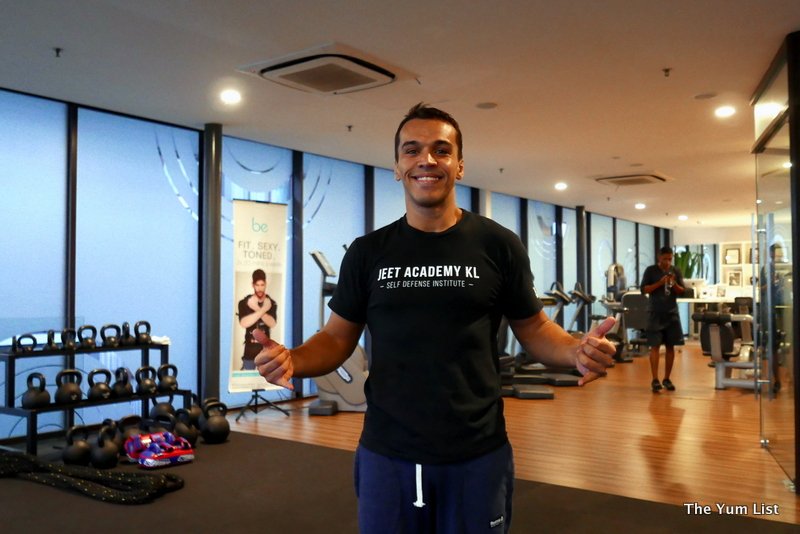 Since 2016, Be Urban Wellness has been acknowledged to provide one of the few EMS wellness training sessions in KL. But, within a year, they had changed their equipment to wifi, allowing their members to roam around more flexibly and including HIIT training. The ease of transferring electric impulses to the muscles without the use of wires or pads also allows Be Urban Wellness to provide group sessions, making the 20-minute exercise more enjoyable.
| | |
| --- | --- |
| Address: | 10th Floor, Work@Clearwater, Changkat Semantan, Bukit Damansara, 50490 Kuala Lumpur |
| Operating Hours: | Check information here. |
| Contact Information: | 03-2095 1999 |
| Price Range: | Starting from RM 80 to RM 280. |
6. The Body Lab EMS
If you prefer solo sessions, The Body Lab provides customisable EMS programmes to cater to your personal needs and goals. From physical therapy, better flexibility and addressing back problems, to losing weight and toning your muscles, the trainers make sure to recommend what will work best for you. If it's your first time, you can be assured that you're in good hands under the supervision of The Body Lab's certified hands-on trainers to help you reach your goals. 20 minutes and 1-on-1 session per week is enough and it's easy to fit in to your schedule, too!
| | |
| --- | --- |
| Address: | S-23-12 Menara YNH, Kiara 163, Mont Kiara, 50480 Kuala Lumpur, Federal Territory of Kuala Lumpur, Malaysia |
| Operating Hours: | Daily 7am – 9pm |
| Contact Information: | +60 3-2701 8025 |
| Price Range: | Varies depending on the programme. Enquire for price here |
7. Healife
The Healife center promotes physiotherapy and rehabilitation treatments for their patients with the help of EMS. They curate unique treatment plans according to each individual's personal needs with the goal of long-term recovery and better mental and physical health. Using their integrative approach to fitness and wellness, they aim to provide training that will get you a 90-minute worth of workouts in just 30 minutes. They are popular among athletes, but they're open to anyone who wants to improve their physical health!
| | |
| --- | --- |
| Address: | 8, Jalan Raja Chulan, Bukit Kewangan Jalan Raja Chulan, Kuala Lumpur, 50250 |
| Operating Hours: | Daily 7am – 9pm |
| Contact Information: | +60 18 400 1025 |
| Price Range: | Enquire for price and consultation here |
For more fitness and wellness info, make sure to follow us on Instagram and Facebook. Also, visit our Insider Mall to shop and get rewarded!