Skin
Fenty Skin Review: A Ri-Ri Approved Skincare Routine
It's safe to say that Fenty Beauty has really shaken up the industry
By: Beauty Insider Journalist / August 9, 2022
It's safe to say that Fenty Beauty has really shaken up the industry, especially when it comes to inclusion, whether it's branching out into scent or complementing natural skin with the ideal, light, and dewy foundation. Influencers, skin specialists, and beauty journalists have all been fans of Fenty Skin since its launch. So what's all the hype about? Let Beauty Insider spill the deets on Miss Robyn Rihanna Fenty and break down a review of Fenty Skin just for you.
1. Fat Water Pore-Refining Toner Serum
This skincare game-changer has a distinct thick feel and grabs pores and dark areas. This toner-serum combination accomplishes both: toners help your pores seem narrower and reduce oil; serums contain potent chemicals that tackle skin issues including dark spots. Simply pour it into your palm to apply thanks to its distinct thick texture, which absorbs rapidly. It also offers all the benefits of a serum, such as replenishing moisture that leaves skin feeling smooth, supple, and rejuvenated rather than stripped, dry, or tight.
Review:
I've been using this for about a month and my skin is softer, blemish free (scars aside) and a little goes a long way. You really don't need more than a dime-size because it's both a toner and serum, so it's a bit thicker than regular toner. Bottom line: Love it and it's now a permanent part of my skincare routine.
International Reviewer, Sephora
Price: RM132.00
Where to buy: Sephora
2. Buff Ryder Exfoliating Body Scrub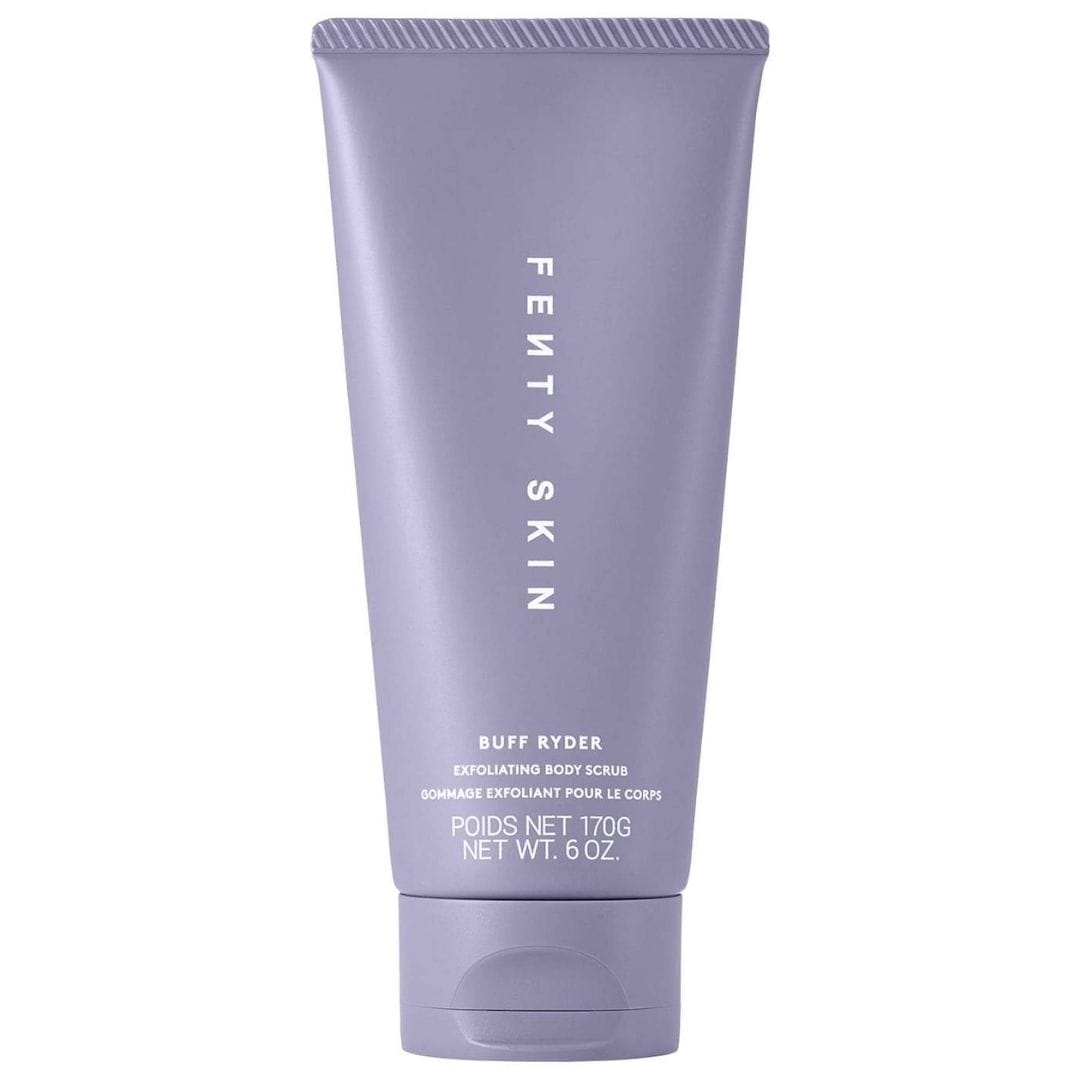 The tropically inspired Fenty Skin Buff Ryder Exfoliating Body Scrub buffs rough skin and provides smoothness. This luxurious body scrub exfoliates and renews skin while leaving it silky and smooth thanks to a mild, efficient combination of fruit enzymes and exfoliants. A nourishing touch is added by rich shea butter and conditioning oils. A mild but efficient exfoliating emulsion of sugar, salt, and ultra-fine sand is created, while rich oils thoroughly nourish and smooth the skin.
Review:
Love love this product! I purchased the mini scrub and lotion combo to test it and I fell in love!!! It's dissolves fairly quickly but it leaves your skin looking great and the scrub smells great. It's pricy but hey it's skin care! I'll be purchasing the full size scrub and cream this weekend. I use the scrub about 3 times a week.
International Reviewer, Sephora
Price: RM142.00
Where to buy: Sephora
3. Hydra Vizor Invisible Broad Spectrum SPF 30 Sunscreen Moisturizer
The Hydra Vizor Invisible Broad Spectrum SPF 30 Sunscreen Moisturizer provides all-day, light-as-air hydration while providing SPF 30 global protection. On all skin tones, the pink-tinted cream applies undetectably. Additionally, it works great with makeup, rapidly absorbed to soften and smooth skin without leaving a greasy look or sensation.
Review:
My absolute favourite moisturiser ever. I have combination skin and it can get super oily at times, but this kept my face looking clean the whole day and I never get super oily unlike when i use other moisturisers. It's also an amazing base for makeup, cause it helps glide foundation and concealer better
K, Sephora
Price: RM165.00
Where to buy: Sephora
4. Flash Nap Instant Revival Eye Gel-Cream
The Flash Nap Instant Revival Eye Gel-Cream brightens, soothes, and fights the appearance of puffiness over time, giving off the vibe of being well-rested anytime, anyplace. The cooling gel-light, cream's non-greasy texture quickly hydrates, replenishes, and calms. Fast-absorbing and essential for all-day hydration, it gives you the hydrated appearance you want. Additionally, it both immediately and gradually lessens the appearance of wrinkles, crow's feet, and fine lines.
Review:
I love this eye cream and I use it everyday. It spreads well and sinks into the skin and has a cooling effect that refreshes me in the morning. I have purchased it again because I love it that much! It's affordable and smells divine!
Veronica M, Sephora
Price: RM150.00
Where to buy: Sephora
5. Total Cleans'R Remove-It-All Cleanser
Its creamy foam dissolves grime, oil, pollutants, and long-wear makeup without stripping or drying. The Total Cleans'R Remove-It-All Cleanser by Fenty Skin is a 2-in-1 makeup remover-cleanser that offers you the delectable deep clean you deserve. Long after you've washed it off, it still helps battle shine while clearing up pores. To properly care for skin, it also contains coconut-inspired cleansers and antioxidant-rich Barbados cherry.
Review:
I love the formula of this product. While my skin tends to get oily by the end of the day, I wanted a cleanser that removes all my make-up but not strip my skin dry. This product just does that! Great as an everyday cleanser, I would recommend for normal to oily skin. Also works well with all the other fenty beauty face products.
FM, Sephora
Price: RM112.00
Where to buy: Sephora
6. Pre-Show Glow Instant Retexturizing 10% AHA Treatment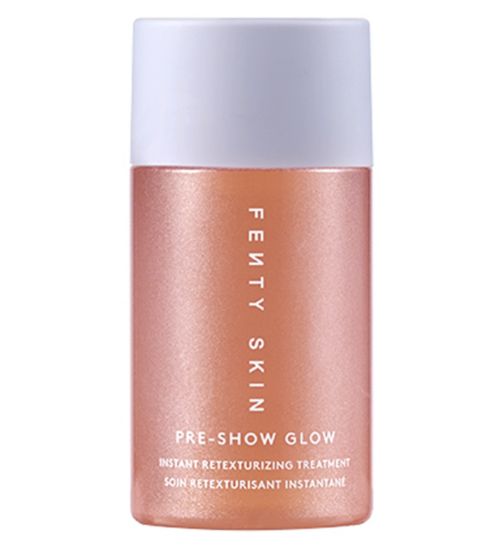 Pre-Show Glow is a potent product that improves skin's moisture content while brightening, fading the appearance of dark spots, and reducing the appearance of pores. Fruit enzymes and extracts work together to clear, cleanse, and smooth. The reusable applicator provides mild physical exfoliation with minimal downtime, leaving skin incredibly smooth, luminous, and makeup-ready.
Review:
Another fave of my first Fenty haul! My skin has never felt softer, even after only one use! I would recommend purchasing the pack which includes the little sponge.
Kayleigh Owens, Sephora
Price: RM154.00
Where to buy: Sephora
7. Instant Reset Overnight Recovery Gel-Cream
Instantly hydrating, this thick gel-cream moisturiser of the Instant Reset Overnight Recovery Gel-Cream minimises the appearance of fine lines and wrinkles. Pores and dark spots also seem to have improved after just one week. Hyaluronic acid, which is crucial, gives this moisturising cream a boost, while Kalahari melon oil and baobab, which are both found internationally, encourage deep hydration and aid to seal in moisture for plumper-looking skin.
Review:
I have always been interested in trying this product. I use it as a serum-in-cream because of its ingredients such as hyaluronic acid and niacinamide and a little goes a long way with the spatula included. I like the luxe design and its eco-refillable container. The scent makes me feel like tropical paradise awaits me with every use. It is luxury at a relatively affordable compared to other luxury creams on the market.
K Tran, Sephora
Price: RM186.00
Where to buy: Sephora