Body
9 Best Baby Lotion For Newborns To Keep Your Little One's Skin Smooth
keep your little one's skin soft, smooth and moisturised
By: Beauty Insider Journalist / October 10, 2022
If you're shopping for baby supplies as a new or prospective parent, you may notice that your little bundle requires their own of everything, even lotion. Your baby's brand-new, ultra-sensitive skin faces a variety of challenges that adult skin does not. Therefore, it's pivotal to make sure what you apply to your little ones is effective but most importantly, safe for them. With that, Beauty Insider is listing out the best baby lotion specifically for newborns so you can keep your little one's skin soft, smooth and moisturised.
Because baby skin is more fragile than adult skin, you'll want to seek baby lotions that are free of harsh substances that might irritate or irritate your child's sensitive skin. The greatest thing to keep an eye out for is simplicity. This includes staying away from products that contain scents, preservatives, parabens, or sulphates. Another item to avoid is alcohol, which may be particularly drying to newborn skin.
When looking for infant lotion, you may come across goods labelled as creams or ointments. Because lotions contain the largest amount of water, they are the thinnest and lightest form of moisturiser. They absorb fast. Creams contain more oil than lotions, making them feel heavier but still simple to apply to the skin, while ointments have the highest oil content. Ointments are the best choice for treating very dry skin.
The Best Baby Lotion For Newborns In Malaysia
1. Baby Dove Fragrance Free Moisture Hypoallergenic Lotion
Dove's baby care range is mild, safe, and fragrance-free, making it ideal for sensitive infant skin. It is appropriate for eczema-prone skin and includes natural nutrients that assist sensitive newborn skin to absorb and maintaining moisture throughout the day and night. It's devoid of harmful substances like parabens, dyes, and phthalates, and has been dermatological and paediatrician tested.
Why we love it:
Fragrance-free
Ideal for eczema-prone skin
Retains hydration
Price: RM50.00
Where to buy: Shopee
2. EUBOS Haut Ruhe Lotion
With its impeccable formulation, the EUBOS Haut Ruhe Lotion is touted as one of the best lotions for newborns. This power-packed tube houses a concoction of shea butter, St. John's Wort extract, panthenol, allantoin, sweet almond oil, evening primrose oil, jojoba oil and rosemary leaf extract. Aside from delivering a mega dose of hydration, it helps to target several skin issues, including itchiness caused by dry skin, skin discomfort, irritation, and dryness. This highly rated product has an ultra-lightweight consistency that allows it to penetrate deep into the layers of the skin for optimal results.
Why we love it:
Delivers soothing properties
Intense hydration
Protects the skin from various issues
Strengthens the skin protective barrier
Price: RM52.90
Where to buy: EUBOS' official website
3. CeraVe Baby Moisturizing Lotion
Despite the fact that this moisturising lotion isn't advertised as a natural product, physicians frequently prescribe it to new parents due to its benign components. It's not just fragrance-free, but it's also devoid of parabens, which have been linked to hormone disturbances. Ceramides and hyaluronic acid are two chemicals on the list that have been praised for their ability to help skin maintain moisture.
Why we love it:
Long-lasting hydration
Fortifies the skin barrier
Fragrance-free
Price: RM68.00
Where to buy: Shopee
4. Aveeno Baby Eczema Therapy Moisturizing Cream
Eczema is a common skin ailment in infants that manifests as flaky, red areas of skin. Fortunately, there are creams that are particularly designed to target and treat eczema. Aveeno's lotion contains colloidal oatmeal, which soothes redness and irritation and is especially gentle on baby skin. Vitamin B5 is also included, which is both nutritious and soothing to irritable skin.
Why we love it:
Ideal for eczema-prone skin
Soothes irritation and redness
Gentle formulation
Price: RM75.00
Where to buy: Shopee
5. Eucerin Baby Eczema Relief Body Cream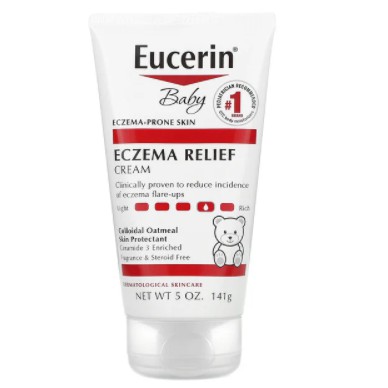 Eucerin Baby Eczema Relief is a daily moisturiser for eczema-prone skin that provides 24-hour hydration. This cream is free of dyes, steroids, synthetic scents, aluminium, and phthalates, and may be used on newborns as young as 3 months old. It swiftly penetrates into the skin and reinforces the protective barrier, reducing irritation and eczema flare-ups.
Why we love it:
Alleviates eczema symptoms
Free from irritating ingredients
Delivers up to 24-hour of hydration
Price: RM47.50
Where to buy: Shopee
6. Johnson's Baby Lotion Cotton Touch
If you're looking for a cheap way to moisturise your baby's skin, you'll be pleased to learn that Johnson & Johnson has switched to a hypoallergenic, paraben-free formula. This low-cost baby lotion has a thick, creamy texture that applies easily and quickly absorbs into your baby's skin. Glycerine is the key emollient element, and it acts to nourish and moisturise dry skin.
Why we love it:
Good value
Creamy texture
Hypoallergenic
Price: RM20.00
Where to buy: Watsons
7. Aquaphor Baby Healing Ointment
A petroleum-based ointment is your best choice for treating very dry newborn skin. Aquaphor's fragrance- and preservative-free ointment is undoubtedly already recognisable to you, but this is the baby-specific version. It includes petrolatum (41%), which protects the skin, as well as panthenol and glycerine, which hydrate and nourish the skin. It may be used for a variety of purposes, including dry skin, diaper area protection, and minor cuts and scrapes.
Why we love it:
Multipurpose
Retains the moisture level
Free from irritating ingredients
Price: RM49.90
Where to buy: Shopee
8. Earth Mama Calming Baby Lotion
We sought an all-natural lotion free of dangerous elements like parabens and synthetics as the finest overall baby lotion. We were also looking for something that smelled great and was reasonably priced. This baby lotion ticks all the boxes and then some—it comes in two tempting scents: lavender and citrus, or a scent-free option. It only includes high-quality components that you can trust, and it moisturises a baby's skin beautifully.
Why we love it:
Relaxing scent
Dermatologist tested
Free from petroleum, mineral oil, parabens, or artificial fragrance
Price: RM95.00
Where to buy: Shopee
9. Cetaphil Baby Daily Lotion with Organic Calendula
This delicate baby lotion is designed to keep your baby's skin smooth and moist. It's formulated with sunflower seed oil, vitamin E, and sweet almond oil to keep skin supple and smelling great. Cetaphil products are dermatologist-tested and designed to be mild and safe for the entire family.
Why we love it:
Gentle formulation
Soothes redness and irritation
Hydrates up to 24 hours
Price: RM96.08
Where to buy: Watsons
Make sure to follow Beauty Insider on Instagram and Facebook for the latest news updates.