Sensitive skin is difficult to define since it may refer to a variety of conditions. Perhaps you suffer from inflammation, or maybe you have been battling with Keratosis Pilaris, or even an eczema. Not to mention, your skin will also easily irritate by all those fussy and harmful skin-care chemicals.
Sensitive skin may be more responsive to sunny weather, direct sunlight, and pollutants, which resulted in flakiness and extreme itching. If you suffer from skin sensitivity or notice a sign in any of these ways, then you better start searching for mild cosmetics that are free of potentially irritating substances. 
We know that it is not easy to go through limited tried and tested measures. That's why Beauty Insider asked the experts to debunk the misconceptions and uncover everything that you need to know concerning sensitive skin. Of course serious problems like dermatitis and allergy should be evaluated by a specialist but the information below is a good starting point for a beginner to control collective response skin on a regular basis.
What Causes Sensitive Skin?
Sensitive skin seems to be more prevalent than you would believe today. It is a medical problem that many individuals constantly cope with. Furthermore, because sensitive skin affects 60% of the population, it's essential to comprehend what it is and how to treat or prevent it. Furthermore, knowing what to do when your skin is irritated should be known.
Sometimes, sensitive skin can be caused by a variety of factors. Besides your genes, it could be due to your environment as well. Other factors include allergies you have, eczema, and rosacea. It could also be because your skin is injured or too dry. This can lead to your skin no longer being able to protect your nerve endings! If you are out under the sun often, it might just be the culprit behind your sensitive skin as well.
Environmental factors such as harsh winds, sun rays or excessive cold and heat can make your skin sensitive. Triggers of sensitive skin can also come from the products you use. Some can cause mild irritation that you barely notice, so you brush it off. Others can create much more noticeable effects. From the soap you use to the fragrance of a perfume, these can all cause sensitive skin to act up. 
Is Sensitive Skin Curable?
The honest answer is 50-50. Actually, there are a few factors that could contribute to the irritation of your skin—and it could either be treatable or untreatable. For some people, they developed sensitivity at the letter time of their age, which occurs from a foul environment, too much air-conditioning, nutrition intake, and lifestyle. If you're considered from this category then it is possibly curable.
But, for some of you, sensitive skin is tied heavily to genetics. It might be difficult for you to get rid of sensitive skin problems if one or more of your family members are facing the same skin concern. It is also common for people who have had history—or currently—dealing with eczema. Both conditions (sensitive and eczema) have an effect on your epithelial cells which lie on your skin surface. So it is not surprising that people with eczema are often faced with inflammation and sensitive skin conditions.
Should You Be Concerned?
As mentioned above, skin sensitivity can be caused by a number of different factors. Some cases necessitate more serious and thorough treatments than others. If you feel your skin problem is caused by an allergic reaction, it is strongly advised to schedule an appointment with an allergist.
Despite that, sensitive skin shouldn't be too much of a concern as long as you are aware of the things you use or apply. With consistent maintenance, your sensitive skin shouldn't be too much of a hassle to deal with.
However, if your sensitive skin starts to cause major issues such as blistering and pain, immediately seek medical attention.
Things To Avoid if You Have Sensitive Skin
Once you know that you have sensitive skin, you should start looking out for all the things you should avoid to prevent irritation. Whether it's skincare ingredients or fragrances from body products. It's a good idea to jot them down on your phone so you can always check when purchasing a new product. Even the type of detergent you use can trigger sensitivity in your skin.
So, it's best to get a detergent that is specifically formulated for sensitive skins. Make sure you stay away from dyes and fragrances in both skincare and body care products. If you see any sulfate in a product, run. Sensitive skins should also stay away from salicylic acid, retinoids, glycolic acid and creams that contain multiple ingredients.
If you are checking out sunscreens, watch out for ones that contain chemicals and Isopropyl alcohol.
Best Sensitive Skin Products
1. Avène Eau Thermale Micellar Lotion Make-Up Remover
If you are looking for a makeup remover that won't irritate your sensitive skin, check out the Avène Eau Thermale Micellar Lotion Make-Up Remover! Please don't try to use makeup wipes as they can cause irritation on other skin types. This makeup remover is super gentle, and doubles as a toner and cleanser! You don't have to worry about washing it off as it is non rinse too. Plus, its formula is free from oil, alcohol and soap! Besides that, it's also packed with soothing ingredients such as hyaluronic acid and chamomile for ultimate hydration.
Price: RM55.30
Where to buy: Watsons
2. Eucerin Redness Relief Night Creme
Remember, your nighttime routine is just as important as your morning skincare routine! That is why you need to invest in a good nighttime moisturiser. Thus, you can pick up the Eucerin Redness Relief Night Creme. This moisturiser is extremely thick and can help soothe red and irritated skin. Besides being non-comedogenic and free from fragrance, it also contains ingredients like liquorice root extract to help reduce redness. With that said, it also contains glycerin to give your skin that boost of hydration!
Price: RM77.42
Where to buy: Lazada
3. Dermalogica Calm Water Gel
The Dermalogica Calm Water Gel is the perfect daily moisturiser to wear. All of its ingredients are sensitive skin-friendly and contain ingredients that help soften your skin! For example, apple fruit extract does just that! With other incredible ingredients such as glycerin that is super hydrating, it helps bring all the moisture into your skin barrier! If your skin feels a bit irritated, it even contains cactus pear in its formula to help calm and soothe your skin.
Price: RM309.00
Where to buy: Dermalogica
4. Burt's Bees Sensitive Eye Cream with Cotton Extract
Your eyes are a delicate part of your face. Even when applying a cream, you should be gentle around your eye areas! For those with sensitive skin, the areas around your eyes might get irritated easily. Since the skin around your eyes are quite thin as well, the Burt's Bees Sensitive Eye Cream with Cotton Extract is just the product for the job. It has a formula that is fragrance-free and is also formulated with both olive fruit oil and cotton extract. Both of which can help provide your skin with moisture.
Price: RM130.00
Where to buy: Sephora
5. Neutrogena Sensitive Skin Sunscreen Broad Spectrum SPF 60+
Sunscreen is an essential part of anyone's skincare routine. No matter your skin type, you have to apply sunscreen to protect your skin! For sensitive skin, you should be picking out the Neutrogena Sensitive Skin Sunscreen Broad Spectrum SPF 60+. With an effective formula that is ultra-lightweight and free from fragrance, it truly is the best! Besides that, it is also non-irritating and contains a formula that is hypoallergenic! Perfect to wear every day, your skin will be protected from harmful UV rays.
Price: RM51.64
Where to buy: Lazada
6. Fresh Sugar Lip Treatment Sunscreen SPF 15
That's right, even makeup products such as lip balm can cause irritation! That is why you need to make sure that it doesn't contain any harmful ingredients. The Fresh Sugar Lip Treatment Sunscreen SPF 15 is one that is suitable for sensitive lips. As well as being a cult-favourite, this lip treatment is also tinted, to give your lips some life! Since it has a gentle formula, it doesn't irritate your skin and can even provide hydration!
Price: RM103.00
Where to buy: Sephora
7. Dove Sensitive Skin Nourishing Body Wash
Maybe you're having trouble with back acne. Not sure what the cause may be? The cause could most probably be your body wash itself! It may contain harmful ingredients that are irritating your skin, thus causing acne to explode all over your body and back. So, try out the Dove Sensitive Skin Nourishing Body Wash. With this gentle body wash, your skin can finally feel fresh and free! No more itchiness plaguing your skin as it cleanses, soothes, softens, and hydrates!
Price: RM14.70
Where to buy: Watsons
8. Vanicream Sunscreen Sport SPF 35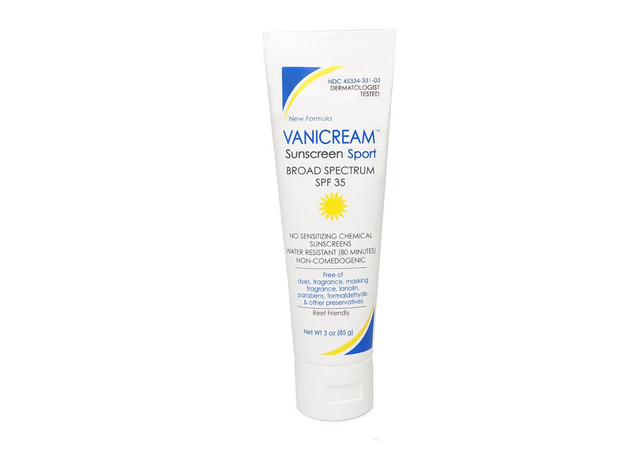 After mentioning a sunscreen for your face, you might want a body sunscreen that is suitable for sensitive skin on your body as well! The Vanicream Sunscreen Sport SPF 35 is the perfect calming sunscreen that feels creamy and soft to the touch. With a simple SPF to help protect your skin from UV rays, it also has a formula that is free from dyes, parabens, oils, fragrances, and formaldehyde.
Price: RM50.00
Where to buy: Lazada
9. Free & Clear Shampoo and Conditioner
Yes, from head to toe is where sensitive skin can extend to. Besides taking care of your skin and face, your scalp needs some love too! If your scalp is easily irritated, get the Free & Clear Shampoo and Conditioner to help soothe it. This set has a formula that is gentle and non-irritating so there's nothing to worry about! Besides that, its formula is also free from substances such as parabens, dyes, formaldehyde, and fragrances.
Price: RM247.00 (set)
Where to buy: Desert Cart
10. Murad Sensitive Skin Soothing Serum
If you have sensitive skin, the best type of skincare routine you can have is the simplest one! When building your skincare routine, you'll want to make sure that the products you are using don't end up stripping your skin of its natural oils too much. With the Murad Sensitive Skin Soothing Serum, it can help soothe irritation and redness! Ingredients such as glycolipids and hyaluronic acid help increase your skin's resilience and comfort too while binding moisture.
Price: RM298.00
Where to buy: Murad
11. SkinCeuticals Triple Lipid Restore 2:4:2
SkinCeuticals is a skincare brand that is beloved by many dermatologists. With the SkinCeuticals Triple Lipid Restore 2:4:2, it is effective as it is a moisturiser that can help with skin concerns such as ageing! Its formula contains an abundance of ingredients such as ceramide, vitamin E and glycerin to help protect your skin against free radicals and boo
Price: RM686.00
Where to buy: Cosmetics Now
12. CeraVe Hydrating Facial Cleanser
Another cult-favourite brand that is loved by dermatologists is none other than CeraVe! Many of their products are formulated with ceramides that are great benefits for those with dry skin, eczema and acne. Along with hyaluronic acid, it definitely gives your skin a boost of hydration! As it helps balance the moisture in your skin, it also helps restore your protective skin barrier!
Price: RM128.00 (562ml)
Where to buy: Threebs
13. Clinique Liquid Facial Soap Mild
Clinique Liquid Facial Soap Mild is a transparent gel solution that is gentle on the face. In fact, if your skin is really sensitive, you might choose the Extra Mild variant. The thick, frothy foam leaves skin feeling soft and clean without being taut or dry. TEA-Cocoyl Glutamate is an amino-acid-based cleanser that gently washes the skin while maintaining its natural pH level. Aloe and sucrose calm and soothe the skin, while sodium hyaluronate helps to bind moisture to the skin, leaving it rejuvenated and conditioned.
Price: RM102.00
Where to buy: Sephora
14. La Roche-Posay Thermal Spring Water
This La Roche-Posay Thermal Spring Water is 100% intended for sensitive skin and is versatile to be used whether as a toner or a mist. The primary ingredient is the brand's therapeutic spring water, which is high in antioxidants and a special combination of mineral salts and micro – nutrients that thoroughly heal skin. There is a high content of selenium, for example, an antioxidant compound that combats oxidative stress and reduces inflammation.
Price: RM 56.60
Where to buy: Watsons
15. Kanebo Freeplus Mild Soap
This Kanebo Freeplus Mild Soap has a very soft, smooth and creamy-like texture that is super lightweight and feels feathery on your skin. It doesn't feel harsh on your skin. So you don't need to worry about stripping or peeling your skin after every application. Just make sure to apply a small amount of Kanebo Freeplus Mild Soap on your palm and lather it gently all over your face when it starts to foam up.
Price: RM 76.00
Where to buy: Shopee
16. FIRST AID BEAUTY Ultra Repair Cream
This is a cult favourite moisturiser that provides an overall instant relief for your all day skin's hydration. So say goodbye to dry skin and eczema, this beauty cream from First Aid will clear all those skin imperfections and bring out the best glowing skin appearance you deserve.
Price: RM 155.00
Where to buy: Sephora
For more beauty infos, make sure to follow us on Instagram and Facebook! Also, check out our Insider Mall to Shop & Get Rewarded!