Hair Care
Brassy Hair Begone! Here Is Why You Need Purple Shampoo To Save Your Luscious Blonde Hair
Nourishing hair from the inside out
By: Beauty Insider Journalist / January 30, 2023
Purple shampoo is the simplest kind of colour theory: The temporary colour gives all types of light and blonde hair a bright, just-out-of-the-salon look. Whether you've gone platinum, cool ashy blonde, silver, or just want to brighten up your natural colour, we've got you covered. With that, Beauty Insider is here to educate you on what purple shampoo can do for your hair and even some great recommendations!
What Is Purple Shampoo?
Purple shampoo is a toning shampoo formulated specifically for blonde hair. Crushed violet colours help to balance out brassy and yellow tones, which may spoil a look. With that, purple is the polar opposite of yellow on the colour wheel, which is why purple pigments cancel out brassy, yellow tones.
Hairstylists commonly tone the hair to neutralise brassy yellow and orange tones on bleached hair when you get it professionally coloured at the salon. Therefore, purple shampoo is an excellent at-home remedy for toning and avoiding brassiness.
How Does It Work?
Purple shampoo serves as a toner, removing brassy tones and restoring a cooler, salon-fresh blonde to your hair. It is an important step in maintaining the vibrancy and freshness of coloured blonde hair. With that, your blonde hair may turn brassy over time if you dye it blonde. Washing your hair, chlorine, and even UV radiation from the sun can all produce brassy blonde hair.
Moreover, shampoo and conditioner help you keep your blonde hair looking great by adjusting the colour of your hair. By properly caring for your blonde hair, you may extend the life of your colour and reduce the number of visits to the salon for touch-ups.
Is Purple Shampoo Safe To Use On Dark Hair?
While purple shampoo is generally associated with blonde hair, brunettes who lighten their hair with balayage or ombré might benefit from the toning formula as well, since they often experience the same kind of brassiness and colour shifts. In other words, a purple shampoo for blonde hair can also assist brunettes with lightened parts of the hair.
How Frequently Should Purple Shampoo Be Used?
The frequency with which you use purple shampoo is determined by your hair type and current colour. If you've never used a purple shampoo before, this product may be a nice one to try because it progressively neutralises brassy tones without over-toning.
Therefore, if you use purple shampoo too frequently, your hair may take on a little purple tint, especially if your hair is very light or damaged. If this is the case, use the purple shampoo once or twice a week rather than every day.
How Long Should Purple Shampoo Be Left On?
There is a rule of thumb as to how long you should leave it on. The colder your blonde tone is, the longer you should let the purple shampoo on your hair before washing it out.
1-3 minutes before washing warm blondes.
3-5 minutes before washing neutral blondes.
5-15 minutes before rinsing cool blondes.
The Best Purple Shampoo In Malaysia
1. Schwarzkopf Bold Color Wash Purple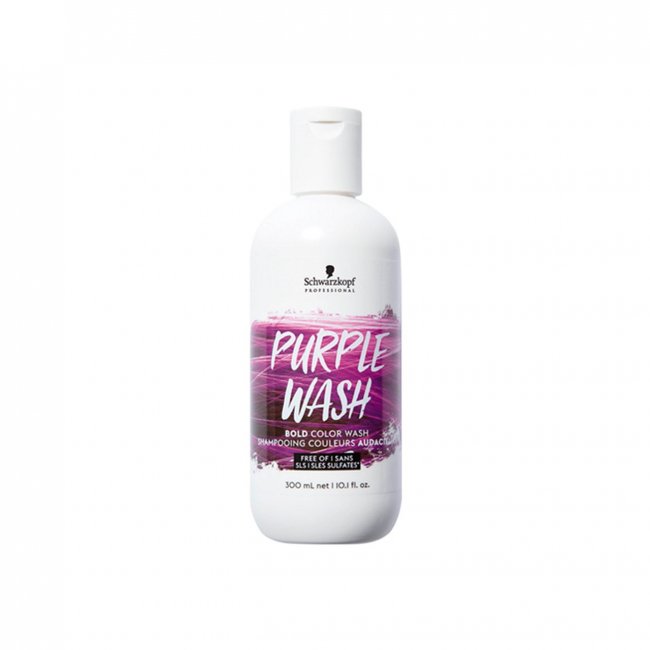 Schwarzkopf Bold Color Wash Purple is a colour-depositing shampoo that leaves hair looking bold and bright with little effort. This shampoo, which is made with a mild, sulphate-free foundation, cleans the hair just as well as a regular shampoo; the difference is that it also adds colour and shine!
As a result, you may wash and colour your hair in a single step without ever leaving your house. You can also use it to create a multi-tonal appearance by applying it to certain parts of your hair. Furthermore, the colour intensity rises with each application, allowing you to be as strong (or as subtle) as you like!
Why we love it:
Sulphate-free formula
Can be applied to sections for multi-tone effect
Enhance colour and shine to the hair
Price: RM41.50
Where to buy: Shopee
2. L'Oreal Elvive Colour Protect Vibrancy Anti-Brassiness Purple Shampoo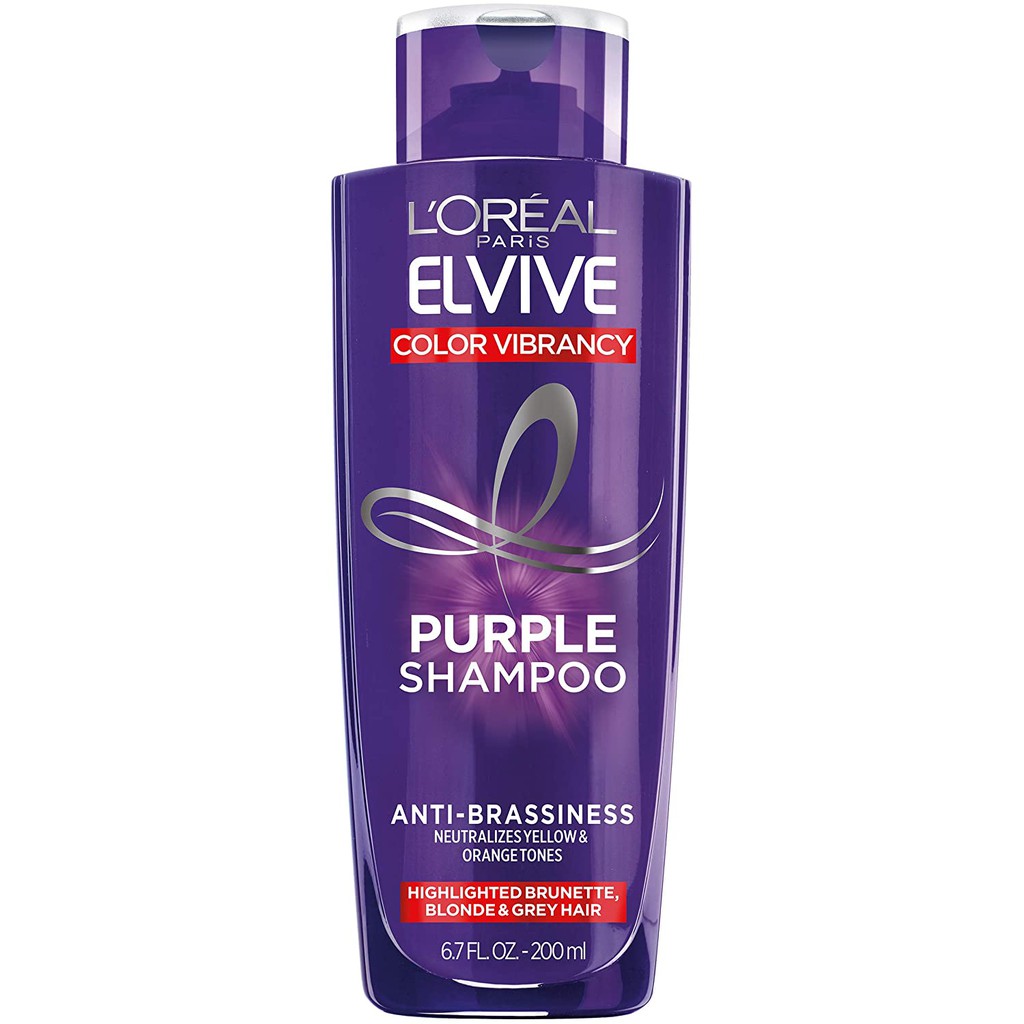 The L'Oréal Paris Elvive Colour Protect Anti-Brassiness Purple Shampoo is a purple shampoo that corrects the colour of highlighted, blonde, and grey hair. In artificially lightened and highlighted hair, the purple solution helps to neutralise undesirable yellow, orange, and brassy tones. UV filter technology is included in the shampoo to protect hair from UVA/UVB damage.
Why we love it:
Has sun protection
Neutralises yellow, orange tones
Repair and revitalise hair
Price: RM78.00
Where to buy: Shopee
3. KRISTIN ESS The One Purple Shampoo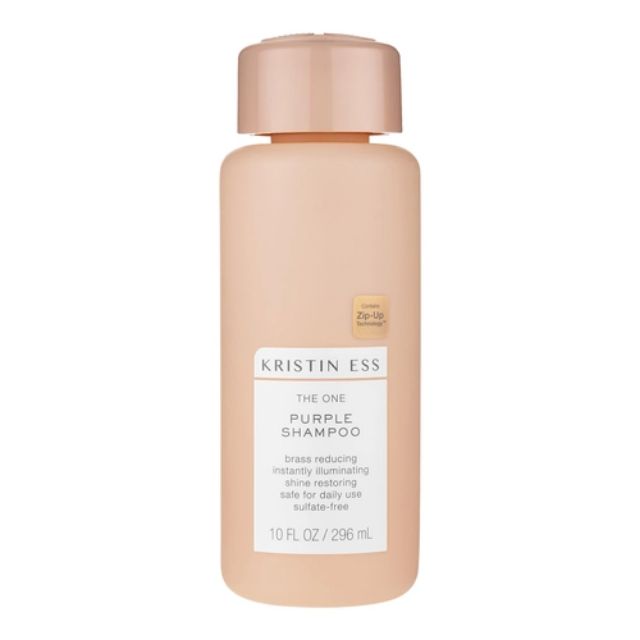 The KRISTIN ESS The One Purple Shampoo is designed to immediately neutralise brassy tones in colour-treated and natural blonde hair. This shampoo, which contains the Kristin Ess Signature fragrance, immediately brightens dull hair while balancing out the undesired brassiness. It softly washes the hair, eliminating pollutants without depleting the natural oils, restoring shine and smoothing the strands.
Why we love it:
Has a heavenly scent
Makes hair super soft and luxurious
Instantly brightens dull hair
Price: RM69.00
Where to buy: Sephora
4. SheaMoisture Purple Rice Water Strength + Color Care Shampoo
Purple Rice Water Strength + Color Care Shampoo from Shea Moisture helps to break up brassy tones in colour-treated hair. Colour-treated hair can become brittle for a variety of reasons. Additionally, it aids in the restoration of hair's strength and health.
Moreover, purple rice is combined with Wild Orchid and Sweet Violet Extract in this mineral-rich cleanser to eliminate dulling residue and restore shine and vigour. Purple pigment brightens and neutralises yellow, brassy tones naturally.
Why we love it:
Extremely hydrating and nourishing
Makes hair super soft
Colour maintenance and restore shine
Price: RM52.00
Where to buy: Shopee
5. Schwarzkopf Professional Goodbye Yellow Shampoo
Schwarzkopf Professional Goodbye Yellow Shampoo restores lustre by eliminating the yellow brassy tones. This moisturising shampoo effectively cleans the scalp while providing the necessary moisture content for the day. This comprehensive nourishing product has been developed with skin-friendly components to get the greatest results possible. As a result, this nourishing shampoo is designed to deliver essential nutrients to the hair's structure from the inside out.
Why we love it:
Incredibly hydrating
Diminishes yellow hues
Cleanse scalp
Gentle to the skin
Price: RM36.00
Where to buy: Shopee
6. dpHUE Cool Blonde
If you're looking for a purple shampoo that's ideal for your blonde hair, this is it. This dpHue shampoo contains a unique blend of silk proteins and hibiscus flower extract that will repair and soften your hair while preventing breakage. Moreover, this shampoo gently purifies with violet pigments that neutralise undesirable yellow and frizzy colours, keeping blonde hair healthy. The sulfate-free formula does not remove hair colour and can be used on colour-treated or naturally blonde hair.
Why we love it:
Free of harmful chemicals
Color-safe & cruelty-free
Repair and strengthen hair strands
Price: RM121.38
Where to buy: Revolve
7. Pureology Strength Cure Shampoo
Pureology Strength Cure Shampoo, a blue-based purple mixture that cools down yellows and oranges in blonde and lightened hair, may be useful in keeping your hair fresh and strong. It contains the Strength Cure system, which not only maintains your colour pure and fortified, but also treats damage. Keravis, a plant-based protein, revitalises and nourishes strands, while Astaxanthin, a powerful antioxidant, aids in repairing and healing. Bright Purple Orchid not only provides natural violet colouring, but it also softens strands. A unique aroma of juicy pear and delicate floral Rose is enhanced with a dash of Sandalwood.
Why we love it:
Help enhances and nourishes the hair
Aids in the prevention of future damage
100% Vegan Formula
Color protection from the proprietary Antifade Complex®
Price: RM81.47
Where to buy: Zest
8. John Frieda Violet Crush Tone Correcting Purple Shampoo
This product is on our list because it is great for removing excessive yellowness from both coloured and naturally blonde hair. John Frieda Violet Crush Purple Shampoo is specially formulated for Brassy, Blonde Hair. Their crushed Violet Dyes aid in the neutralisation of undesirable balayage tints by cleansing smoothly while gradually eliminating unwanted yellowish colour to regain a brilliant toned hair. If you loved the Sheer Blonde Color Renew purple shampoo, now you can get the same goodness in a new, attractive bottle!
Why we love it:
Can be used as a daily shampoo
Free of peroxide and ammonia
Restoring and neutralises yellowish tones
Price: RM 36.67
Where to buy: FeelUnique
9. Fanola No Yellow Shampoo
Fanola No Yellow Shampoo is a multipurpose shampoo that will replace your daily shampoo. This purple shampoo not only neutralises undesirable yellow tones, but also delicately cleanses and detoxifies the scalp, removing dirt and grime. Fanola developed an excellent shampoo that minimises and even eliminates these yellow tones in its formula to prevent damages and restore the hair's genuine vitality and vibrancy.
Blonde and grey hair, whether natural or coloured, frequently begins to show yellowish tones. Exposure to light, harsh chemicals, and grooming chemicals causes the hair to lose its life and shine. Furthermore, the added Wine Extract fortifies the hair filaments, ensuring optimal softness and luster.
Why we love it:
Gentle for the scalp
Eliminates impurities and grime
Perfect for super light, gray, and even uneven hair colour
Formulated with Extra Violet Pigments and Wine Extracts
Price: RM46.96
Where to buy: Care To Beauty
10. Milbon Ordeve Color Care Shampoo: Purple
Milbon's professional toning shampoo is targeted to eliminate undesirable undertones while also treating hair breakage. This product is free of SLS/SLES sulphates but packed with healthy nutrients, notably Coconut Betain, which is made with beneficial ingredients and serves to protect pigment and reduce colour dye drainage. Milbon has created a revolutionary keratin-based protein that binds to damaged parts of your hair structure for instantaneous restoration. Infused with Macadamia Care Oil, which is well-known for restoring harsh cuticles caused by colouring and giving a silky rising feeling, preventing hair from tangling.
Why we love it:
Protects hair tangle-free, leaving it smooth and lustrous.
Formulated with Coconut Betain, and Macadamia Care Oil
Long-lasting colour and instant healing of damaged hair
Price: RM80.00
Where to buy: number76
For more beauty information, make sure to follow Beauty Insider Malaysia on Instagram and Facebook.