Having a smooth and hairless skin can boost confidence and self-esteem in women. Most women indulge in hair removal for hygiene purpose while some women do it as a quest for unblemished and radiant skin. Hair removal is not just restricted to the facial areas but also other specific areas like the underarms, pubic areas or the legs. One of the most common and effective hair removal method is waxing.
Waxing a temporary hair removal method that can be done at a salon or home by yourself. Despite being a temporary method it does keeps hairs away from growing longer than shaving, threading and some other hair removal technique. Though you can wax yourself at home, many women agree that it is far preferable to have body waxing performed by a professional as it is more comfortable, hygienic and produces even better results.
In addition to these wonderful benefits, waxing can also cause hair to regrow at a much slower rate compared to other hair removal procedures. This because waxing removes the hair from the root. The time taken for the hair to regrow after waxing can vary depending on each individual. But, with repeated and regular waxing usually, it takes between four to six weeks, for the hair to grow back. However, hair removal may not be a thing for everyone. But if you do choose to then defuzz with minimal pain without having to splurge too much at these premier hair removal spots in Kuala Lumpur that Beauty Insider Malaysia has gathered.
1. Wax Candy Bar
Established in 2016, the Wax Candy Bar is a wax bar which helps to improve people's personal hygiene and well-being. They are well known for their efforts in promoting hygienic lifestyle in the cosiest and friendly environment. With a team of trained and professional consultants and therapists, they will ease your mind when it comes to fixing your hairy situation. They offer a wide range of hair removal services which are listed here.
Price: Starting from RM26*
Location: Lot 115A 1st Floor Podium Block, Faber Tower Taman Desa, Petaling Jaya, Malaysia
2. BubbleGum Wax
They have been around since 2011, and have quit of a reputation for being a high quality yet affordable beauty provider. Their services include hair removal treatments like waxing and laser X. You can find all the prices details here. They have a few branches throughout KL and Selangor. The best part about this saloon, is their services are open for both women and men. So, guys take this opportunity to get yourself the baby smooth waxed skin.
Price: Starting from RM29*
Location: You can visit any one of their outlets around Malaysia.

3. Brazilian Pro Waxing Salon
Located in the upscale neighbourhood of Mont Kiara, this salon is perfect for those who are looking for a soothing Brazilian beauty experience accompanied by heartwarming music for your ears. They are open every day and they offer a wide range of services. Whether it's your face, body, hands or feet, they've got you covered. Their products are all imported from France and Australia and are suitable for all skin types. Check out all of their amazing promotions, here.
Price: Starting from RM65*
Location: No 11, Jalan Solaris 3, Mont Kiara , 50480 KL

4. Buluu Wax Spa
Nestled in the heart of Damansara, this premium waxing spa guarantees maximum comfort and satisfaction for both you and your man. They remove unwanted strands from top to toe using world-class waxing techniques and signature treatments to achieve longer lasting hairlessness. You can add some spice to your relationship and opt for their couples' waxing session, click here. With absolute privacy and capable waxologists, worry not, you are in good hands! For more information about their services, click here.
Price: Starting for RM68*
Location: No. 22A, 26, 28 Jalan PJU 5/4, Dataran Sunway Kota Damansara, 47810 Petaling Jaya.

5. Waxstique
Pronounced as 'Wax Stick', this revolutionary waxing studio uses a method called 'Super Hair Removal (SHR)' for a painless permanent hair removal process. SHR is a technology that uses heat and light energy to remove unwanted hair painlessly and faster in comparison to regular methods. This process is suitable for all skin types and is clinically proven to not have any side effects. Waxstique guarantees you an encompassing experience with the uttermost care to protect the health and elasticity of the skin. Book a reservation, here.
Price: Starting from RM48*
Location: Unit P102B, PJ 33, No. 3 Jalan Semangat, PJS 13, Petaling Jaya, 46200 Selangor
6. Blink Threading & Waxing Studio
In business since 2010, this waxing studio has built a name for its excellence and has an extensive list of regular clients. Their fully trained beauticians use the highest quality products to ensure professional standards and your expectations are always met. They offer a variety of hair removal services for both men and women with as little discomfort as possible. Most of their treatments only take 15-30 minutes, so you will achieve your desired skin in no time. You can find all the details on their services here.
Price: Starting from RM29*
Location: Here's the full list of all their branches in KL
7. Pink Parlour Malaysia
Originally from Singapore, they have crossed the border to come to us. They use high-quality products and technology for the best experience. Both ladies and gentlemen can go in for waxing treatment here. They have specific services targeted to certain body parts or you can opt for full body wax as well. All their products are imported from Australia. You can find them at Sunway Putra Mall. Book an appointment for yourself now.
Price: Starting from RM45*
Location: Lot G1-16/17, Sunway Putra Mall, 100, Jalan Putra, Chow Kit, 50350 Kuala Lumpur, Wilayah Persekutuan
8. Sommerset Nails & Waxing
Located in the heart of Jalan Telawi, Sommerset is an award-winning saloon here in Malaysia. They were among the Top 10 Award-winning Nail Salon in Malaysia last year. They are known for their Brazilian waxing. All their beauticians are highly qualified and have vast experience in the waxing field. All you have to do is head down to Bangsar, and let them do the work. Apart from waxing they also offer manicure and pedicure services which are also equally as good as their waxing service. Overall, it is a great place to pamper yourself. For more information about their services, click here.
Price: Starting from RM58*
Location: 19, Jalan Telawi 3, Bangsar Baru, 59100 Kuala Lumpur, Wilayah Persekutuan Kuala Lumpur
9. Furless Waxing
This unisex waxing studio was awarded the "Most Beautiful Brazilian Wax" by Harper's Bazaar Malaysia in 2013. They have also won awards from other prominent beauty magazines such as CLEO, Women's Weekly and more for their exceptional service. In line with their motto, 'wax more, fear less' their good-natured therapist will make sure you are comfortable and relaxed throughout the whole process. Head down to Jaya One now and prepare yourself for a Furless waxing experience.
Price: Starting from RM 30*
Location: Jaya One, Block B 21-G, Jalan Universiti, 46200 Petaling Jaya, Selangor

---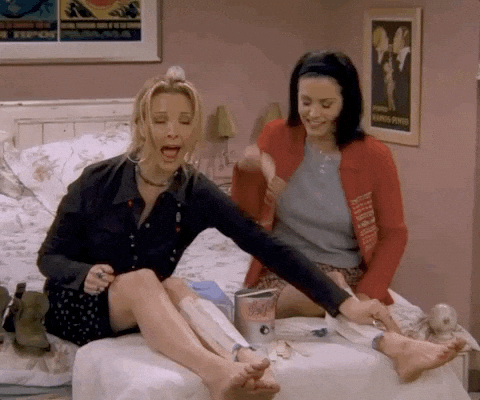 There you go, sis! These are the best and affordable waxing salons we know in KL. Bear in mind, waxing is a high-risk treatment so do your research, chat with the salon before booking an appointment, and don't be afraid to ask questions! Make sure you know everything about them from hygiene standards to the type of wax they use. Hope the information we've given above is helpful. Lastly, just go and get it done.
PRO TIP: DON'T THINK ABOUT THE PAIN!