Hair
17 Different Ways To Help Tame Frizzy Hair + Best Products To Invest In
Here's our simple tips and tricks to manage frizz and prevent it altogether!
By: Beauty Insider Journalist / January 18, 2023
Featured image by Gabrielle Henderson on Unsplash
Frizzy hair is a nightmare that unfortunately most girl faces every day. We understand the frustration of having to put in so much effort just to make your hair look manageable only to have it looking like a lion's mane the second you walk out the door! It sure ain't a pretty sight.
Whether it's pollution, heat damage or getting up on the wrong side of the bed, we've all experienced moments where our hair frizzes up at the worst possible times. Most of us blame the texture of our hair. Especially us curly-haired ladies!
So, if you are wondering what is causing your hair to frizz in the first place, then you've come to the right place! Once you understand the cause it is easy to take the appropriate precautions. Also, we will be spilling some of our favourite tips and tricks to fight frizz for hair that's luscious and easier to manage!
---
Why Does Our Hair Get Frizzy In The First Place?
Frizzy hair is mainly caused by a lack of moisture in the hair or sometimes even due to an excess of moisture. Our hair is constantly thirsty and needs hydration. When the hydration level isn't met, the cuticles rise to let moisture in. The excess moisture from the air causes our hair to swell up and that swelling is called FRIZZ!
This is also the reason why people with curly or wavy hair tend to experience frizz more easily than straight-haired lasses. Curly and wavy hair naturally has the tendency to be dry when exposed to the atmosphere and the hair frizzes at the first sign of moisture. The good news is there are a few simple tips and tricks to manage frizz and even prevent it altogether.
What are the Types of Frizzy Hair?
We might think that frizzy hair is just a regular hair condition in which several strands of hair just stick up against the rest of it. Actually, there are several types of frizzy hair and we have listed the different variations below.
Halo Frizz
If you experience halo frizzy hair, it only occurs on the top part or crown of the hair. Besides, it creates an illusion of a crown.
Surface Frizz
People with surface frizz usually experience frizz on the outside of the hair, in which the hair sticks out like there is static electricity on the mane.
Frizz at the Ends
As the name suggests, the frizz occurs at the ends of the hair and it is somehow similar to split ends as it is dry and brittle.
In-the-curl Frizz
Next, you can identify in-the-curls frizz when there is frizzy hair that appears on the insider of the curls or wavy hair. The downside is that such hair concerns may make the curls look messy and undefined.
Pouf Ball Frizz
Pouf ball is basically the frizz that occurs on your entire locks from the top to the end. As the name suggests, this hair type gives an impression of a pouf ball.
---
So, How To Get Rid Of Frizzy Hair?
A halo of frizz is far from a girl's best friend, and constantly being in a humid environment certainly doesn't help. Have you been wondering how to finally conquer your stubborn locks once and for all? One important tip is to always ensure that you are eating right and drinking enough water. Get these healthy habits established and your hair will be on the right track. Now, here are our 10 golden rules to keep in mind for frizz-free hair.
1. Bubbles Mean Trouble
We all love to pamper our hair with a luxurious lather of shampoo but beware! Unless the products you're using are free of Sodium Lauryl Sulphate (SLS), you're probably doing more harm than good. Ingredients like SLS make your shampoo foam up in the shower, but it comes with a harsh side effect. Regular use will strip away the healthy oils your scalp naturally produces, leaving it dry and brittle. Save yourself the trouble and ditch those nasty chemicals.
2. Choose Shampoos and Conditioners that are Contain Glycerin
Now that you know you should stay away from shampoos and conditioners that contain sulphate, here is an ingredient that you should be looking for in your products. Look for glycerin as it can help tame frizzy hair by hydrating it from the inside out. Since glycerin is also a wonderful humectant, it can actually absorb moisture from the air to form a protective layer around the hair. This way, your hair can feel much softer and look healthier as well!
3. Don't Overwash
If you're battling with frizz on a regular basis, then you might be shampooing your hair too often. While it's great to feel refreshed and to get rid of product build-up but washing your hair too often will also get rid of those important natural oils. Many find that washing their hair every other day or every two days, leads to softer, easier-to-manage hair. Finding the right balance that works for you can be a little tricky at first, but in the end, your hair will thank you for it.
4. Keep It Moisturised!
Leave-in hair conditioner and hydrating hair oils are an absolute lifesaver! If you're prone to wild hair, that probably means it's lacking in moisture. Effectively tame your mane by massaging small amounts of leave-in conditioner after your shower, and add a few drops of hair oil, especially coconut and argan oil to your ends as they work great with most hair types. To avoid that greasy look, start with small amounts until you know how much product your hair can handle.
5. Dry It Gently
In haircare, you could be doing everything right. But if you're drying your hair too harshly, then the odds are you aren't going to like the end result. All that hot air and tousling can take a toll and lead to breakage. The ideal solution would be air-drying, although that's not the most time-sensitive way to dry your hair. Buying a cold air diffuser for your hairdryer is another great option. It's an effective way to preserve your hair's natural texture, without all the heat damage and puffiness.
6. Use The Right Styling Tools
Heat damage can make frizzy hair even worse than it is. So, if you think heat styling tools are fine, think again, because they're causing more harm than good! It is the negative ion conditioning technology in these tools that seals the hair's cuticle to keep it smooth. So, make sure to spritz a lightweight heat-protectant spray over damp hair before you use any hot tools to help prevent frizz.
7. Switch Up Your Pillow Case
Did you know that the type of pillowcase you are sleeping on affects the texture of your hair? Yes, indeed it does! If you're sleeping on cotton pillowcases, now is officially the time to switch to a silk one! Studies have shown that silk helps to protect your hair while you sleep. It can help maintain your hair's natural oils, which is especially important if your hair is fragile from having one too many chemical treatments.
8. Change Your Towel
Our hair is at its most vulnerable when it's wet. So, using the wrong towel is quite literally a make-or-break situation for your hair. That is why it is important to make the right fabric choice. Cotton towels are always recommended as they have a microfiber technology that prevents friction and helps dry hair faster. But don't use the same towel again and again. Because as cotton ages, it gets rough and damages the hair!
9. Mask Your Hair Weekly
Never skip the hair mask! Doing a deep-conditioning treatment at least once a week will help to fill any gaps in your hair shaft that contribute to frizz, Hair masks also help keep the hair feeling soft and moisturized. Leave on the mask for at least 30 minutes before hopping in the shower to rinse it off. For even deeper hydration, try applying your mask to dry hair – yes, dry!
10. Swap Hairsprays With Bobby Pins
We know, hairsprays are the most ideal way to smooth flyaways, but hair sprays generally contain tons of chemicals that can damage the hair and suck out moisture. Opt for bobby pins instead of using hairsprays. Yeah, they don't have that much holding power but they're the safer option. So if your updo tends to get frizzy, stick to cute bobby pins and keep your hairsprays far away.
11. Get A New Haircut
The best way to get something back is to first get away from it. In other words, if you want to get rid of split ends and get your hair healthy again, then it's time for a good ol' trim. Split ends can travel up your hair strands, causing more damage and frizz. To avoid this, just get a haircut when you start to notice fraying. If you live in a region with major humidity like Malaysia, frequent haircuts will keep your tresses healthy and strong.
12. Conditioner for Life
Most importantly, never skip a conditioner when shampooing as it will ensure that each of the hair strands is deeply nourished and moisturized. Furthermore, a conditioner is also known to help prevent the hair cuticle from absorbing excess moisture from the surrounding environment. One of the tips when searching for the best conditioner is to look for a product that features hydrating ingredients such as shea butter or glycerin. Plus, make sure to apply the hair conditioner starting from the mid-lengths to the end of hair and avoid applying it on your hair roots or scalp as it will cause more oiliness.
13. Opt for Hair Oil
One of the secrets to tame frizzy hair is by applying hair oil to help smooth and add more gloss to the hair. Simply pour three drops of hair oil on your palm and rub them together. Then apply it to the hair to tame the frizz and flyaways. You will notice that your hair is more manageable and shiny.
14. Style when it's wet
Sometimes, it's not just about using the best hair products, the timing is equally important as well. It is recommended that you style your hair when it is still wet to help the curls look more defined and kempt. In addition, it also ensures that the products are evenly applied to the hair. It is best that you style it right away after a shower and you can use a leave-in conditioner. Then, finish it off with hair styling products of your choice to add more definition and moisture.
15. Hairspray and Mascara Wand
Nope, it's not some form of sorcery to magically transform your hair but it is a trick that you can do to smooth out frizz and flyaways when you need a quick fix. Simply spray the mascara wand with an alcohol-free hairspray and comb it to the hair. There's a reason why this trick is the go-to technique among hairstylists and celebrities.
16. Always use a diffuser
If you have mastered the art of blow-drying on frizzy hair, you might want to incorporate one of our next tips which is a diffuser. You will notice that once you add a diffuser extension, it helps the hair to become less frizzy and friction. Besides, it also limits the amount of direct heat and air on hair, leaving your hair smoother and manageable.
17. Use Some Hairspray
If you are in a rush to get out the door and realise your hair is incredibly frizzy, use a bit of hair spray to tame them down! Hairspray is a quick fix to smooth out all the flyaways and frizziness in a jiffy. Of course, you don't want to overspray and have your hair looking stiff. A little goes a long way as you can even spray a small amount onto your hands and smooth it over your hair.
Products For Frizzy Hair
1. CURLrinting Fix My Curls Leave In Cream
The first on the list is CURLrinting's trustable Fix My Curls Leave in Cream. Hair-boosting components like Jojoba seed oil, Panthenol, Recutita (Matricaria) Flower Extract, and Magnolia Grandiflora Bark Extract are all present in this leave-in cream. Given that all of those ingredients are high in protein, this cream is perfect for your daily hair styling and protector.
This cream is also light and gentle on the hair, as it doesn't give out that oily or greasy look. One user stated that, ''the cream sets my hair in place without looking oily.'' Another one wrote, ''the product calms the frizz and makes my hair soft. It helps the curl remain up to 3 days without the need to refresh!'' 
It's safe to say that after a few times of using, you'll notice healthier, bouncier and more moisturised curls! Overall, this is a must-have product to tame your wild, frizzy tresses!
Price: RM 65.00
Where to buy: CURLrinting
2. Dyson Supersonic Hair Dryer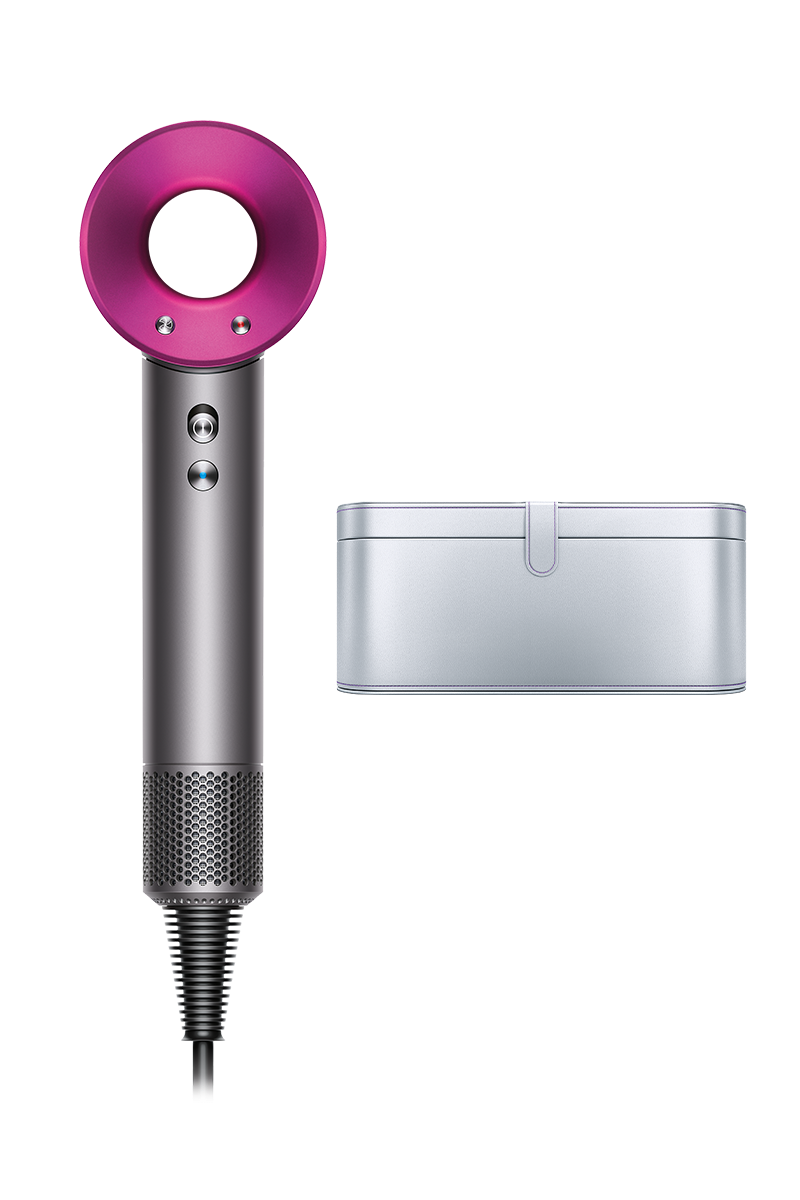 A popular, well-known and beloved brand that provides the best hair care products is Dyson! Everyone wants their Dyson Airwrap, but there is another product that is beloved by many. The Dyson Supersonic Hair Dryer of course! It is a hair dryer that is gentle on both your hair and scalp. Besides that, it also comes with a diffuser that can help calm frizzy hair and define your waves. With a smoothing nozzle, it's also able to help you achieve a finish that is smooth and natural! No more worrying about your hair getting damaged from the heat as it has intelligent heat control. Although it's on the pricier side of the spectrum, it is definitely worth you splurging!
Price: RM 1649.00
Where to buy: Dyson
3. Kristin Ess Dry Finish Working Texture Spray
The Kristin Ess Dry Finish Working Texture Spray is a great spray that works well with all hair types. After taming your frizzy hair, spritz this on for voluminous curls! It has a hold that is super light and provides your hair with a soft matte finish. Allowing you to create your desired hairstyle, it's also free from parabens and sulphates, so it won't cause your frizz to act up!
Price: RM 79.00
Where to buy: Sephora
4. Briogeo Blossom & Bloom™ Ginseng + Biotin Hair Thickening + Volumizing Shampoo
For a sulphate-free shampoo, check out the Briogeo Blossom & Bloom™ Ginseng + Biotin Hair Thickening + Volumizing Shampoo! Without dulling your hair, it helps enhance its fullness and volume. The presence of Maltodextrin is the secret behind achieving thicker locks! For better hair health, both ginseng and ginger work side-by-side to help. With ingredients that are natural and clean, it also contains Biotin to support the growth of stronger hair!
Price: RM 108.00
Where to buy: Sephora
5. OUAI Leave In Conditioner
No matter if your hair is dry, oily or curly, the OUAI Leave In Conditioner can help you achieve hair that is smooth and glossy! For those frizzes and flyaways, this leave-in conditioner can help reduce their appearance. It helps detangle and provide thermal protection too! Since it is also super hydrating, it can help make your hair look healthy and silky. Smoothing away all the flyaways that have pestered you for so long!
Price: RM 108.00
Where to buy: Sephora
6. Percy & Reed Oh-So-Smooth Frizz Fixer Spray
If you are looking for a fixer up for your frizzy hair, get ahold of the Percy & Reed Oh-So-Smooth Frizz Fixer Spray! This conditioning formula has the benefit to help smooth all your flyaways, frizz and even replenish your hair with moisture. With a blend of moringa oils and coconut, it is able to boost your hair's shine. Sweet almond seedcake extract, on the other hand, helps increase your hair's manageability and protects your hair with a humidity-resistant shield.
Price: RM 40.00
Where to buy: Sephora
7. Briogeo Farewell Frizz™ Blow Dry Perfection Heat Protectant Cream
Another product great for frizzy hair is the Briogeo Farewell Frizz™ Blow Dry Perfection Heat Protectant Cream! Use this before using any heat-styling products for protection. This cream has the benefit to protect your hair from both heat damage and frizz! Despite its lightweight, it's also super hardy as it shields your hair against heat that goes up to 450 Fahrenheit! At the same time, it also helps tame frizzy hair and all its flyaways.
Price: RM 108.00
Where to buy: Sephora
---
What Are Frizzy Hair Don'ts?
Fabulous! Now you know what you should do to keep your hair frizz-free, natural and beautiful. That being said, here are a few extra things you should do to keep your hair "tamed", "handled" and "conquered".
1. Don't Ever Brush Your Hair When It's Dry
Brushing your hair when it is dry is just going to create a frizzy mess, especially if you have naturally curly or wavy hair. Instead, brush it from your ends up towards the roots to reduce the risk of damage.
2. Don't Feed Your Hair Alcohol
If you look at the ingredients list, many hair care products contain alcohol because it's really cheap and effective for them to use. But they're not great for the hair. Switch to organic hair products instead!
3. Don't Put Too Many Chemicals On Your Hair
Regular usage of heat tools, harmful bleaches, and dyes can create breakage. It will open the hair cuticle and leaves room for excess moisture to enter, leading to frizz. So, use less heat and avoid bleaching your hair as much as possible.
4. Avoid Touching Your Hair
The first thing that comes to mind when our frizzy hair starts to act out is by touching them in order to rearrange the hair nicely. However, such a habit will only make it worse as the more you touch your hair, the more it will start to frizz and part.
---
Bye Bye Frizz!

These tips will send you in the right direction for your hair care journey! It might be hard to deal with a windy day or muggy, hot weather, but once you've got the right tools in your arsenal your hair will slay any day of the week.
For more beauty infos, make sure to follow us on Instagram and Facebook. Also, visit our Insider Mall to shop and get rewarded!