Skin
What Is Tranexamic Acid And Is It Really The Secret To Treating Dark Spots
Are you someone who's dealing with dark spots or discolouration? Tried all those brightening serums but nothing seems to work? Well, there's a track star making the hots around the beauty community for its amazing powers and results. With that, Beauty Insider is making you turn the labels and see if your products contain our […]
By: Beauty Insider Journalist / October 13, 2021
Are you someone who's dealing with dark spots or discolouration? Tried all those brightening serums but nothing seems to work? Well, there's a track star making the hots around the beauty community for its amazing powers and results. With that, Beauty Insider is making you turn the labels and see if your products contain our special little friend: tranexamic acid.
What Is Tranexamic Acid?
Tranexamic acid is a synthetic derivative of the amino acid lysine, which explains its origin. Proteins are made up of amino acids, which are the building components. Due to its blood-clotting characteristics, tranexamic acid has traditionally been used in medical practice to treat significant blood loss following serious trauma, surgery, postpartum bleeding, and heavy menstruation. In skincare, it's a potent substance known for its ability to enhance the look of discolouration and brighten the skin's complexion.
Does It Really Work?
The specific processes by which tranexamic acid reduces pigmentation are unknown. Melasma and black patches are commonly caused by UV radiation, which can stimulate melanin synthesis. More precisely, UV radiation activates plasmin, which promotes tyrosinase activity and melanin pigment synthesis.
When applied topically, tranexamic acid inhibits UV-induced melanin production by inhibiting the interaction between keratinocytes and melanocytes cells, according to research. Fortunately, tranexamic acid gets along with the rest of the components.
Benefits Of Tranexamic Acid
Tranexamic acid has long been used to treat or prevent significant blood loss in a variety of circumstances, including serious trauma and surgery. Vitamin C and your SPF are two brightening and skin-repairing heroes that combine well with this substance. The synthesis of melanin in the skin's lowest epidermal layers can be triggered by a variety of factors, including UV exposure, prescription medications, and some professional treatments.
Therefore, excess melanin rises to the skin's surface, resulting in noticeable skin discolouration. Post-acne markings and persistent brown spots on the cheeks, forehead, and upper lip are just a few examples of discolouration.
How To Use Tranexamic Acid
Because tranexamic acid is rather mild on its own, you may mix it with other skincare products to get the most out of it. This is something I prefer to combine with retinol or a chemical peel since it's a wonderful adjunct to treating melasma, but it's not enough on its own. Its brightening impact is amplified when used with vitamin C or Kojic acid, ensuring you get the most out of the substance.
What Products To Try Containing Tranexamic Acid
1. Minimalist Tranexamic 3% + HPA
The Minimalist Tranexamic 3% + HPA has been shown to decrease the activity of melanocyte tyrosinase, therefore treating melasma. It also includes 3% Mandelic Acid, which exfoliates softly and helps to minimise post-inflammatory hyperpigmentation. This serum goes on so easily and gives the skin a lot of moisture.
Why we love it:
Contains 3% tranexamic acid
Soothes and hydrates the skin
Price: RM68.67
Where to buy: Distacart
2. The Inkey List Tranexamic Acid Night Treatment Mask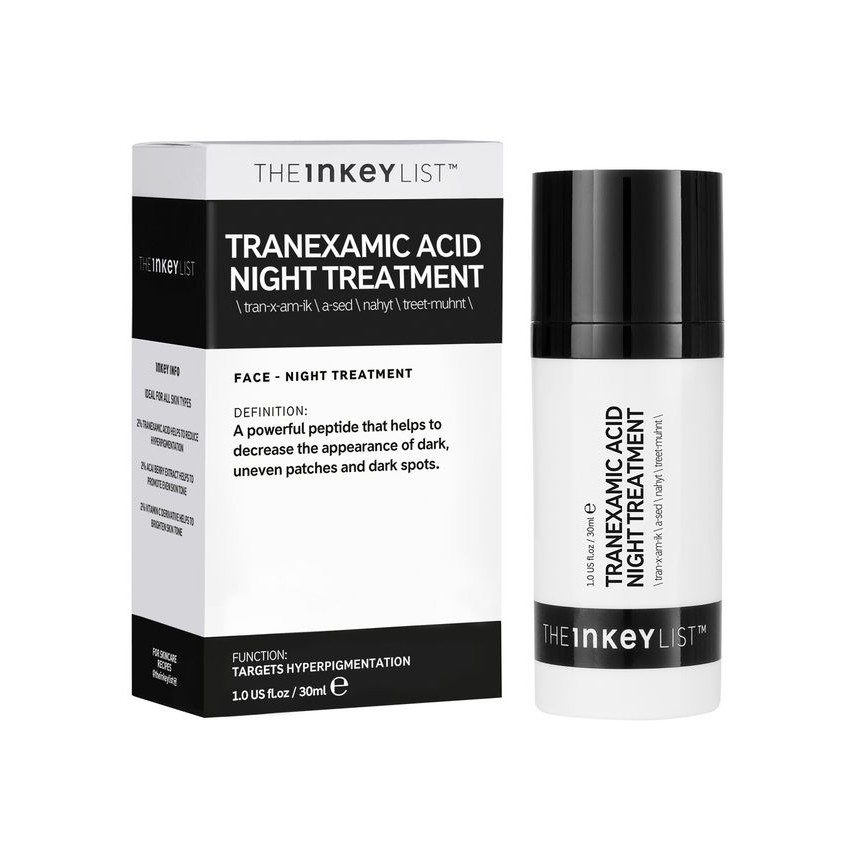 The Tranexamic Acid Night Treatment Mask from The Inkey List combats hyperpigmentation, uneven patches, and dark spots. It improves the appearance of your skin and helps to reduce dark spots and uneven skin tone. It also enhances general skin brightness and even skin tone thanks to 2% Tranexamic Acid, 2 % Acai Berry extract to promote even skin tone, and 2% skin brightener- Vitamin C.
Why we love it:
Formulated with multiple skin brightening ingredients
Effectively reduces dark spots
Price: RM72.00
Where to buy: Sephora
3. SkinCeuticals Discoloration Defense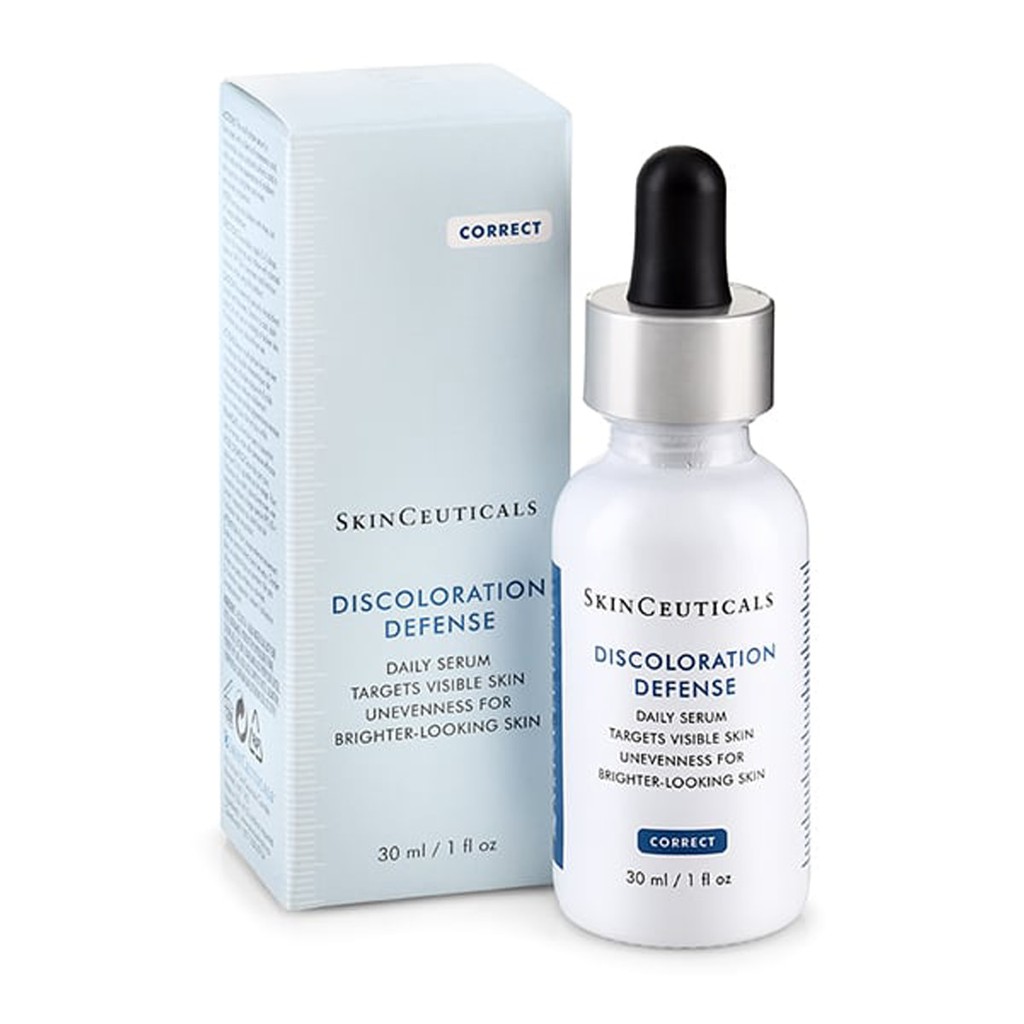 Discoloration Defense from SkinCeuticals has been clinically shown to improve the look of dark spots and discolouration on the face. This sophisticated composition is a hydroquinone-free skin brightening serum that is powered by kojic acid, tranexamic acid, and vitamin B3. It's a daily-use, layer-able dark spot corrector that's clinically proven to fade the appearance of common skin discolourations. This includes difficult-to-treat skin conditions like persistent dark spots and post-acne scars.
Why we love it:
Loved and vouched by dermatologists
Contains tranexamic acid, kojic acid, vitamin B3
Price: RM488.00
Where to buy: Shopee
4. Murad Replenishing Multi-Acid Peel
The Murad Resurgence Replenishing Multi-Acid Peel daily bi-phase peel boosts cell regeneration by 33% in just 7 days while also feeding the skin to avoid dryness and irritation. This miracle peel is divided into two stages. Phase 1: AHA/BHA/TXA resurfaces the skin for a smoother, brighter, more youthful appearance. Phase 2: antioxidant-rich holy basil and omega-rich oils protect and build the skin's surface for a healthier, more radiant complexion.
Why we love it:
Smoothes out texture
Provides a more radiant complexion
Price: RM398.00
Where to buy: Murad