Skin
Vitamin E in Skincare, It Works Like Magic!
Vitamin E is a common skincare ingredient. There are an array of benefits that come from this ingredient making it magical for the skin! Here's all you need to know, and more about Vitamin E. ContentsWhat is Vitamin E?Vitamin E in SkincareThe 8 Forms of Vitamin EThe Best Friends: Vitamin C & EVitamin E Products […]
By: Farah Khan / March 23, 2021
Vitamin E is a common skincare ingredient. There are an array of benefits that come from this ingredient making it magical for the skin! Here's all you need to know, and more about Vitamin E.
What is Vitamin E?
Vitamin E is a fat-soluble with anti-inflammatory properties that is an essential nutrient to our bodies. It naturally occurs as a component in healthy skin. It provides support to our immune system, skin, and cell function. This ingredient is an antioxidant making it your very own superhero against free radicals in the environment. Vitamin E can also be an effective ingredient in combating symptoms of atopic dermatitis, also known as eczema.
Suffering from sunburns? Vitamin E can help with that as well! UV light reduces the Vitamin E levels in your skin. Therefore, selecting a moisturiser or sunblock that has Vitamin E in it would be best to ensure that the Vitamin E is immediately replaced. Furthermore, taking supplements that contain Vitamin E can also help with this.
Looking for a sunblock to pair it up with your skincare? Here's some suggestions from us at Beauty Insider.
Vitamin E in Skincare
Vitamin E in skincare is often found in creams and oils. In some cases, it can also be found in sunblock and make-up products such as foundation, concealer, and liquid blush. The reason this ingredient is incorporated in so many skincare and cosmetic products is because it absorbs easily into the skin.
In oil based skincare, you may find it harder for it to spread and absorb into the skin but it works great as a moisturiser for dry skin and you can even use it as a spot treatment if you have dry patches on your skin. Creams and serums are usually applied overall while oils are used to target certain areas such as dry patches on your face, elbows, or knees.
The 8 Forms of Vitamin E
There are eight forms of this vitamin in which they are either naturally or synthetically derived. Some of the most common forms of it that you can find in supplements or skincare are d-alpha-tocopherol, d-alpha-tocopherol acetate, dl-alpha tocopherol, and dl-alpha tocopherol acetate. Those that begin with a "d" prefix indicates that they are naturally derived while those with the "dl" prefix are synthetically derived. Those that are naturally derived are typically from vegetable oils.
On skincare or supplement labels, they are usually written as "tocopherol" or "tocopheryl acetate" which does not show any indication whether it is synthetically or naturally derived. Further information on the source of the vitamin can be found out through the manufacturer themselves.
The Best Friends: Vitamin C & E
Vitamin C and E are a great combination in skincare with proven capabilities of improving the appearance of uneven skin tone, brightening dull complexions, and strengthening your skin's defenses against the impact of free radicals in the environment. These two go hand in hand and will leave your skin feeling bright and supple throughout the day.
Vitamin E Products In Malaysia
If you're looking for Vitamin E products right now, look no further because we have the best suggestions for you!
The Body Shop Vitamin E Night Serum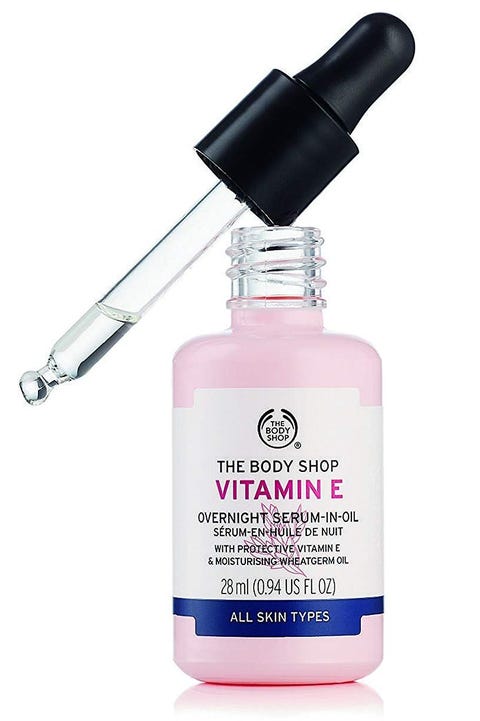 This customer favourite will have you going to sleep with the most comfort and waking up with a fresh and supple look every morning. Rated 4.7 stars on The Body Shop, it is one of their best selling skincare products as it has the power to boost your skin's moisture throughout 24 hours. Give your skin the love it needs with this oil based serum, and enjoy the best beauty sleep!
Price: RM143 for 28ml
Where to buy: Lazada Malaysia
PIXI Overnight Glow Serum
This glow serum has a rich formula that contains cucumber, aloe vera, Vitamin A, C, and E which will help with stressed skin, fine lines, as well as fade those dark spots from sun damage or acne scars. This product is one of the fan favourite products on Sephora Malaysia. Yanie Yan, a Malaysian customer even wrote "I really like this serum.. apply every night it makes u skin more bright n glow..love it.. the texture might bit sticky, but the result can make your skin soft, glow n bright." as part of her review for this serum!
Price: RM120 for 30ml
Where to buy: Sephora Malaysia
FRESH Vitamin Nectar Glow Juice Antioxidant Face
FRESH created this product with fresh juice as the inspiration behind it. This serum quickly absorbs into the skin and is rich with vitamins, minerals, fruits, and vegetable extracts. Achieve a healthy glow with this serum as it provides your skin with a boost of nutrients from coconut oil, vitamins C and E, and beta-carotene that will deliver instant hydration and antioxidant protection which will last 24 hours.
Price: RM 130 for 15ml
Where to buy: Sephora Malaysia
CLARINS Blue Orchid Face Treatment Oil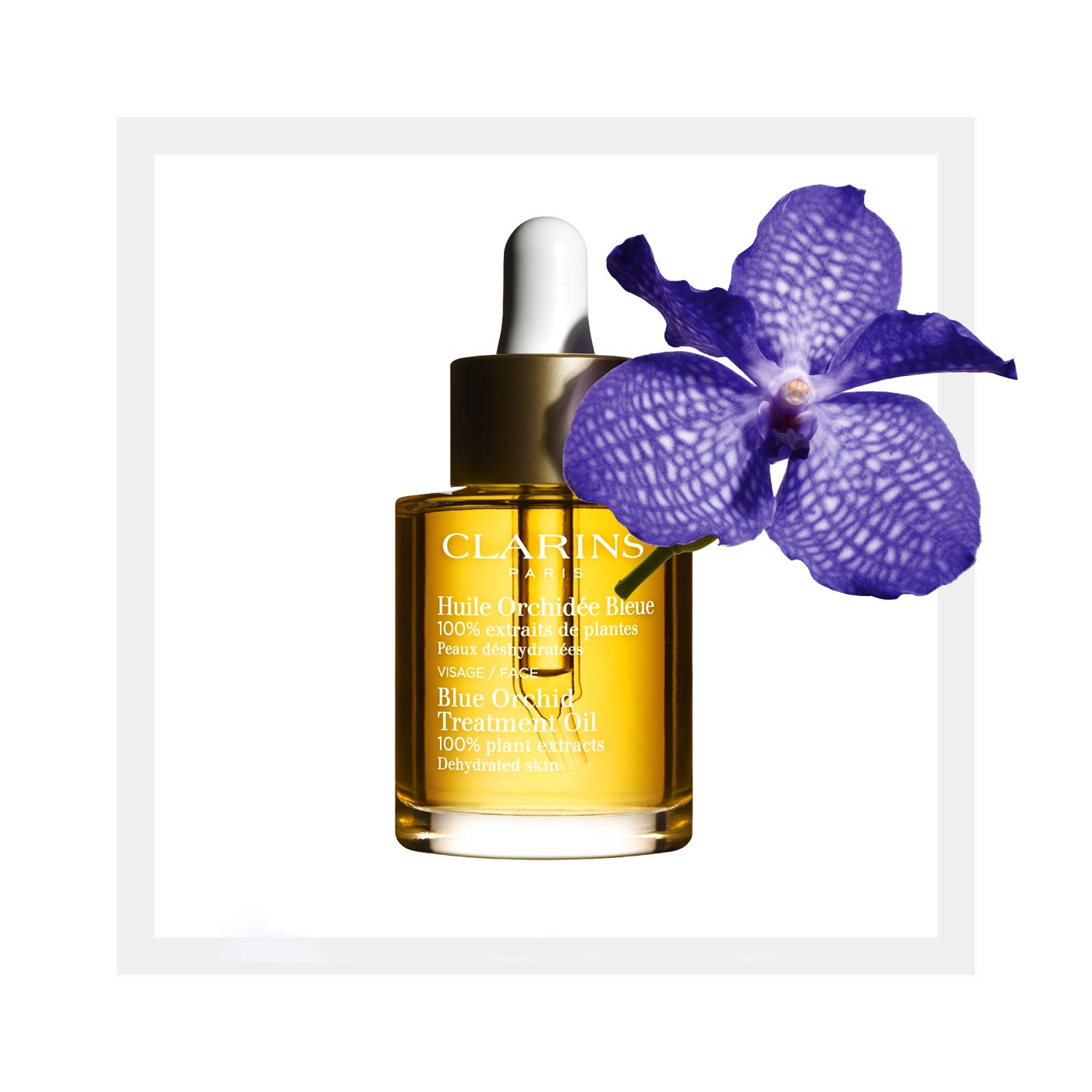 Get a soft subtle glow while moisturising your skin with Clarins' Blue Orchid Treatment Oil. Its formula contains 100% pure plant extracts and no preservatives that will help tone the skin. The Hazelnut Oil in this serum will help prevent moisture loss and also has anti aging properties which will prevent fine lines and wrinkles from forming on your skin.
Price: RM225 for 30ml
Where to buy: Clarins Malaysia
The Body Shop Vitamin E Moisture protect Emulsion SPF30 PA+++ This moisture protect emulsion is a lightweight formula with a milky texture that will protect your skin from UVA and UVB damage. It will lock in moisture giving you 48 hours of hydration which will keep your skin soft throughout. The antioxidant properties from the Vitamin E content will protect your skin against free radicals in the environment. It also contains hyaluronic acid which will increase the moisture and help with dryness.
Price: RM92 for 50ml
Where to buy: The Body Shop Malaysia
Bio Oil Skincare Oil This skincare oil is a celebrity favourite. Kim Kardashian swears by it throughout her pregnancy to reduce her stretchmarks as well as fade acne scars. This skincare oil also works great at providing moisture at targeted areas such as dry patches, elbows, or scars. Keep in mind that this oil is quite heavy in texture which doesn't make it suitable to be lathered all over your face.
Price: RM79.45 for 200ml
Where to buy: Guardian Malaysia