PEPPERMINT 
Pure Essential Oil
• ISO Certified
• 100% imported from Australia
AROMATIC PROFILE
Perfumery Note:

 Top

Odor:

 Fresh, cool, green-herbaceous, grassy-minty with a deep balsamic-sweet undertone

Strength of Initial Aroma:

 Strong

Blends Well With:

 marjoram oil, eucalyptus oil, lavender oil, lemon oil, and rosemary oil, rose geranium oil, sweet orange oil, frankincense oil
PRODUCT DETAILS
Botanical Name:

 Mentha piperita

Composition:

 100% Pure Peppermint Essential Oil

Origin:

 USA

Method of Extraction:

 Steam Distillation

Plant Part:

 Aerial Parts

Color:

 Clear to pale yellow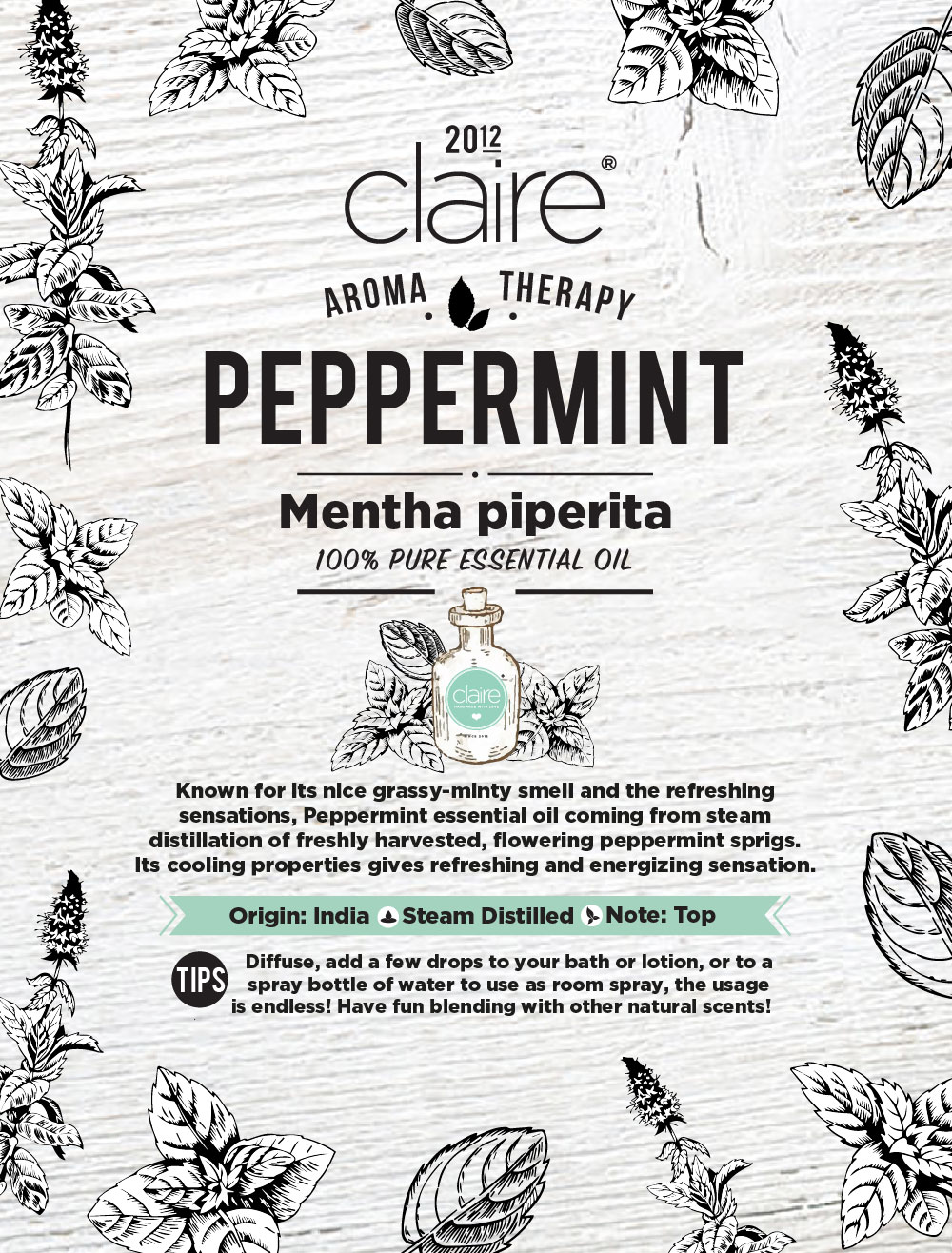 100% PURE PROPERTIES
Peppermint oil is well-known for the dramatic effect it has on the body and mind. In the body, it is particularly well-suited for opening the breath, and relaxing an overworked body. Adding a few drops of peppermint to a massage oil or lotion and rubbed on after a yoga session or enthusiastic hike can do wonders for restoring feelings of comfort and ease. Peppermint is one of the first oils we reach for whenever we need to clear the air or restore balance to the family.
SUGGESTED USES
Add a few drops to your hair care routine as it nourishes and balances for healthy scalp. Add to our toothpaste for effective and refreshing properties.
CAUTION
Though it is non-toxic and non-irritating, peppermint may be sensitizing because of its high menthol content, causing irritation to the skin and mucous membranes. Do not use on children younger than 7 years of age. Do not take internally.