Hair
Best Anti-Dandruff Shampoos In Malaysia To Control Those Flakes For Good!
Ew flakes! These shampoos will scare them away for sure.
By: Balqis Ariffin / January 9, 2023
Dandruff. Nobody likes them, nobody wants them, and yet most of us are faced with this problem at some point in our lives! Here's the thing though, dandruff cannot be cured completely. However, by opting the right anti-dandruff shampoos can at least keep the problem under control. So, that is why we emphasize the need to switch to anti-dandruff shampoos.
But fret not, because there are so many anti-dandruff shampoos in Malaysia that will get into the nitty-gritty and cure those flaky scalps. Beauty Insider Malaysia has scoured through some anti-dandruff shampoos in Malaysia and here are our best picks.
What Causes Dandruff?
Contrary to popular belief, there actually isn't any clear indication of the underlying reasons why dandruff occurs. However, certain people might suffer from such hair conditions due to several factors including:
The presence of Malassezia, a yeast that feeds on the oils produced by hair follicles
Suffer from Seborrheic dermatitis with oily and irritated skin
Skin disorders such as eczema, ringworm and contact dermatitis
Adverse reactions due to hair care products
Nutrients deficiency
Additionally, other contributing factors like age, illnesses and even gender, particularly males are more susceptible to experiencing dandruff. Although the symptoms vary, the common signs of dandruff are usually associated with itchiness and skin flakes that are visible on the hair. For those who experience stress, these symptoms can be more severe during such periods.
What to Look for When Searching for the Best Anti-Dandruff Shampoos?
If you have been halfway through the shampoo bottle but do see any significant improvements, it might be a time to swap it for something better. There are a few ingredients to look for when you want to purchase the best anti-dandruff shampoos:
Ciclopirox
Salicylic acid
Coal tar
Ketoconazole
Zinc pyrithione
Selenium sulfide
Sulfur
The 30 Best Anti-Dandruff Shampoos in Malaysia
1. Summerie Dandruff Hair Shampoo 
Top of the list is none other than our favourite all natural hair care, Summerie Dandruff Hair Shampoo. Infused with hair boosting ingredients like Organic Sunflower Seed Oil, Golden Jojoba Oil and Mineral ZPT & Calendula Extract to fight against the formation of dandruff, soothes and moisturises your scalp and overall relieves the scalp itchiness & discomfort. This shampoo is proven to be 99% effective in ending dandruff!
Contains Mineral ZPT that fight against the dandruff
Proven to be 99% in fighting dandruff and soothes scalp itchiness
Rich in vitamins C,B and E, and minerals elements that nourish hair
Price: RM 17.90
Where to buy: Guardian
2. Clear Extra Strength Anti-Dandruff Shampoo
One of the most popular anti-dandruff shampoos in Malaysia, The Clear Extra Strength Anti-Dandruff Shampoo is a triple-acting shampoo that can do wonders for your hair. It works super effective in clearing the flakiness of your scalp and can also enhance your scalp's ability to remain healthy and less vulnerable to flaking. Use it regularly, your scalp will have a boost of moisture and nutrients that can deeply repair and strengthen your scalp barrier. This allows it to be more resilient to damage.
Why we love it:
Soothes itchiness
Eliminates greasy
Nourishes the scalp
Price: RM19.00
Where to buy: Watsons

3. Iraltone SD Shampoo
This one is on the pricier side than your usual dandruff shampoos, but it's definitely worth the investment! Iraltone's SD Shampoo is known to treat "seborrheic flaking scalp conditions" so those with more extreme dandruff and/or flaking concerns will find this helpful. It contains active ingredients such as Piroctone Olamine, Climbazole, Vitis Vinifera, Salicylic Acid, Keratolytic, and kerato-regulators to regulate sebum production, reduce dandruff, provide relief for itchiness and irritation, and deeply hydrate the scalp for a healthier hair overall.
Why we love it:
Infused with active ingredients
Delivers intense hydration
Ideal for those with extreme dandruff
Price: RMRM171.00
Where to buy:
Shop Now
4. Dove Shampoo Dandruff Care
This Dove anti-dandruff shampoo prides itself on being one of the best anti-dandruff shampoos in Malaysia. Unlike most anti-dandruff shampoos this one does not dry out the scalp hence it is perfect for those with dry strands. Formulated with Dove's patented micro moisture serum, this shampoo can pump your scalp and hair and receive adequate hydration and moisture. Just after one use your scalp feels clean and refreshed just after one wash with the Dove Shampoo Dandruff Care.
Why we love it:
Hydrates the hair
Formulated with micro moisture serum
Gentle formulation
Price: RM15.39
Where to buy: Watsons Malaysia

5. Himalaya Anti Dandruff Shampoo
Featuring a bunch of anti-fungal ingredients including Aleo Vera and Tea Tree Oil, this Himalaya shampoo is a favourite among many Malaysian. It is proven to control and reduce dandruff without causing any sort of discomfort. Thanks to Tea Tree Oil's natural soothing properties, this shampoo can relieve the scalp as soon as it comes into contact with it. The lightweight feels so good when you massage it into your scalp, it feels gentle and not overbearing.
Why we love it:
Features anti-fungal ingredients
Soothes irritation
Ideal for all skin types
Price: RM21.90
Where to buy: Shopee Malaysia

6. Head & Shoulders Anti-Dandruff Supreme Smooth Shampoo
Packed with hair-loving ingredients like Moroccan Argan Oil and Honey extracts this Head & Shoulder shampoo can help to nourish and revitalise your scalp and hair strands. With prolonged use, you'd also find that your hair strands are softer and silky smooth. Not just your scalp will feel cleaner but less oily than before also. Formulated without any parabens, artificial colouring and phosphates, this shampoo can cultivate a healthy scalp!
Why we love it:
Free from harmful ingredients
Revitalise scalp and hair
Promotes smoother and softer hair
Price: RM19.90
Where to buy: Watsons Malaysia

7. Amway SATINIQUE Anti-Dandruff Shampoo
On the high end of the price list, the SATINIQUE Anti-Dandruff Shampoo can provide your hair with a gentle cleansing of your scalp and keep the flaking under control. Formulated with active ingredients like avocado and Vitamin E, this shampoo can pack your hair with moisture and nutrients that can help to restore your scalp to reach a healthy moisture-oil balance. With regular use, you can find that your hair looks lustrous and soft with a beautiful texture too!
Why we love it:
Replenish the hair with active ingredients
Prevents excess sebum
Gentle formula
Price: RM42.70
Where to buy: Amway Malaysia

8. Pantene Anti Dandruff Shampoo
One of the most affordable anti-dandruff shampoos in Malaysia, the Pantene Anti Dandruff Shampoo is on par with those luxurious shampoos at keep dandruff at bay. Rich and milky in texture, this shampoo can help to soothe and relieve the itch and irritation. If you have a greasy scalp this shampoo is perfect for you as it also has a mattifying effect for your scalp. At the same time, it is also super gentle on the scalp so it is suitable for even the most sensitive scalp!
Why we love it:
Suitable for all skin types
Rich lather
Prevents greasy scalp
Price: RM34.55
Where to buy: Zalora Malaysia

9. Loreal Fall Resist Anti Dandruff Shampoo
This multi-tasking shampoo by L'Oreal is without a doubt a top contender in the market! It can help fight excessive hair loss and also dandruff issues! Formulated with a bunch of antifungal agents this shampoo can provide your hair with an ample amount of nutrients for healthy hair growth. Using it regularly can also regulate the flaking of your scalp. Plus, it can also ensure that your scalp does not lose essential moisture and nutrients through the cleansing process! If you want your hair to feel more refreshed and clean then use the L'Oreal Fall Resist Anti Dandruff Shampoo today!
Why we love it:
Prevent hair loss
Packed with anti-fungal properties
Treats dandruff
Price: RM15.50
Where to buy: Shopee Malaysia

10. Sunsilk Shampoo Anti-Dandruff
The Sunsilk Shampoo Anti-Dandruff contains all the ingredients your hair needs to fight dandruff. It can provide your hair with deep cleansing while keeping your hair refreshed and nourished. This shampoo can also tame those frizzy manes while promoting healthy growth. The shampoo also has a nice citrusy fragrance to it that will stay on your hair the whole day. It can truly rejuvenate your senses and mind and it will fix your dandruff issues.
Why we love it:
Tames frizzy hair
Citrus scent
Deep cleansing
Price: RM13.55
Where to buy: Watsons

11. Palmer's Coconut Oil Formula With Vit E Shampoo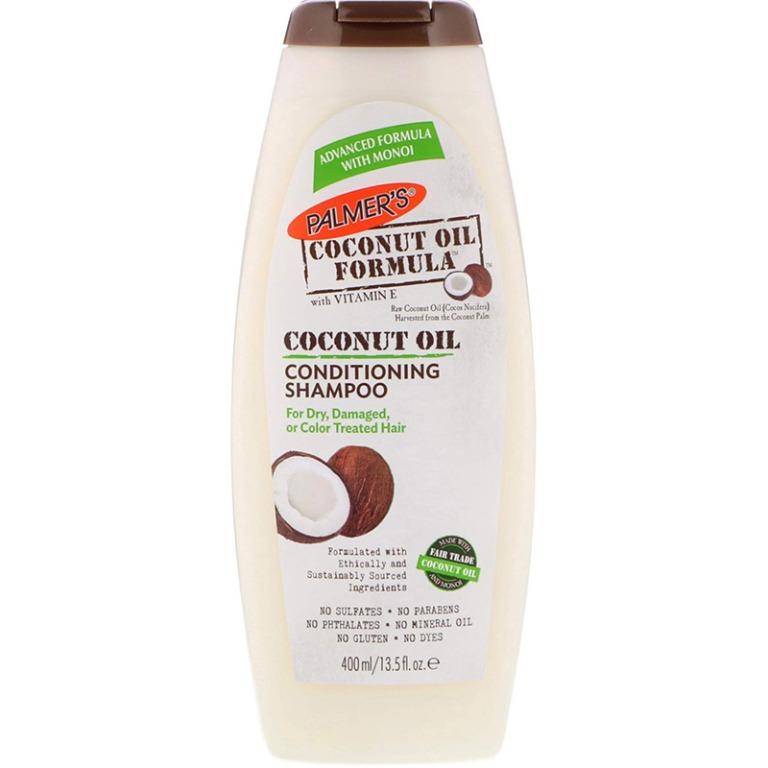 Packed with rich and moisturising properties the Palmer's Coconut Oil Formula Conditioning Shampoo is enriched with pure natural coconut oil and Vitamin E. This luxurious shampoo can transform all those dry, damaged tresses into strong, shiny, healthy hair. Not just can the shampoo soften and add shine to your hair but it can also remove product build-ups. Using only natural ingredients this shampoo is ideal for all hair types.
Why we love it:
Hydrating properties
Revives dry and dull hair
Natural ingredients
Price: RM26.51
Where to buy: Big Pharmacy Malaysia

12. Redken Scalp Relief Dandruff Control
This one of a kind shampoo by Redken has a uniquely dry and wet formula that can help eliminate and reduce dandruff. The moment the shampoo touches your hair it will start its job to fight dandruff hence, leaving the scalp calm and soothed. This is also a great pick for those with a dry scalp as it can eliminate and control scalp irritation. The best way to use the shampoo is to apply it to damp hair and massage your scalp in order to stimulate blood circulation. Lastly, just rinse it off!
Why we love it:
Deep cleansing
Premium ingredients
Delivers soothing effect
Price: RM81.47
Where to buy: Zest Beauty

13. Kristin Ess Scalp Purifying Micellar Shampoo
With a 3.8 star review on Sephora Malaysia, this purifying shampoo by Kristin Ess can gently wash away impurities while leaving your natural moisture intact. It is, in fact, one of the best selling anti-dandruff shampoos in Malaysia. Though it is on the pricier side it is totally worth every penny! You can use this on the finest, thinnest hair or the thickest, curliest hair and get the same perfect results. It keeps natural moisture intact and reduces dryness and frizziness.
Why we love it:
Boosts shine
Removes build-up
Hydrates the scalp
Price: RM69.00
Where to buy: Sephora Malaysia

14. Avalon Organics, Anti-Dandruff Shampoo
100% organic and natural, the Avalon Anti-Dandruff Shampoo is just what you need for soft, flake-free and healthy-looking hair. Packed carefully with a balanced blend of 2% salicylic acid, aloe vera, tea tree, chamomile and essential oils this shampoo can effectively treat and prevent dandruff. It can also relieve scalp dryness, itchiness and flakiness. For those who suffer from skin issues like dermatitis, seborrheic dermatitis and psoriasis, this shampoo is ideal for you!
Why we love it:
Botanical ingredients
Ideal for those with skin disorders
Softer looking hair
Price: RM43.00
Where to buy: Shopee

15. Klorane Anti-Dandruff Shampoo With Nasturtium
This shampoo by Klorane is super light and gentle on the hair and scalp. It can deeply cleanse and purify your scalp while restoring its balance for a long time. If your hair falls a lot then this shampoo can fix that too! The gel-like texture can extract all dirt from your scalp. Just gently massage the shampoo in your hair and leave it on for about 3 minutes. Rinse it off and your hair be looking bomb!
Why we love it:
Gentle and mild formula
Free from parabens and soap
Purifies the scalp
Price: RM66.01
Where to buy: CaretoBeauty

16. Nunature Anti-Dandruff Shampoo
Infused with Indian kino tree extract, silk amino acid, soy protein, hydrolyzed yeast protein, black pepper extract & herbal complex, the Nunature Anti-Dandruff Shampoo can help you overcome serious scalp issues like itchiness and irritation. Plus, it can also control oiliness while reducing redness and lakes. With frequent use, you can notice your hair becoming stronger and healthier. To add to that, the shampoo can also balance sebum production while improving hair and scalp health by activating the stem cells.
Why we love it:
Controls excess sebum
Fortifies the hair
Packed with hydrating and nourishing properties
Price: RM25.90
Where to buy: Watsons Malaysia

17. Audace Preven Anti-Dandruff Intensive Shampoo
Last but not least in this best anti-dandruff shampoos in Malaysia list is the Audace Preven Anti-Dandruff Intensive Shampoo. Super affordable you can find this shampoo on almost any drugstore shelf in Malaysia. It can help relieve itchy scalp at the same time help prevent and remove dandruff flakes. Just gently massage the shampoo on wet hair and scalp for about a minute and then rinse thoroughly clean. The shampoo also has a nice scent to it but it does contain potent ingredients so stop using immediately if you experience any discomfort!
Why we love it:
Good value
Prevents dandruff flakes
Soothes itchy scalp
Price: RM19.76
Where to buy: Watsons
18. Kerasys Anti Dandruff & Sebum Control Shampoo 
Kerasys Anti Dandruff & Sebum Control Shampoo is specifically formulated for those who suffer from the oily scalp. It helps to deeply cleanse against impurities, excess sebum and dirt, making it highly effective to combat itchiness. Natural peppermint and menthol extract are added to the formulation for their ability to combat fungus. What's more, this highly rated shampoo delivers a cooling sensation that instantly soothes your scalp. If you're looking for the best anti-dandruff shampoos on Watsons, simply grab the Kerasys Anti Dandruff & Sebum Control Shampoo and your hair will thank you.
Why we love it:
Delivers cooling sensation
Pleasant scent
Ideal for oily scalp
Price: RM34.90
Where to buy: Watsons
19. Nizoral Anti-Dandruff Shampoo
Bid goodbye to itchy and scalp with Nizoral Anti-Dandruff Shampoo, which has been making waves across the internet forum. With ketoconazole as its star ingredient, it helps to alleviate itchiness, flaking and scaling due to dandruff. Unlike other products, it has a gentle formula that is suitable for those with colour treated hair. It produces a rich lather that deeply cleanses the scalp and replenishes it from moisture loss.
Where to buy:
Infused with ketoconazole
Gentle formula
Instantly soothe irritation and itchiness
Price: RM102.00
Where to buy: Ubuy
20. Percy & Reed Anti-Dandruff I'm No Flake Shampoo
Percy & Reed Anti-Dandruff I'm No Flake Shampoo is a clinically proven hair care product that keeps all symptoms of dandruff at bay. Enhanced with aloe vera extract and chamomile, these ingredients soothe irritation and boost hair radiancy. This fan favourite shampoo targets the hair roots, preventing scalp flakiness. It features a vegan formulation that is ideal for sensitive skin and even for those with coloured hair.
Where to buy:
Free from harmful ingredients
Ideal for sensitive skin
Soothing properties
Price: RM41.00
Where to buy: Sephora
21. Yves Rocher Anti-Dandruff Shampoo
Yves Rocher Anti-Dandruff Shampoo features a concoction of botanical extracts including agave fructans and pomegranate extract. It delivers a double action to remove dandruff and improve the scalp's microcirculation. What sets it apart from other similar shampoos is that it helps to remove dandruff during the first application and keep the hair dandruff-free in two weeks.
Why we love it:
Packed with botanical extracts
Dermatologically tested
Treats dandruff during first application
Price: RM53.00
Where to buy: Zalora
22. La Roche-Posay Kerium Anti-Dandruff Shampoo
With La Roche-Posay Kerium DS Intensive Anti-Dandruff Shampoo, you can enhance the health of your hair and scalp. This purifying shampoo uses a thorough wash to help get rid of obstinate dandruff and soothe itchy scalps. To eliminate copious amounts of dandruff, the recipe is enhanced with micro-exfoliating LHATM, and its Root Targeting Technology deposits a purifying complex into the scalp and pilosebaceous follicle to cure dandruff at its root. As it removes dirt and impurities and revitalises your hair and scalp, Vitamin PP soothes itching and fosters a healthy scalp environment.
Why we love it:
Purifies the scalp
Rebalances sebum production
Nourishing
Price: RM101.00
Where to buy: Shopee
23. Paul Mitchell Tea Tree Special Shampoo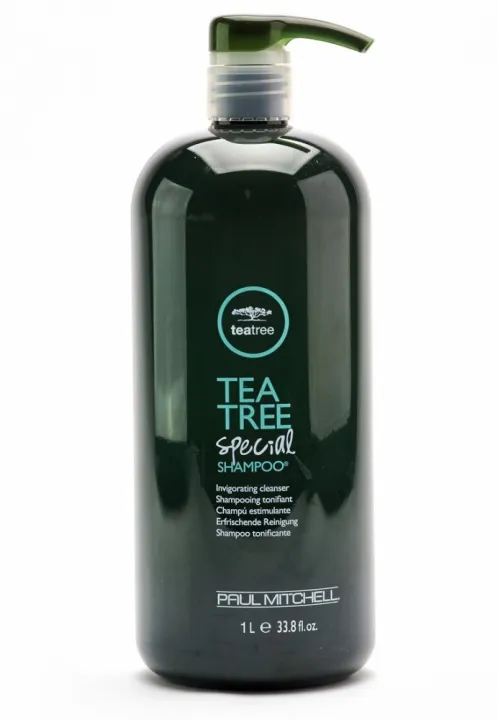 Traditional essential oils like tea tree have been used for ages to maintain hair looking and feeling completely rejuvenated. This formula's antibacterial characteristics will purge pollutants from your scalp while giving your crowning glory more vigour and power. While promoting shine and softness, this barely foamy beauty treatment won't leave behind any residue that might weigh down your hair. If you want an energising experience while showering, Paul Mitchell Tea Tree Special Shampoo is perfect for you. Use one or two pumps, massage them into your hair, and then thoroughly rinse.
Why we love it:
Detoxifying
Clarifying
Provides shine
Price: RM112.00
Where to buy: Shopee
24. Selsun Blue Medicated Anti-Dandruff Shampoo
This is a fantastic over-the-counter alternative; while it's not as potent as prescription dandruff shampoos, it works wonders to reduce scaling and is an excellent place to start. It successfully fights the fungal component of dandruff and has the added advantage of having menthol, which reduces irritation and adds to the feeling of freshness. The formula's conditioning honey hydrates the scalp by conditioning it.
Why we love it:
Refreshing
Can easily be bought over the counter
Detoxifying
Price: RM29.70
Where to buy: Shopee
25. Dr. Barbara Sturm Balancing Shampoo
The Balancing Shampoo, which is a component of the Balancing Collection, is the first step in a moisturising, soothing hair care regimen intended to support scalp health and ward against unwelcome dryness, irritation, or flakiness. The mildly cleaning product uses a three-pronged strategy to restore the natural balance of your scalp. First off, it employs a concoction of nourishing natural components, including lavender extract, brown and green algae, and Japanese camellia, that can calm even the most sensitive skin.
Then it protects your scalp from the harm and irritation that heat, pollution, and UV stress can all cause using sunflower sprouts and tara extract. Finally, it provides itching alleviation by using purslane extract.
Why we love it:
Protects from external factors
Contains nourishing ingredients
Reduces inflammation and irritation
Price: RM274.00
Where to buy: Dr. Sturm
26. Aiken Anti Dandruff Shampoo
Enriched with niacinamide, pomegranate, and ginger to invigorate the scalp with each wash! The Aiken Anti-Dandruff has become one of the best-selling anti-dandruff shampoos that helps protect the scalp from damage while decreasing dandruff production with continuous usage. It soothes sensitive scalp while preventing itchiness and bad odour.
Why we love it:
Free from artificial colourants, mineral oil, parabens, and alcohol
Decreases flakes and itchiness
Moistures and hydrates the scalp
Price: RM14.80
Where to buy: Shopee
27. Neutrogena T/Sal Shampoo Scalp Build-Up Control
For dry and flaky scalp that's prone to build up, Neutrogena's T/Sal is a great shampoo to help control most scalp issues. Powered with salicylic acid to effectively treat common conditions like scalp psoriasis, dermatitis, and dandruff. The effects of this shampoo continue even after washing it off. It prevents itchiness, scaling, and drying of the scalp to maintain a healthy scalp and hair.
Why we love it:
Works immediately after the first use
Fragrance-free
Dermatologist tested and approved
Price: RM56.00
Where to buy: Shopee
28. Eucapro Family Hair Shampoo
As the name suggests, the Eucapro Hair Shampoo can be shared with fellow family members and is suitable for all hair types. The formula is ideal for daily gentle cleanse for those with mild dandruff concerns. It's made with natural essential oils to reinvigorate the scalp and retain moisture with each wash. It also has soothing properties for itchiness and irritation.
Why we love it:
Large volume of content
Prevents drying, irritation, and hair breakage
Antibacterial
Price: RM24.00
Where to buy: Lazada
29. Sebamed Anti-Dandruff Shampoo
Made for extra sensitive and dry scalps, the Sebamed specialises in gentler but effective formulas to treat dry, flaky scalp types. It helps remove excess sebum, dead skin cells, and any other build-up. It also promote gentle exfoliation to prevent clogging, thanks to the Cimbazole ingredient. In addition, it reduces inflammation and prevents fungal infections on the scalp.
Why we love it:
Best for oily, sensitive scalp
Rebalances pH level
Strengthens the scalp
Price: RM30.10
Where to buy: Lazada
For more beauty infos, make sure to follow us on Instagram and Facebook. Also, visit our Insider Mall to shop and get rewarded!