Oral & Dental Care
Teeth Whitening Kits are The Best Way to Have The Brightest Smile!
Smile bright like a diamond
By: Cherelle Lim / May 23, 2023
If you didn't know this, Beauty Insider will let you in on a little secret:
No matter how hard you brush your teeth, they will always have a hint of yellow. That's just how our teeth are meant to be, and not having white teeth is perfectly normal and completely natural. However, external factors like drinking coffee can contribute to darkening and staining, preventing them from achieving a bright and healthy glow.
The next best option is to use teeth whitening kits to achieve lighter teeth. In Malaysia, you can find several excellent teeth whitening kits that provide pearly white results without the need for monthly dental appointments. These kits serve as a convenient at-home alternative.
Why Choose Teeth Whitening Kits?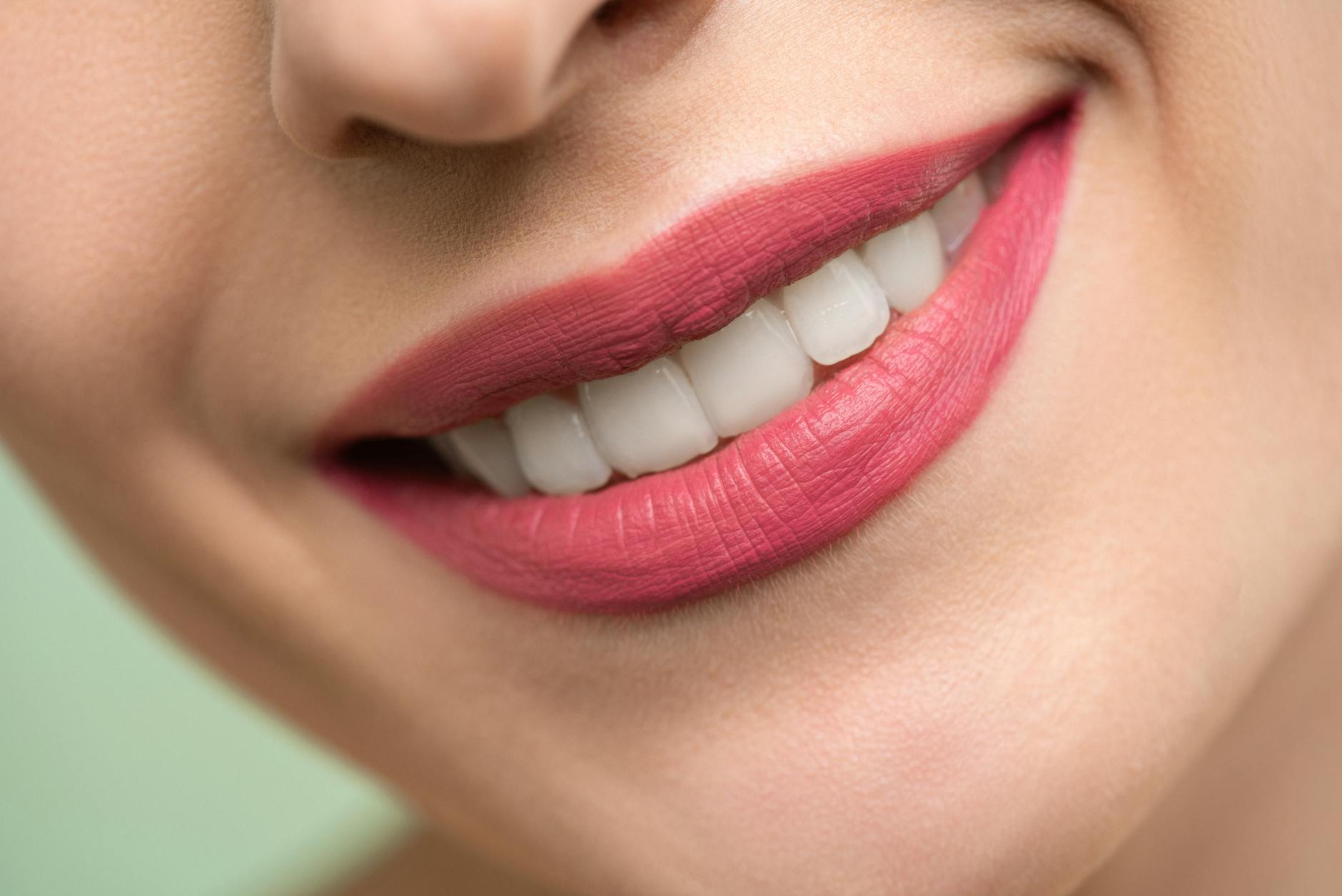 Are you a caffeine addict? If you are one to drink coffee or tea everyday, constantly drinking coffee can stain your teeth and cause them to turn yellowish and brown. No one wants to be giving a speech among friends and colleagues and get pointed out that their teeth are yellow! It can also be a bit embarrassing for some to even smile at the camera because all you'll focus on are the yellow set of teeth! To be honest, it is not flattering at all.
So, how do we solve this problem without giving up the love of our life? Easy! Get yourself a teeth whitening kit! Of course, there is the option of going to the dentists regularly to get your teeth cleaned and professionally whitened. But, that expense can sometimes cost more than a brand new set of teeth. Luckily, the innovation of teeth whitening kits was introduced. Today, there are several different brands and types of teeth whitening kits that are easy to use at home. Thus, everyone can restore their coffee-stained teeth back to pearly whites!
The Best Teeth Whitening Kits
Don't be so surprised, but there are actually a lot of different brands and types of teeth whitening kits in Malaysia. What's more, is that some are just easy to wear strips that can be peeled off. Most dentists are now offering their own teeth whitening kits and boy, is the demand for pearly whites high because who doesn't want to shine? So, here are the best teeth whitening kits that Malaysia has to offer.
1. White Republic
White Republic offers a teeth whitening kit that allows you to achieve whiter teeth in just 16 minutes a day! Aside from guaranteed results, White Republic is easy to use and has a unique formula that helps remove stains from your teeth effectively. They also have free and fast delivery across Malaysia so you can start your teeth whitening journey immediately! Currently, White Republic offers two sets of teeth whitening kits, the Original Kit and Wireless Kit. Both have the benefit to deliver results within 10 days of use!
They also offer a money-back guarantee so if your pearly whites aren't shining brighter like a diamond, they are more than happy to give you a refund. This is because they are confident in their formulas as it has been scientifically proven to brighten and whiten your teeth without sensitivity and pain. Their formulas are also desensitising and have the benefit to demineralise your teeth, which helps protect it against sensitivity. Each kit comes with 3 White Republic Whitening Gel Pen, 1 Desensitizing Gel Pen, an activated LED light, 3 connectors, a shade guide, a user manual and a free Velvet Toiletry Pouch.
Why we love it:
Easy to use
Remove stains effectively
Desensitising and demineralise teeth
Protect against sensitivity
Price: RM269.00 (Original) | RM299.00 (Wireless)
Where to buy: White Republic
2. Crest Whitestrips
If you aren't into the whole fancy, stick-a-denture-like-mould-in-your-mouth thing, maybe you would like the Crest Whitestrips better! These are peel-off teeth whitening strips that has the benefit to help whiten your teeth and are super easy to use. You can even choose from a wide selection of different white strip benefits. Depending on what type of treatment you want for your teeth, Crest Whitestrips offer quite a good selection. Some have the benefit to help whiten your teeth up to 12 levels, while others are a much gentler routine for sensitive teeth!
Don't underestimate these little Whitestrips because they offer the same level of results as professionals do. They use Advanced Seal Technology that comfortably grips onto your molars and doesn't slip until you take it off. It is an at-home teeth whitening kit that is enamel-safe and effective for at-home use. It is recommended by dentists as the number one at-home teeth whitening brand! All you need is 30 minutes each day for a pack of 20 strips to see results in just 20 days!
Why we love it:
Easy to use
Compatible with sensitive teeth
Enamel-safe
Price: RM198 (Crest 3D Whitestrips Professional White Levels 12 Whiter – Teeth Whitening Kit)
Where to buy: Crest Whitestrips
3. iCare Dental Home Kit
Still undecided about at-home teeth whitening kits? Well, why not visit the dentist for a whitening session before deciding whether to commit to teeth whitening kits or not! Get a recommendation from dentists themselves as iCare Dental offers do-it-yourself, at-home teeth whitening kits. Even the dentists are being real and letting you know that whitening your teeth is not a one-time thing. The process needs to be repeated if you want to keep your teeth shining bright!
Some of the advantages of using teeth whitening kits are that they offer long-term results and are fairly easy and quick to use. Most teeth whitening kits or strips only offer a five-minute to thirty-minute use per day. There's also much more variety in teeth whitening kits and you can bring them anywhere with you too! You don't have to reschedule a meeting, or date or even skip your vacation just to get your teeth whitened!
Why we love it:
Recommended by dentists
Suitable for multiple uses
Offers long-term results
Price: N/A
Where to buy: iCare Dental
4. Alpha White
Get started on your teeth-whitening journey with the Alpha White Multifunction Teeth Whitening Kit! What makes this teeth whitening kit different from other teeth whitening kits is that it offers four different modes that offer three different benefits for your teeth. Not only does it provide your teeth with whitening benefits, but it also massages your gums and provides ultrasonic tooth brushing.
What's more, is that this teeth whitening kit is said to provide visible results in just 14 days of usage! Whether it is bad breath, coffee-stained teeth, dental fluorosis, or tobacco-stained teeth, this teeth whitening kit can help solve those problems without sensitivity or pain. Moreover is that it uses Nano blue light technology that is actually 34 times more effective at boosting whitening results.
Why we love it:
Visible results within two weeks
Remove stains easily
Sensitive and pain free
Price: RM359.00 (Starter Kit)
Where to buy: Alpha White
5. Blanx O3X Flash White Strips
Coming soon to Guardian stores, the Blanx O3X Flash White Strips are made in Italy and offer stain removal benefits for whiter teeth. It releases oxygen power which removes stains and helps achieve a whiter smile! The strips are flexible and extra fine, so that they fit perfectly against your teeth. The strips are also transparent, so it is not noticeable at all even if you wear them at the office!
Its formula has also been tested scientifically to provide professional whitening results that are visible within just 5 days of use. What's more, is that it is non-abrasive on the tooth enamel and gentle on the gums, as well as safe on fillings and implants.
Why we love it:
Remove stains
Visible results within five days
Flexible strips
Price: RM69.30
Where to buy: Guardian
6. Oral-B 3D White Whitestrips with Light
For an easy, at-home teeth whitening treatment that provides similar results to getting a professional treatment at the dentist, try out the Oral-B 3D Whites Whitestrips with Light. It comes with a similar blue light technology that dentists use, as well as 14 sets of strips that couldn't be easier to apply.
The strips themselves have anti-slip technology, which ensures that they adhere really well to your molars so you can get an even treatment across all your pearly whites. This at-home teeth whitening kit can remove up to 10 years of stains in two weeks for up to 12 months, and it even revitalises the gums and strengthens the enamels.
Why we love it:
Results last for up to a year
Revitalises gums
Restores enamels
Price: RM 168.00
Where to buy: Lazada
7. Beautiful Teeth Whitening Kit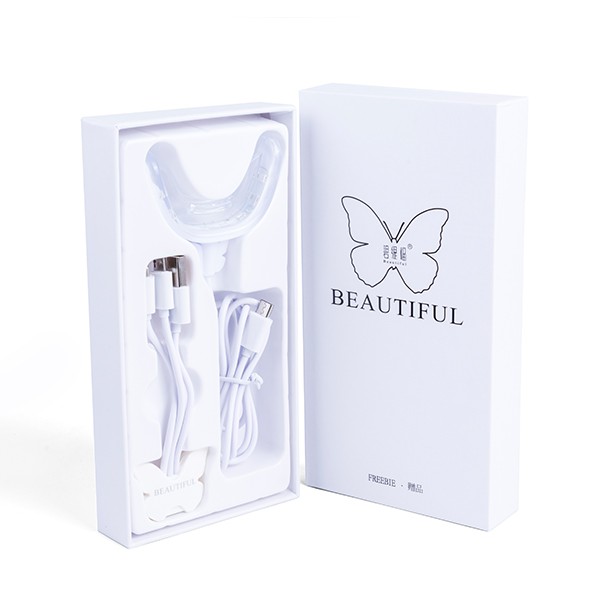 Get ready to experience the wonders of the Beautiful Teeth Whitening Kit, among the best teeth whitening kits in Malaysia! This kit is designed with your convenience in mind, making it super easy to use. Just spend 30 minutes a day, and you're on your way to long-term benefits.
Say goodbye to pesky coffee and tea stains, as this kit effortlessly removes them. It also works wonders in reducing dental calculus (no, not the math kind) and fighting bacteria, resulting in a healthier, inflammation-free mouth. Get ready to shine with a brighter smile using this incredible kit that caters to your dental needs with a friendly touch!
Why we love this:
Easy to use
Reduces tartar and plaque
Fighting bacteria
Price: RM33.00
Where to buy: Lazada
8. Colgate Optic White Teeth Whitening Pen
If you want to take baby steps before committing to an at-home whitening teeth kit, why not try using a teeth whitening pen? The Colgate Optic White Teeth Whitening Pen contains 0.1% hydrogen peroxide, which is an active whitening agent which forms a concentrated layer of oxygen that's absorbed into the teeth.
This specialised teeth whitening pen is incredibly easy to use as you can precisely paint on your teeth just like with a marker, and it's completely safe to use on enamel. Dry your teeth, apply it, let it dry, and it will do its thing overnight! In the morning, you can just brush your teeth like usual, and that's all you have to do. With this whitening pen, your teeth can become up to three shades lighter in three weeks.The pen contains 30 treatments, so get to working on those pearly whites!
Why we love it:
Easy to use
Works overnight
Allows for precise application
Price: RM79.90
Where to buy: Watsons
9. Supersmile 6 Minutes To A Whiter Smile Kit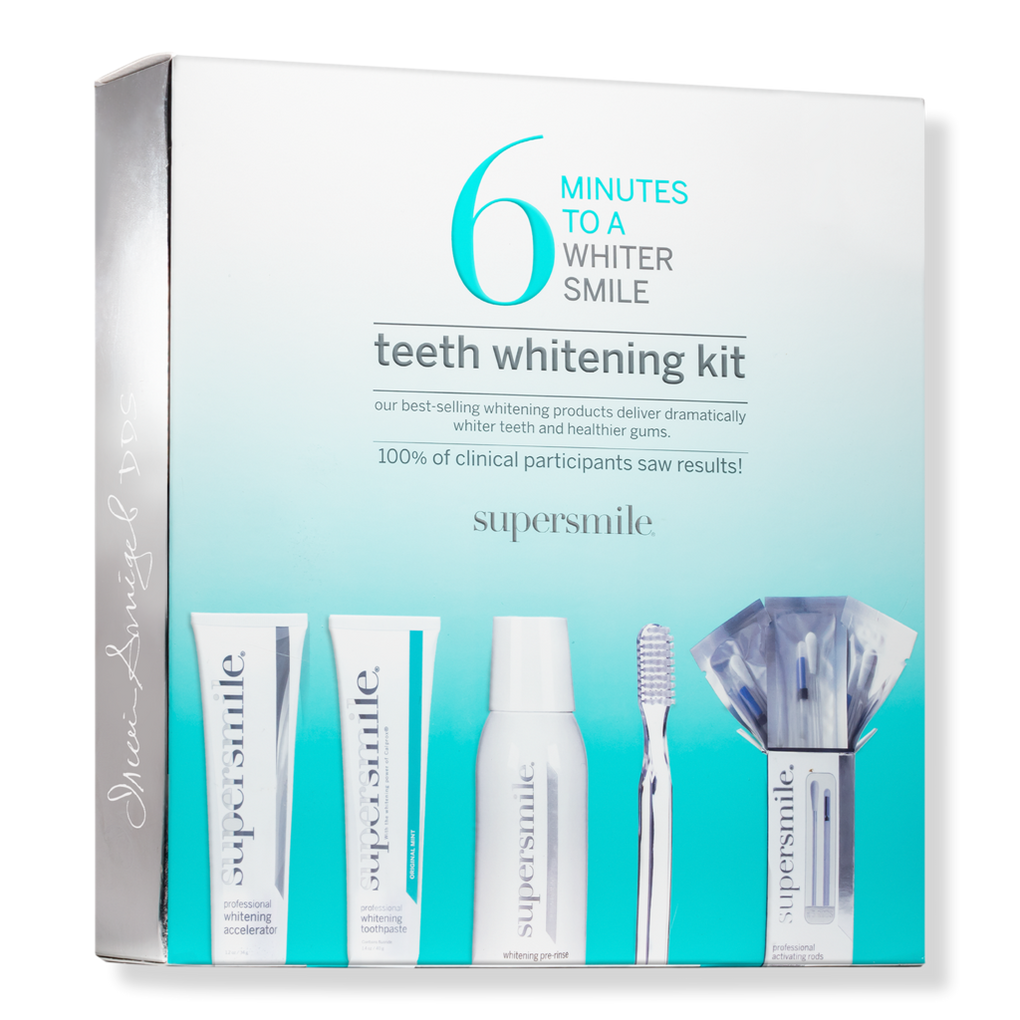 The Supersmile's 6 Minutes to a Whiter Smile kit offers instantaneous and long-lasting results. This practical technique ensures a remarkable makeover thanks to the unique whitening ingredient Calprox. In just 30 days, watch as your teeth get up to six shades whiter! The set effortlessly integrates five top-rated items that work together to freshen breath, prime teeth, prevent plaque from forming, and remove deep stains.
It also remineralises and repairs enamel, improving gum and general dental health. You can relax knowing it is free of silica, parabens, sulphates, allergies, animal by-products, and BPA. This kit, which includes Professional Activating Rods, Professional Whitening Toothpaste, Professional Whitening Accelerator, and Whitening Pre-Rinse, ensures a whiter, healthier smile. Embrace the kit's revolutionary power to get a whiter smile.
Why we love it:
Instant and long-lasting result
Prevent plaque buildup
Remove deep stains
Price: RM281.26
Where to buy: Revolve
10. CurrentBody Skin Teeth Whitening Kit
This one might punch a hole in your pocket, but it will be worth it! Achieve dentist-standard gum health and whiter teeth with the CurrentBody Skin LED Teeth Whitening Kit. This device penetrates the gums using clinically proven light wavelengths, promotes blood circulation, and reduces teeth sensitivity. It can be used independently for gum maintenance, resulting in healthy gums, white teeth, and improved oral health.
Safe for sensitive teeth, it effectively tackles stains caused by coffee and wine with its 18% PAP teeth whitening gel. The gel has a pleasant peppermint flavour and a neutral pH, ensuring no damage to your mouth or teeth. Witness the transformative power of this professional home kit, which produces wonderful outcomes and confidence in yourself with a beautiful smile.
Why we love it:
Promotes blood circulation
Removes deep stains
Compatible with sensitive teeth
Price: RM627.00
Where to buy: CurrentBody
11. Ckeyin 3D White Gel Teeth Whitening Strips
Teeth whitening strips are probably one of the easiest ways to get whiter teeth in no time. The Ckeyin 3D White Gel Teeth Whitening Strips are a testament to this, as it only takes 30 minutes for the treatment to work. It's super easy to use – all you have to do is peel the strip from its protective film, stick it onto your teeth, wait 30 minutes, and voila!
This teeth whitening kit also comes with a teeth shade guide so you can measure just how much your teeth get lighter! With consistent use, you'll have a brighter, whiter smile in no time. Please take note however, that these whitening strips are not suitable for pregnant women, or if you have any mouth ulcers, injuries, or if you've just had an oral operation.
Why we love it:
Contains 14 uses
Easy to apply to teeth
Affordable
Price: RM 13.35
Where to buy: Shopee
12. SmileKit Teeth Whitening Cherry Blossom Enzyme 3D
How cute is the packaging? Better yet, how cute will your smile look when your teeth are dazzling white? The SmileKit Teeth Whitening Cherry Blossom Enzyme 3D is a teeth whitening kit that does not damage the tooth enamel, and works hard to whiten teeth by releasing active oxygen atoms. This breaks down stubborn tooth stains, making for whiter, brighter teeth!
Its Hyun White Factor decomposes pigment on the tooth surface, and removes stains produced by external factors like tea and coffee, which creates a whitening effect. It also works to reduce plaque, improve oral hygiene, and reduce oral diseases. Apply the strips to your teeth for 30 minutes, and enjoy having a brighter smile!
Why we love it:
Has a minty fresh scent
Removes stains efficiently
Promotes oral hygiene
Price: RM 6.50
Where to buy: Lazada
---
Make sure to follow Beauty Insider on our Instagram and Facebook! Be sure to also check out our Insider Mall because you can Shop Beauty. Get Rewarded.