Wellness
What Is The KF94 Mask From Korea And Which Are The Best
Wear an appropriate mask to avoid COVID-19!
By: Beauty Insider Journalist / August 17, 2022
N95 is the undisputed king of face masks. They're off the menu, though, because the Centres for Disease Control and Prevention recommends that they be saved for healthcare personnel. As a result, a rising number of individuals are opting for KF94 masks, which are the Korean equivalent of an N95 mask. If you're not sure what it is and why you should get it, we're here today to tell you all about it so you can stay safe and protected.
Many individuals have converted to KN95 masks, which are the Chinese version of N95s. Unfortunately, there are many fakes out there, making it difficult to tell if you're buying a good mask. The KF94 masks, which differ somewhat from the N95 and KN95 masks, nonetheless provide excellent protection. And they're becoming increasingly popular.
What's So Good About The KF94 Mask?
The "KF" stands for "Korean Filter," while the "94" refers to the mask's filtration effectiveness, or how well it filters out particles. That's 94% in this scenario. These are N95 masks, but they're from South Korea.
KF94 masks contain an adjustable bridge, similar to N95 masks, that may be changed to provide a snug fit across the bridge of your nose. They also feature side flaps that fit your face perfectly. These aid in closing the crevices around the face and limiting the passage of unfiltered air.
Disposable KFN4 masks are widely used in South Korea. The general populace wears it to aid in the filtration of pollutants and dust. These masks, along with N95s and KN95s, are the finest types of masks for COVID-19 protection.
What Is The Difference Between KF94 Mask, N95 Mask And KN95 Mask?
An N95 mask is respiratory protection equipment with a snug face fit and "very effective airborne particle filtering." According to the CDC, these masks filter out at least 95% of airborne pollutants. KN95 masks are the Chinese counterparts of N95 masks.
KF94 masks are comparable to KF93 masks, however, they provide 94% filtration. Although there isn't much of a difference between 94 and 95% filtration, the fit is a key aspect of how effective these masks are.
KF94 masks are also different in form from N95 masks. With broadband that wraps around the middle of the mask, it features a "boat-like design." N95 masks, on the other hand, come in two styles: cup and duckbill. Because of its design, the KF94 mask may be worn by a considerably larger range of people.
Should You Wear The KF94 Mask?
The gold standard is the N95, which is closely followed by the KN95 and KF94. It should be noted that KF94 masks, as well as N95 and KN95 masks, might be more difficult to breathe through than cotton face masks. Despite this, wearing a mask can help reduce the spread of COVID-19, and the KF94 mask is one of several masks available to the general public. However, KF94 masks aren't flawless.
They are not washable and do not last as long as a fabric mask. In the end, the most essential thing is to "mask up," so make sure you're wearing a mask you're comfortable with.
The Best KF94 Mask In Malaysia
1. Supmedi KF94 and KN95 Face Mask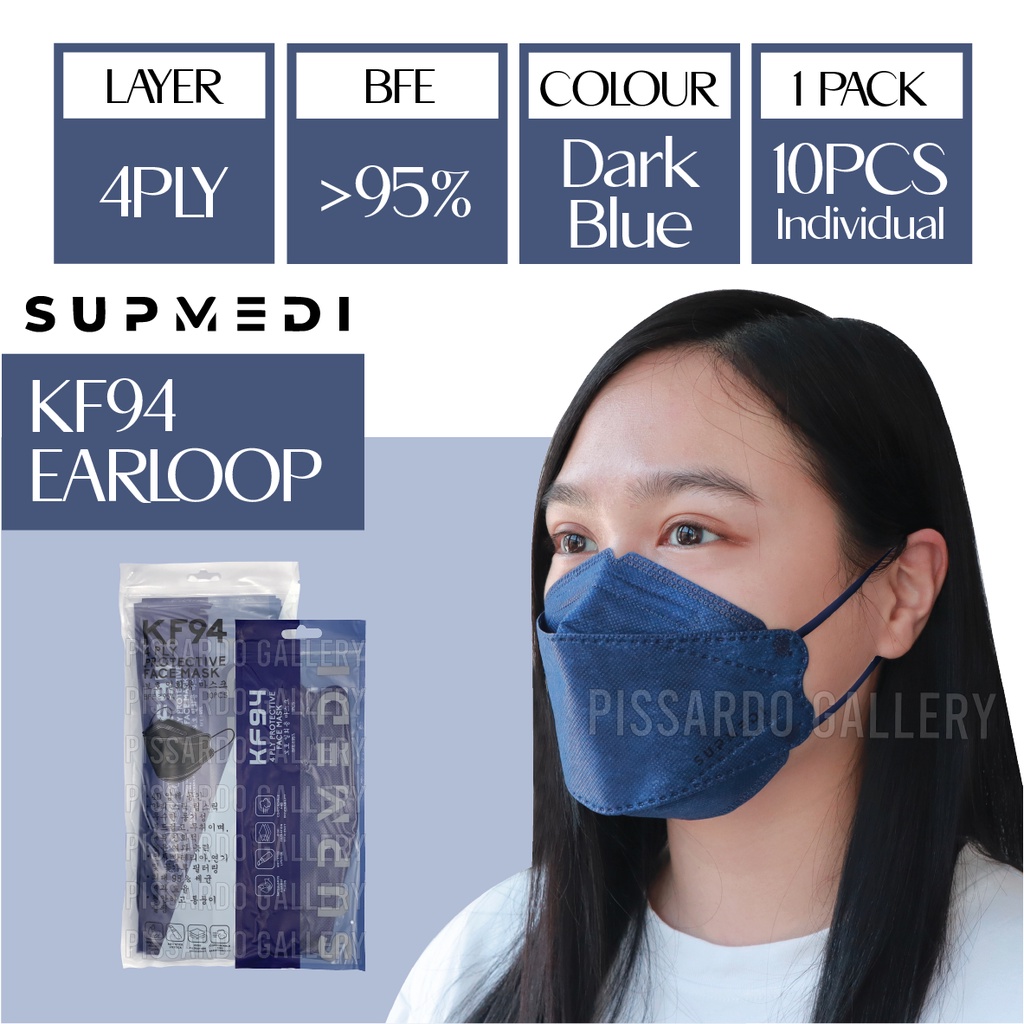 Supmedi masks are one of the finest on the market right now, with over 200k+ pieces sold. These are sold in ten packs and come in a range of colours. The KF94 ear loop mask comes in kid's sizes as well. This mask is also available with a head loop for hijab wearers. Furthermore, if you've reintroduced lipstick, this is the mask for you because it contains anti-stick lipstick, which means you won't have to worry about ruining your mask.
Why we love it:
Hijab friendly
Comfortable for long wear
Price: RM8.90
Where to buy: Shopee
2. Yuka Zan KF94
The Yuka Zan KF94 is appropriate for daily use wherever you are, combining great protection power with elegance. The KF in its name refers to 'Korean Filter,' and the 94 represents the filtering efficiency of the mask. As a result, its effectiveness in blocking sars-COV-19 particles may be equivalent to that of an N95 mask. But at a more reasonable cost.
Each box already has ten masks, which is a significant saving over the more expensive N95 mask. The best aspect is that it is available in a variety of colours. They come in black and navy blue, as well as peach and lavender if you like lighter colours. Furthermore, the Yuka Zan KF94 has a soft, non-woven inner fabric that is excellent for persons with sensitive skin.
Why we love it:
Material is great for those with sensitive skin
Adjustable nose clip for more security
Price: RM13.90
Where to buy: Shopee
3. Vircast Medic KF94 Protective Face Mask 6's
Droplets are a typical vector of viruses, and KF94 can successfully stop them. As a result, tiny particles such as viruses, mould spores, and asbestos are filtered out by this mask. The 3D construction allows for ventilation while avoiding contact with the mouth, and the shape is tailored to fit along the face line to assist prevent maskne when worn for long periods of time. Furthermore, the nose clip inside each mask not only helps hold the mask in place on your face, but it also helps to prevent air leaking and fogging up eyeglasses.
Why we love it:
Multiple thick layers for added protection
Anti-fog which will help glasses wearer
Price: RM10.90
Where to buy: Watsons
4. Neutrovis Kf94 Face Mask
Neutrovis masks are popular because of their breathability and ease of use. This Neutrovis KF94 mask is well-fitting and leaves no gaps on the face, thereby lowering the danger of particle exposure. It's also adaptable because it comes in a variety of colours. Their masks have to be among the most comfortable on the market.
With a tent-like form, one will have a pocket of air in front of their nose and mouth, easing breathing issues. It's also available in a variety of colours, including army green, black, and peach. They come in a variety of colours to complement your mood and attire.
Why we love it:
Thick high-quality material
Individually packaged for easy travel
Price: RM44.88
Where to buy: Shopee
5. Deca KF94 Surgical Face Mask
The Deca KF94 is a comfortable, fluid-resistant face mask that features soft ear loops that stretch appropriately over the ears without tugging. The fabric of this mask is made out of waterproof outer layer to prevent outside bodily fluids, dust, and germs from penetrating the mask. It is also made with hypoallergenic material, so those with sensitive skin can easily wear it for hours without breaking out.
Why we love it:
Sensitive-skin friendly
Individually packaged for hygienic and travel-friendly purposes
Price: RM20.90
Where to buy: Shopee
6. Icon Protective KF94 4ply Medical Face Mask
The Icon Protective KF94 Mask is a locally made mask that has a reinforced 3D design to ensure a tight fit on the face without feeling uncomfortable. Aside from that, it's a secure mask that has no gaps in between while making it easy to breathe while you wear it. With a soft inner layer, it's also ideal for those with sensitive skin types. It has up to 99% viral filtration efficiency to keep you protected.
Why we love it:
4-layered mask that does not lose its shape
Hypoallergenic, fluid-resistant mask
Price: RM29.50
Where to buy: Lazada
7. MediShield KF94 Face Mask
Another KF94 mask option comes from MediShield! The Korean mask has been a crowd favourite these past few years because of its 4-ply high quality protection. It's also made with eco material that's breathable, lightweight, and water-resistant. Aside from the usual black and white shades, it also comes in multiple other colours such as green, pink, orange, purple, gray, blue, red, khaki.
Why we love it:
Comes with hijab-friendly options
Soft, comfortable material
Price: RM29.50
Where to buy: Lazada
8. Iconic Medicare Copper 4 Ply KF94 AntiViral Face Mask
The KF94 masks from Iconic Medicare are perfect for daily use. Its hypoallergenic, 4-layered design has high filtration efficiency that's comfortable and easy to breathe in. They also release masks that come in multiple designs and patterns, such as Christmas and CNY-themed masks that are perfect to wear during those special occasions.
Why we love it:
One size fits all
Self-sanitising function that kills bacteria within minutes
Price: RM28.00
Where to buy: Shopee
9. Jovian Disposable KF94 Mask
Another crowd favourite for those who want to prevent maskne, try Jovian Essentials' KF94 masks! A go-to mask that's designed to be more gentle on the skin while keeping you protected from virus, bacteria, dust, and fluids. The outer layer of the 4-ply material features water and harmful fluids repellant function.
Why we love it:
Available in multiple designs and patterns
Settles well on the face without having to readjust it throughout the day
Price: RM20.00
Where to buy: Shopee
10. BioCare KF94 Mask
The BioCare KF94 mask is a top pick KF94 for hijab-wearers because of its snug fit on the face without being too tight as it loops around the head. It's made with environmental-friendly material that's moisture-proof, non-toxic, and non-irritating. Another breathable material that's suitable to wear for long periods of time.
Why we love it:
No uncomfortable tugging once worn
Made with premium non-woven material
Price: Starts at RM4.40
Where to buy: Shopee