Skin
What Causes Sensitive Skin And How To Care For It
Bye-bye flare-up
By: Nina Shahriman / January 18, 2023
We are all born with different skin types and all skin types come with their own struggles to care for and treat. However, it's undeniable when we say that those with sensitive skin require just a little bit more love and attention. Beauty Insider is here to tell you everything you need to know about sensitive skin.
Moreover, it indeed takes a long time to figure out what works for your skin, what triggers it and tips and tricks when you start to flare-up. Hence, here is everything you need to know about sensitive skin from a seasoned sensitive skin bestie!
What Is Sensitive Skin?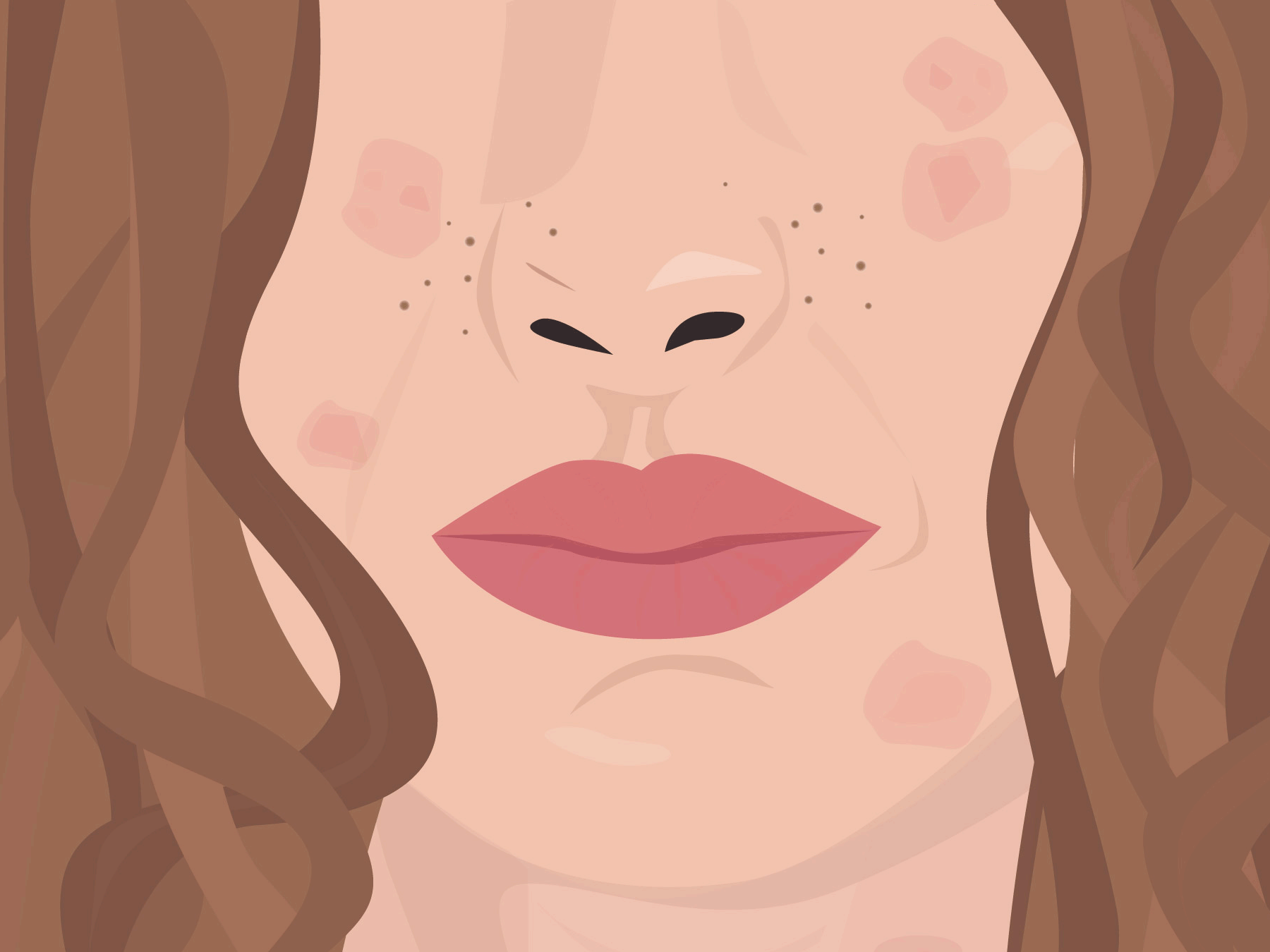 Sensitive skin is more common today than you might think. It's a medical condition that lots of people have to deal with. In addition, 60% of the population experiences conditions like this so it's important to understand what sensitive skin really is, how to treat and manage it. To add, understanding what to do when you irritate should be known as well.
Sensitive skin is caused by a variety of conditions that are rarely serious. With a few simple changes to your skincare routine, you can usually keep your symptoms under wraps.
Should You Be Concerned?
Skin sensitivity can be caused by a number of different factors. Some cases necessitate more serious and thorough treatments than others. If you feel your skin problem is caused by an allergic reaction, it is strongly advised to schedule an appointment with an allergist.
Despite that, sensitive skin shouldn't be too much of a concern as long as you are aware of the things you use or apply. With consistent maintenance, your sensitive skin shouldn't be too much of a hassle to deal with.
However, if your sensitive skin starts to cause major issues such as blistering and pain, immediately seek medical attention.
Indications You May Have Sensitive Skin
1. You feel itchy
One of the most common signs of sensitive skin is having a tight and itchy sensation on your skin. This may happen after using things that trigger your sensitive skin such as soaps, detergent or lotions.
Moreover, you may be prone to scratching it but it is important that you refrain from doing so as it can cause more harm to your skin. It may lead to bleeding and blistering which can be extremely painful.
2. Your skin gets hot and red
The majority with sensitive skin experience some level of redness. This might manifest as a red rash, red patches, blushing and flushing, or even something a little severe like telangiectasias, which are red dilated blood vessels. The redness usually goes away after the irritant is removed or with minimal treatment.
Furthermore, what causes redness is an increased sensitivity to pain and irritation. The blood vessels in the dermis (the layer of skin beneath the epidermis, which contains the cells that produce a pigment called melanin) are very sensitive. Therefore, even small amounts of heat and pressure can cause them to dilate and fill the surrounding skin with blood. If this persists, those areas become inflamed, appearing red and feeling hot.
3. Specific things cause your skin to react badly
Some people experience symptoms only on particular parts of their body, typically somewhat close to where they first develop flare-ups. For example, I developed eczema on the palm of my hand but not on my legs or face.
Therefore, this may be a result of a local trigger exposure or it may simply be a result of where the skin is more sensitive. If you are sensitive to many things, you might experience flare-ups throughout your body.
4. You notice your skin begins to flake
This is most noticeable in those with eczema and psoriasis that usually causes one's skin to dry up. When the skin is in an extremely dry state, your skin cells don't have enough protein to bind and eventually dries to become flakes.
As someone who has eczema, there is no bigger pain than to wake up with dead skin flakes all over your bed and floor. Some people may have flaking while others are more severe hence this is when you are advised to be consistent with moisturising the area.
5. You are more prone to acne and breakouts
The majority of people who suffer from acne have sensitive skin. In fact, about 75% of all people with acne experience skin sensitivity during their breakouts. Without the right type of skincare regimen, acne blemishes will continue to cause damage to your sensitive skin. However, acne and breakouts don't just happen on your face but can happen all over your body especially your chest and back.
Product Recommendations
1. REMDII® Ultra Sensitive Intensive Barrier Repair Cream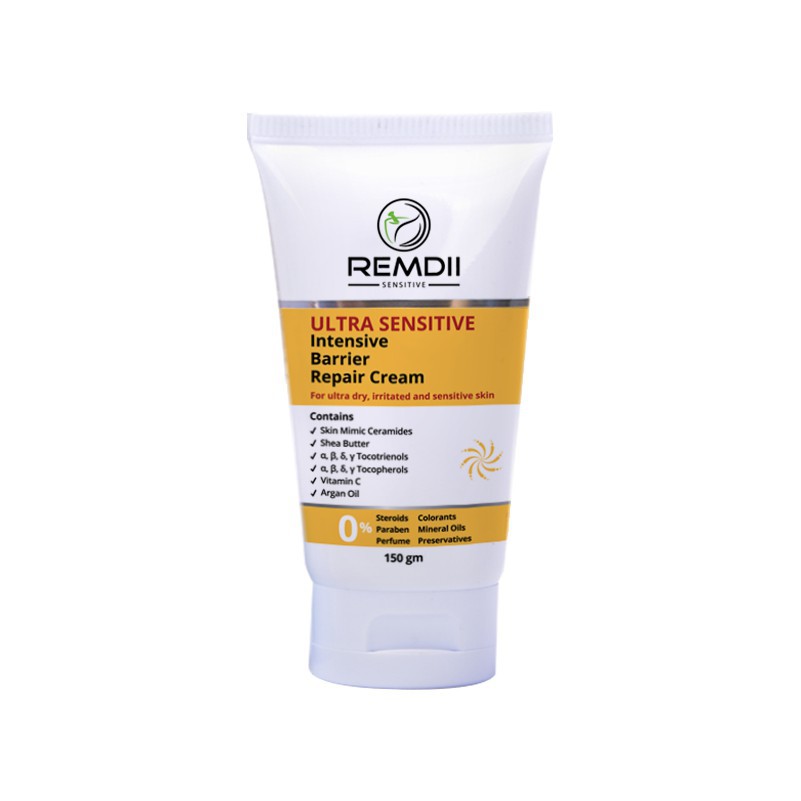 t's an intensely nourishing cream with a moisturizing rich texture that penetrates deep into the skin, making it suitable for intensive and long-lasting skin hydration. Additionally, this cream contains an effective mix of the anti-oxidant ampoule to your skin which naturally exists in palm oil to keep your skin healthy.
Why we like it:
It repairs the skin barrier
It contains skin mimicking ceramides
Price: RM80.00
Where to buy: Caring
2. Aiken Derma Care Sensitive Skin Rescue Vitamin Lotion
Kiss goodbye to signs of sensitive skin with the highly coveted Aiken Derma Care Sensitive Skin Rescue Vitamin Lotion. This surefire product is teeming with a concoction of essential ingredients, including Ceramide and Calendula Oil. Its high performance formulation works wonders to relieve skin itchiness in a mere 20 seconds. Apart from delivering 1.7 times more instant hydration, it is specially developed to soothe irritated skin. Plus, it is free from irritating ingredients like fragrance, colourant, mineral oil, and paraben. So you don't have to worry about any side effects. Unlike other products, it boasts a non-greasy lightweight cream texture that easily absorbs into the skin without leaving any greasy residue. Apply it generously all over your body consistently and you will have a softer and smoother-looking skin.
Why we love it:
Alleviates signs of sensitive skin
Soothes and calms skin redness and irritation
Keeps skin moisturised
Ideal for sensitive, eczema and allergy-prone skin condition
Price: RM18.50
Where to buy: Shopee
3. Eucerin Eczema Relief Body Cream
The Eczema Relief Body Cream by Eucerin helps relieve the itching and pain associated with dry, eczema-prone skin. Enriched with Colloidal Oatmeal, Ceramide-3, and Licochalcone, it's formulated to be gentle enough for everyday use. Moreover, the fast-absorbing formula provides long-lasting moisture that strengthens the skin's protective barrier. It's ideal for use on hands, elbows, knees or any other areas that need extra love.
Why we like it:
Fragrance and steroid-free
Great to apply to active flare ups
Price: RM79.90 – RM109.90
Where to buy: Shopee
4. Aqua Cream CCM
Aqua Cream CCM is a topical skincare cream with emollient properties which softens or soothes the skin. It has occlusive action providing a layer of oil on the surface of the skin to slow water loss and thus increase the moisture content. In addition, if you store it in the fridge and apply it to itchy skin it will relieve the irritation due to the cooling and soothing effect!
Why we like it:
Super hydrating
Prevents water loss
Price: RM19.50
Where to buy: Shopee
For more beauty infos, make sure to follow us on Instagram and Facebook.